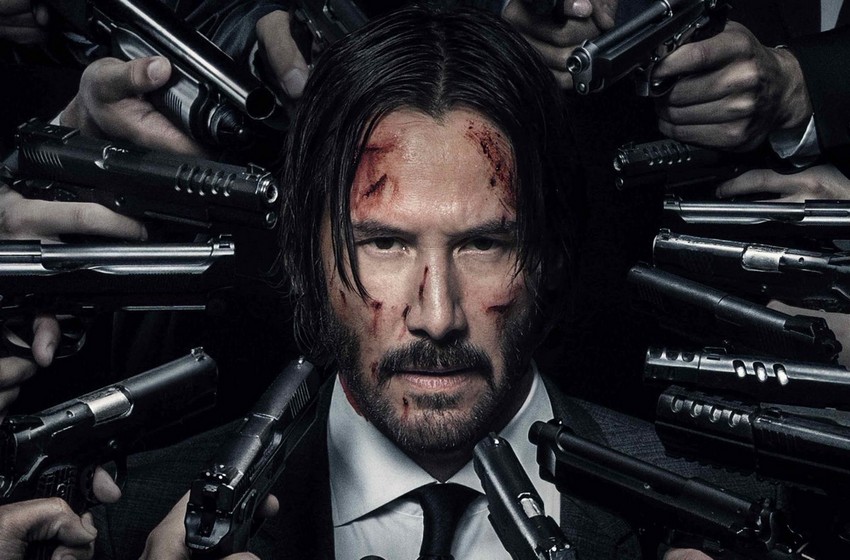 To paraphrase: Everybody keeps asking us if he's back. Yeah, we're thinking he's back. Again. Keanu Reeves may have dropped the excellent (not bogus) news the other day that the third Bill and Ted film is finally happening, but there's another upcoming threequel in his filmography that arguably has fans more excited. And now we know when it will be blasting its way into theatres.
The first motion poster for John Wick: Chapter 3 (which is also going under the working title of John Wick 3: Parabellum, just in case you forgot that this is an action movie franchise all about Keanu Reeves shooting people with guns) was revealed on its official Twitter account recently, revealing that the film is being released in just under a year's time on 17 May 2019.
Be seeing you… 5.17.19. – #JohnWick3 pic.twitter.com/UN2US3UYnf

— John Wick: Chapter 3 (@JohnWickMovie) May 17, 2018
Along with the release date, we now also know who will be joining Reeves when he returns. In a series of tweets, it was confirmed that previous franchise players Laurence Fishburne, Ian McShane, and Lance Reddick would be reprising their roles, while the cast would get some new faces, most famously in the form of Oscar-winner Halle Berry. She will be playing the film's female lead, Sofia, who is reportedly not a villain. Also joining the cast is Oscar-winning veteran Anjelica Huston (The Addams Family, The Witches) as The Director, Asia Kate Dillon (Billions) as The Adjudicator of the High Table, Jason Mantzoukas (Brooklyn Nine-Nine, The League) as the mysterious Tick Tock Man, and martial arts legend Mark Dacascos (Crying Freeman, Only the Strong) as an assassin named Zero.
I am Sofia ? #johnwick3 | Regram from @halleberry pic.twitter.com/O6RZ5RNFgv

— John Wick: Chapter 3 (@JohnWickMovie) May 21, 2018
Welcome @AsiaKateDillon, @AnjelicaHuston, @Mark_Dacascos and Jason Mantzoukas to #JohnWick3. 5.17.19 pic.twitter.com/28OGihmXiI

— John Wick: Chapter 3 (@JohnWickMovie) May 21, 2018
Welcome back Laurence Fishburne, Ian McShane and @LanceReddick. #JohnWick3. 5.17.19 pic.twitter.com/AAUK5RGXix

— John Wick: Chapter 3 (@JohnWickMovie) May 21, 2018
Dacascos isn't the only considerable martial arts talent that has been added to the roster as Tiger Hu Chen, star of the Reeves-directed Man of Tai-Chi, and The Raid alums Yayan Ruhian and Cecep Arif Rahman will also be throwing down against John Wick. And we can certainly expect a whole lot of throwing down, so to speak. At last month's Cinemacon in Las Vegas a first official synopsis for the film was unveiled, confirming that it will pick up immediately after the final moments of John Wick: Chapter 2 where Reeves' titular assassin broke the rules of the film's underground world and killed a man where he wasn't supposed to, resulting in him becoming a target himself.
John Wick (Keanu Reeves) is on the run for two reasons… he's being hunted for a global $14 million dollar open contract on his life, and for breaking a central rule: taking a life on Continental Hotel grounds. The victim was a member of the High Table who ordered the open contract. John should have already been executed, except the Continental's manager, Winston, has given him a one-hour grace period before he's "Excommunicado" – membership revoked, banned from all services and cut off from other members. John uses the service industry to stay alive as he fights and kills his way out of New York City.
John Wick: Chapter 3 will once again be directed by Chad Stahelski.
Last Updated: May 23, 2018