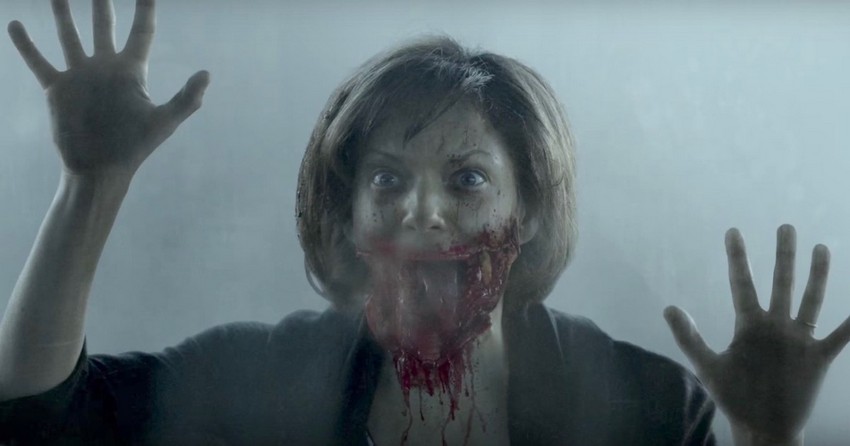 The book is always better than the movie. That's the old adage that just about every fan always clings to when it comes to their beloved whatever being adapted for the screen. For the most part these folks are right though. Except when they're not, as was evidenced in director Frank Darabont's 2007 feature film adaptation of Stephen King's The Mist.
I won't spoil it for anybody who hasn't seen the horror movie, but its ending – changed from what King originally conceived in his 1980 novella – is a gut punch of note. I'm really hoping that Spike TV's upcoming TV series adaptation of the same literary source can result in the same type of improved awesomeness from the liberties its taken. At least we know it won't be skimping on the intensity of the action though.
That's the clear takeaway from the latest trailer for the upcoming series which dropped online recently. It dips a bit into how this latest take will be veering away from King's text by introducing multiple groups of people in a small town caught in a seemingly supernatural mist filled with all kinds of nasties. It's also not totally clear, but it seems almost as if the series will be bringing in a "chosen one" element with one of the young girls able to walk around in the mist unscathed.
Either way, whatever the changes, I'm intrigued. Check out the new trailer below.
The Mist stars Morgan Spector, Alyssa Sutherland, Gus Birney, Danica Curcic, Okezie Morro, Luke Cosgrove, Darren Pettie, Russell Posner, Dan Butler, Isiah Washington, Jr. and Frances Conroy. Its 10-episode first season will debut in the US on Spike on 22 June. Here's the official synopsis:
The Mist centers around a small town family that is torn apart by a brutal crime. As they deal with the fallout an eerie mist rolls in, suddenly cutting them off from the rest of the world and, in some cases, each other. Family, friends and adversaries become strange bedfellows, battling the mysterious mist and its threats, fighting to maintain morality and sanity as the rules of society break down.
Last Updated: June 8, 2017