Five movies form part of the June DVD haul from Ster Kinekor Entertainment. And at the halfway point of 2017, it's popular returning antiheroes who dominate the new releases – providing us with inspiration in how to cope with this topsy-turvy year.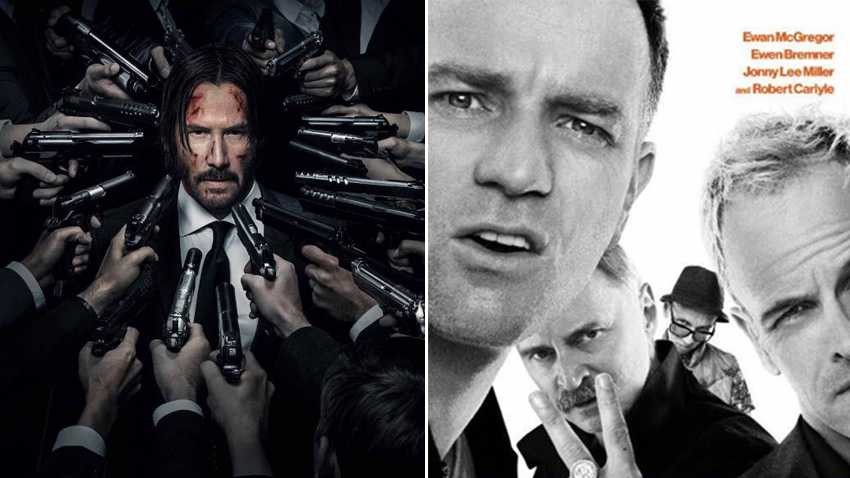 John Wick: Chapter 2
Genre: Action / Crime
Legendary hitman John Wick (Keanu Reeves) is forced to back out of retirement by a former associate plotting to seize control of a shadowy international assassins' guild. Bound by a blood oath to help him, John travels to Rome where he squares off against some of the world's deadliest killers.
The first John Wick came out of nowhere to establish itself as an instant genre classic. That's a tough act to follow, yet in some ways its sequel actually surpasses the original. It delves deeper into Wick's world, while offering the same stylish, coherent action. John Wick: Chapter 2 is a prime example of when "more of the same" is actually a good thing.
Critical Hit: 8.5/10
Rotten Tomatoes: 89%
Metacritic: 75
T2 Trainspotting 2
Genre: Drama / Comedy
First there was an opportunity……then there was a betrayal. Twenty years have gone by. Much has changed but just as much remains the same. Mark Renton (Ewan McGregor) returns to the only place he can ever call home. They are waiting for him: Spud (Ewen Bremner), Sick Boy (Jonny Lee Miller), and Begbie (Robert Carlyle). Other old friends are waiting too: sorrow, loss, joy, vengeance, hatred, friendship, love, longing, fear, regret, diamorphine, self-destruction and mortal danger, they are all lined up to welcome him, ready to join the dance.
In keeping with the new trend of sequels released decades after the original, here we have T2 Trainspotting 2. It's impossible for T2 to live up to its edgy, high-energy, techno-soundtracked predecessor, but that doesn't mean you should skip the trip "home." It may not be as subversive, but there's a lot that satisfies – especially for fans.
Critical Hit: 7/10
Rotten Tomatoes: 78%
Metacritic: 67
Collide
Genre: Action /Thriller
After a heist goes terribly wrong, Casey Stein (Nicholas Hoult) finds himself on the run from a ruthless gang headed by mob boss Hagen (Anthony Hopkins). Now Casey has precious cargo that belongs to Hagen, who will stop at nothing to retrieve it. Left with no choice, Casey calls his former employer and drug smuggler Geran (Ben Kingsley) to protect his long-time girlfriend Juliette (Felicity Jones) before Hagen gets his hands on her. Casey sets out on an adrenaline-fueled car chase on the German highways to save the love of his life before it's too late.
This action thriller skidded into local cinemas early in the year, and then vanished just as quickly. Probably because it's mediocre at best. A talented cast is wasted on a by-numbers script, and a production that's incapable of shifting out of first gear. Not awful according to critics; just completely forgettable – and that's criminal for a car chase movie.
Rotten Tomatoes: 20%
Metacritic: 33
The Monster
Genre: Horror / Fantasy
A divorced mother (Zoe Kazan) and her headstrong daughter must make an emergency late night road trip to see the girl's father. As they drive through deserted country roads on a stormy night, they suddenly have a startling collision that leaves them shaken but not seriously hurt. Their car, however, is dead, and as they try in vain to get help, they come to realize they are not alone on these desolate backroads – a terrifying evil is lurking in the surrounding woods, intent on never letting them leave
The Monster is a little-known horror movie in a throwback "practical effects" style. Critics have praised it for its subtext and performances, but complained that it isn't scary enough. Judging by review scores, it looks like it's connected better with critics than ordinary cinemagoers. Your response to this one could go either way.
Metacritic: 69
Keeping up with the Kandasamys
Genre: Comedy
Love Thy Neighbour… But Don't Get Caught! Shanti Naidoo and Jennifer Kandasamy are matriarchal rivals of neighbouring families, whose young adult children become romantically involved. And the last thing these two Chatsworth mothers need is to be related to one another! Starring Jailoshini Naidoo, Madhushan Singh, Maeshni Naicker, Mishqah Parthiephal, Mariam Bassa, Rajesh Gopie, Vashir Kemraj & Koobeshen Naidoo.
Proving that South African cinema isn't just crime thrillers and Afrikaans love stories, Keeping Up With the Kandasamys is a comedy set in Durban's Indian community. The film surprised everyone on release, going on to become a smash hit that actually improved its weekly box office takings as its cinema run progressed. It may stick to family comedy conventions, but it's apparently witty, well-acted and full of spicy local flavour.
Last Updated: June 6, 2017