Fifteen new movies hit home release in South Africa this June, and this month's set is primarily a mix of big budget action movies (centred on women) and acclaimed, award-winning dramas (also female-led) that were in cinemas back in March or so. Here's what you can add to your movie collection.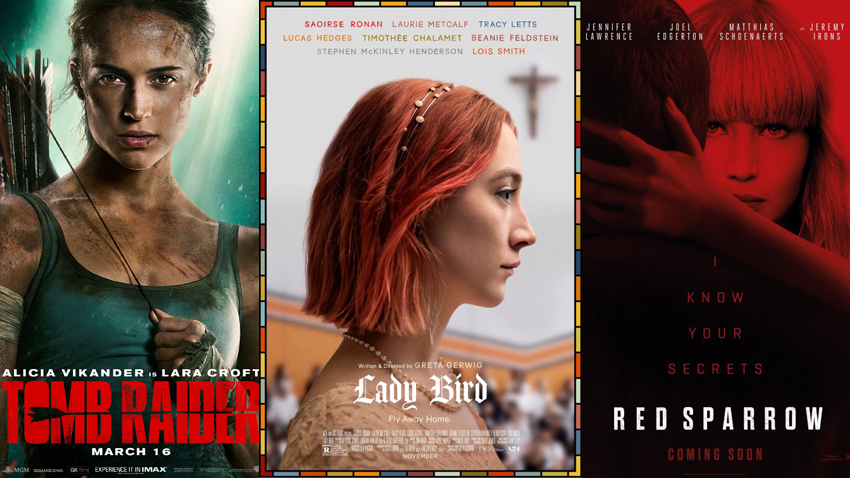 Our top 5 picks this month:
Tomb Raider
Genre: Action / Adventure
Lara Croft (Alicia Vikander) is the fiercely independent daughter of an eccentric adventurer (Dominic West) who vanished when she was scarcely a teen. Now a young woman of 21 without any real focus or purpose, leaves everything she knows behind in search of her dad's last-known destination: a fabled tomb on a mythical island that might be somewhere off the coast of Japan. Also with Walton Goggins, Daniel Wu and Kristen Scott Thomas.
The Tomb Raider reboot divided critics on release, with some appreciating the film's stripped-down action and others calling it uninspired. Vikander is the MVP here thanks to her committed performance. Pity about the weak story. For the record, the Critical Hit team enjoyed Tomb Raider overall, declaring it solid and much more enjoyable than expected. Small praise but it's arguably one of the best video game movies ever made.
Critical Hit: 6.5/10 and 7/10
Rotten Tomatoes: 49%
Metacritic: 48
Red Sparrow
Genre: Thriller / Espionage
When ballerina Dominika Egorova (Jennifer Lawrence) suffers a career-ending injury, she finds herself manipulated into becoming the newest recruit for Sparrow School, a secret intelligence service that trains exceptional young people like her to use their bodies and minds as weapons. After enduring the perverse and sadistic training process, she emerges as the most dangerous Sparrow the programme has ever produced. Dominika must now reconcile the person she was with the power she now commands.
Like Tomb Raider, Red Sparrow received a mixed critical reception. Considered more style over substance, the film is elevated by Lawrence's fearless performance but let down by a painfully slow second act (although the finale makes up for it). Also, the film's high quotient of sexual violence and graphic brutality may be off-putting for some viewers.
Critical Hit: 6.5/10
Rotten Tomatoes: 48%
Metacritic: 53
Three Billboards Outside Ebbing, Missouri
Genre: Drama
After months have passed without a culprit in her daughter's murder case, Mildred Hayes (Frances McDormand) makes a bold move, painting three signs leading into her town with a controversial message directed at William Willoughby (Woody Harrelson), the town's revered chief of police. When his second-in-command Officer Dixon (Sam Rockwell), an immature mother's boy with a penchant for violence, gets involved, the battle between Mildred and Ebbing's law enforcement is only exacerbated.
Massively acclaimed Three Billboards… comes from the director of In Bruges, and scored Oscars for both McDormand (Best Actress) and Rockwell (Best Supporting Actor). The film is a masterful, exceptionally-acted combination of black comedy and intense drama. Powerful enough that it's even spawned a copycat activist movement in real life.
Rotten Tomatoes: 92%
Metacritic: 88
Downsizing
Genre: Science fiction / Comedy / Drama
When scientists discover how to shrink humans to five inches tall as a solution to over-population, Paul (Matt Damon) and his wife Audrey (Kristen Wiig) decide to abandon their stressed lives in order to get small and move to a new downsized community — a choice that triggers life-changing adventures.
Downsizing is a prime example of an intriguing concept that is just never explored to its full potential. Instead, the movie heads in a half dozen different (and typically underwhelming) directions away from its central conceit. Weird, wonderful and well acted, but not really the sci-fi satire that was promised.
Critical Hit: 4/10
Rotten Tomatoes: 51%
Metacritic: 63
Lady Bird
Genre: Comedy Drama
Christine "Lady Bird" McPherson (Saoirse Ronan) fights against but is exactly like her wildly loving, deeply opinionated and strong-willed mom (Laurie Metcalf), a nurse working tirelessly to keep her family afloat after Lady Bird's father (Tracy Letts) loses his job. Set in Sacramento, California in 2002, amidst a rapidly shifting American economic landscape, Lady Bird is an affecting look at the relationships that shape us, the beliefs that define us, and the unmatched beauty of a place called home.
Lady Bird is an indie coming-of-age tale done right, emerging as an authentic, surprisingly original and engaging emotional experience without succumbing to smug intellect. The film may be moderate in scale, but it's heartfelt and ranks among the most acclaimed movies of 2017 (as well as in Rotten Tomatoes' history).
Critical Hit: 7.5/10
Rotten Tomatoes: 99%
Metacritic: 94
The rest released this month:
Proud Mary
Mary (Taraji P. Henson) is a hit woman working for an organized crime family in Boston, whose life is completely turned around when she meets a young boy whose path she crosses when a professional hit goes bad.
Rotten Tomatoes: 28%
Metacritic: 35
24 Hours to Live
Making a rare foray into rock 'em, sock 'em action territory, Ethan Hawke plays a CIA agent who sacrifices everything for his employers, including his family and, ultimately, his own life. No sooner has he shuffled off this mortal coil, though, then he finds himself mysteriously resurrected for one last mission that's timed to last exactly 24 hours.
Rotten Tomatoes: 44%
Metacritic: 37
Breathe
For his directorial debut, Andy Serkis brings to life the inspiring true love story between Robin and Diana Cavendish (Andrew Garfield, Claire Foy), an adventurous couple who refuse to give up when Robin is struck down by polio at the age of 28, and is given months to live.
Rotten Tomatoes: 66%
Metacritic: 51
November Criminals
After the murder of his friend is dismissed as gang violence, high schooler Addison (Ansel Elgort) decides to launch an investigation of his own. With help from his girlfriend Phoebe (Chloë Grace Moretz), he quickly discovers that the mystery is darker and deeper than he ever imagined.
Rotten Tomatoes: 0%
Metacritic: 31
Meerkat Maantuig
Gideonette, a timid and visionary girl, believes she is the latest to suffer the curse of the Gideon de La Reys. Realizing that Gideonette needs to get away from the curse after a tragedy causes her to retreat, her mom sends her to her grandparents.
All the Money In the World
All the Money in the World follows the kidnapping of 16-year-old John Paul Getty III (Charlie Plummer) and the desperate attempt by his devoted mother Gail (Michelle Williams) to convince his billionaire grandfather (Christopher Plummer) to pay the ransom. Also with Mark Wahlberg.
Rotten Tomatoes: 78%
Metacritic: 72
Goodbye Christoper Robin
Goodbye Christoper Robin gives a rare glimpse into the relationship between beloved children's author A. A. Milne (Domhnall Gleeson) and his son Christopher Robin (Will Tilston), whose toys inspired the magical world of Winnie the Pooh. Also with Margot Robbie.
Rotten Tomatoes: 64%
Metacritic: 54
The 15:17 to Paris
In the early evening of August 21, 2015, the media reported a thwarted terrorist attack on Thalys train #9364 bound for Paris, an attempt prevented by three courageous young Americans. Clint Eastwood's film follows the course of the friends' lives, from the struggles of childhood through to the unlikely events leading up to the attack.
Rotten Tomatoes: 25%
Metacritic: 45
Phantom Thread
Set in glamourous 1950s post-war London, renowned dressmaker Reynolds Woodcock (Daniel Day-Lewis) and his sister Cyril (Lesley Manville) are at the center of British fashion. Women come and go through Woodcock's life, until he comes across a young, strong-willed woman, Alma (Vicky Krieps).
Rotten Tomatoes: 91%
Metacritic: 90
Stephanie
After a mysterious global crisis, a young girl is left alone to hide from a malevolent power that stalks her home. Her parents eventually return and the struggle begins to save their daughter. Horror with Frank Grillo.
Last Updated: June 11, 2018