DC Animation's last film may not have been necessary viewing, but their other stuff has actually been rather bloody good. With Justice League: War establishing a new continuity and a heavier focus on storylines with consequences, that resulted in a solid series far featuring the likes of Batman, Superman and Wonder Woman. Said universe expanded with the addition of the Teen Titans earlier this year, and now the Justice League will be stepping aside for a newer, darker team that can protect the planet.
The Justice League Dark. "It's a Justice League movie but it's not. There are Justice League members in it, but they're not going to be the focus," Producer James Tucker said in a new look at the upcoming animated film.
Having monstrous people who do heroic things is always kind of cool. There's no assumption that they they're going to do the right thing, they may want to but they're not perfect.
Caught in the middle of all of this? The Hellblazer himself, John Constantine. While Matt Ryan may never be seen on TV again following his single season as the mage and a guest appearance in Arrow, you'll at least hear him voice the iconic sorcerer as he returns to the role. "Constantine is like the everyman of the supernatural world," Tucker said.
He's just wearing a trenchcoat and a tie and a blazer. He knows everything about everyone. So he's kind of like a private investigator slash occult expert.
As for the rest of the team, they aren't exactly heroes. But they're the only people around who stand a chance against the machinations of eternal Batman enemy Ra's Al Ghul, who has begun tapping into some dark magic. "Sometimes the more mainstream heroes are not the right guys for the job," creative director of animation for DC Entertainment Mike Carlin explained.
You have Deadman and the Demon and Swamp Thing and Zatanna and John Constantine, these outsiders are going to make up the Justice League in this movie. These aren't guys who go to meetings and sit around a table. They kind of appear and disappear when needed. They don't look like your typical superheroes, they're outcasts, no one is happy when they show up. If anything with Justice League Dark, everyone is frightened when they show up.
To give this film a sense of magic, DC focused on giving its cast a more signature style of spellcasting. "Visually we knew that we wanted this not to be the same as a regular Justice League movie because of the involvement of magic," Carlin said.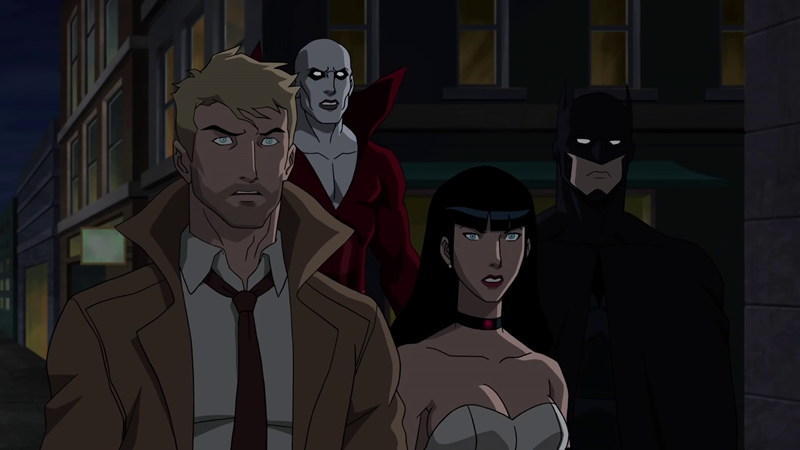 We needed to represent that in a physical kind of way. So Jay came up with the idea of using the runes to personify the magic. And each character kind of has their own special-designed rune which appears whenever their magic is being used. And so it became kind of a visual accent. You actually see the runes when they use their magic, the design of what their power personifies.
As for the actual action? It looks like recent video games and anime are going to play a large part in how the war against the Demon's Head is waged. "The action in Justice League Dark, I tried to make it as all of the fighting games and video games that I played a lot of the anime that I watched," director Jay Oliva said.
For fans of the dark side of the DC universe, you'll see a lot of Easter eggs and callbacks to it. Like the Demons Three make an appearance.
Justice League Darks weaves a spell or two later this year.
Last Updated: July 27, 2016