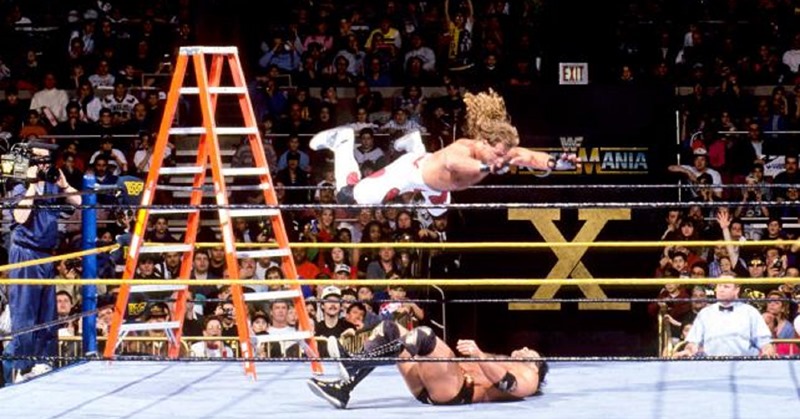 There's only one way to settle an argument, and it doesn't involve rational thought and calm debate. No, real people prove their point with ladders. Glorious metallic structures that reach high enough for you to drop some elbows or Swanton bombs on someone with an opinion that opposes yours! It's how matters are settled in Vince McMahon's house of slams, a system that needs to be adopted for parliament as well.
And of course ladder matches are back in WWE 2K17, of course they are. Along with backstage brawls, as 2K Games focuses on creating a more cohesive career path this year over a tour down the memory lane of a cult classic wrassler who hasn't been subject to numerous scandals as of late. Brother. Here's the pair of videos from IGN:
So what can be gleaned from that data? First up, looks like ladder matches will take a toll on anyone involved in them. Superstars will need to properly recover between blows, setting up instances for proper one on one combat before a face shows up again to topple the structures over. Vintage triple-threat stuff. Ladders in WWE 2K17 look like they'll also benefit from better positioning this year, with players able to set them up on spots that allow for more devastating signature moves.
And then we've got backstage brawls. A staple feature of many a WWE match, backstage brawls take no-DQ matches to a new extreme and beyond the mat. 2K Games says that there will also be what they call OMG moments, that can only be triggered backstage in WWE 2K17. You'll apparently also be able to fight with the WWE 2K17 crowd, because your fans deserve to have their placards of support ripped apart.
I'm kind of glad that WWE 2K17 is skipping the showcase mode this year. Some of the best games in the series managed to set up a comprehensive career mode. WWE 2K16 still had that, but it did feel like something that was missing something. Anyway, WWE 2K17 is out October 11 and also features the return of Bad News Bonthuys, my flashy top-rope bungler who has an impressive losing streak to Funaki of all people.
Last Updated: August 18, 2016