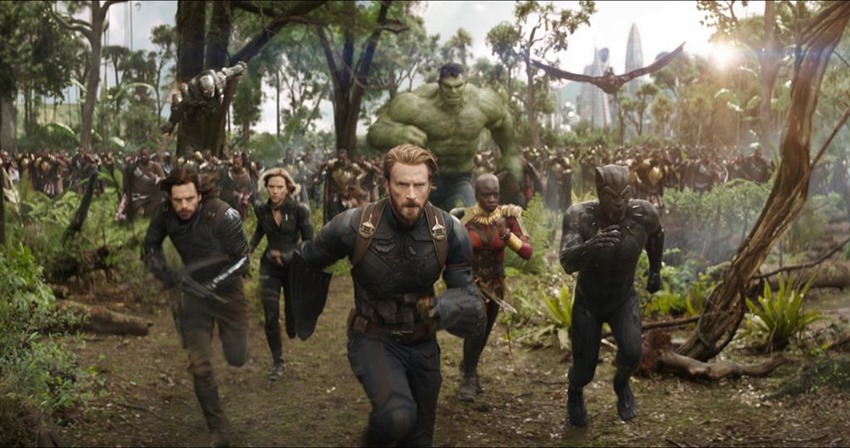 There's just over a month to go until Avengers: Infinity War hits the big screen. Judging by the fact that Kervyn has painted himself purple and wrapped his hand in tinfoil as he proceeds to tear the office apart looking for the Infinity Kidney Stones that our horrific diets have infused our bodies with, I'd say that there's some excitement in the air for the film. But hey, don't just take my word for it! See for yourself below in the latest trailer that I'm presuming is showing all manner of insane action, at least one hilariously derailing one-liner and every hero ever:
An unprecedented cinematic journey ten years in the making and spanning the entire Marvel Cinematic Universe, Marvel Studios' "Avengers: Infinity War" brings to the screen the ultimate, deadliest showdown of all time. The Avengers and their Super Hero allies must be willing to sacrifice all in an attempt to defeat the powerful Thanos before his blitz of devastation and ruin puts an end to the universe.
Awww man, I'm probably going to have some severe trailer-lust to deal with this weekend, but I'm avoiding the trailer above on purpose as I made a new year's resolution to only watch one such teaser before I go see a film. Y'know, because movie trailers lately play out like two-minute versions of the entire film.
I kind of want some sense of the unexpected for Avengers 3, is what I'm saying. Anyway, Avengers: Infinity War is out on April 27 thanks to the machinations of Iron Man, and starts (deep breath) Chris Evans, Scarlett Johansson, Josh Brolin, Robert Downey Jr., Chris Hemsworth, Mark Ruffalo, Jeremy Renner, Samuel L. Jackson, Chris Pratt, Zoe Saldana, Dave Bautista, Bradley Cooper, Vin Diesel, Don Cheadle, Anthony Mackie, Sebastian Stan, Paul Bettany, Elizabeth Olsen, Tom Holland, Benedict Cumberbatch, Paul Rudd, and Tom Hiddleston.
Wheeeeeeze.
Last Updated: March 16, 2018