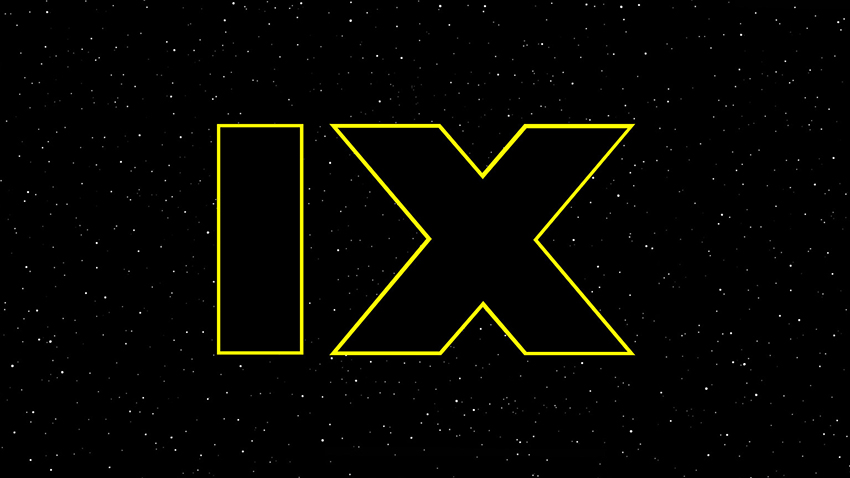 WARNING: THIS ARTICLE CONTAINS POTENTIAL SPOILERS
Leaks! Get your Star Wars leaks here! Get 'em while they're hot! No seriously, there's a pretty good chance that once the timezones catch up and the folks over at Disney HQ in the USA wake up, that we will have to take down a new set of leaked images for Star Wars: Episode IX that popped overnight. Most of the big trade publications that ran this story last night already had the House of Mouse flex their rodent muscles in their direction to get the content pulled. We'll risk it for now.
So what is all the fuss about? Well, a leaked promo poster and image for JJ Abrams' upcoming super-secretive trilogy capper have leaked. These aren't the official ad campaign styled images you would normally see, but rather the type of low-res merchandising promo images you would normally see used to sell toys and the like at Walmart. Whatever the images intended destination was, they're here and they're actually revealing a number of character details. And when it comes to Star Wars, we'll take what we can get.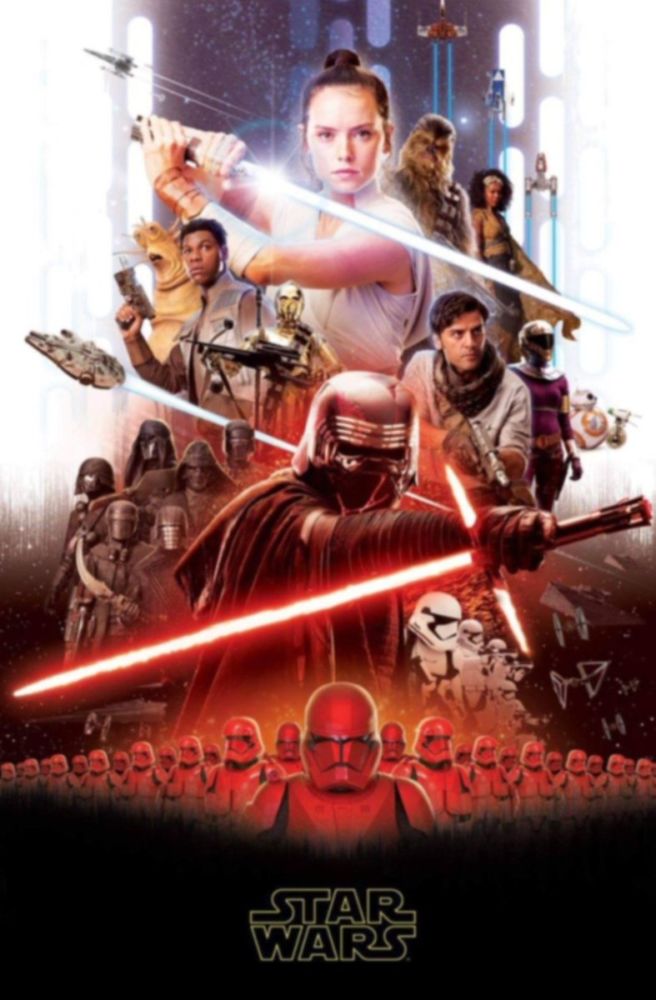 First up, the poster. Immediately off the bat, the characters that drew my attention were the Knights of Ren in the lower left corner. The mysterious organization led by Adam Driver's Kylo Ren has only been seen in flashback thus far, but rumours are that the mission that has kept them mostly off-screen in The Force Awakens and The Last Jedi is a big one that ties into the overall story quite a bit. Them showing up on this poster seemingly confirms that the still-untitled Episode IX will finally be giving them the spotlight a bit.
Alongside all the old faces (some older than others, like the return of Billy Dee Williams as Lando Calrissian), we also get a look at some new characters. The yellow surprised-looking alien next to Finn is the least important here, as reportedly what we see is a digital mockup of the physical creature costume used on set for filming, which may actually look different. The two important characters though are to the respective rights of Chewbacca and Poe Dameron. They show up in the leaked promo image as well, where we learn that their names are Jannah and Zorii.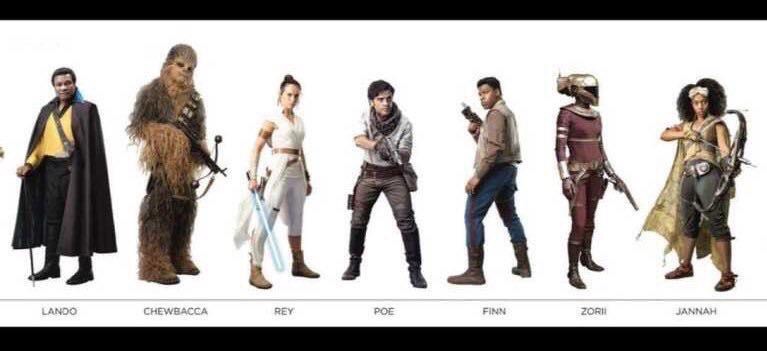 Jannah is clearly the character played by British actress Naomi Ackie, and rumour has it that the bow-wielding character is none other than Lando's daughter. She's also believed to be some sort of freedom fighter, though who she's fighting for is unknown. As for Zorii, it's believed that this is actually Keri Russell's character as her purple and gold helmeted design fits previously leaked descriptions of the costume worn by the actress. We have no other details about who or what she is at this point though.
As for other tidbits in these images, the poster shows us Rey's white-blue lightsaber which has seemingly been remade, along with Kylo Ren's previously destroyed helmet. We also get a look at an orange X-Wing that had previously been glimpsed on leaked set pics as well as what may be a brand new droid next to BB-8. Oh and then there's the usually very peaceful C-3PO seemingly packing a Wookiee bowcaster here. Wait, what?
We'll more than likely start getting some answers – though probably not for exactly what he's doing with such a big weapon – next month at the Star Wars Celebration Expo. Disney and Lucasfilm revealed the full panel schedule a couple of days ago, which includes a Star Wars: Episode IX panel on Friday, 12 April, attended by JJ Abrams. It's believed the director will reveal the film's full title and first teaser trailer there. Other panels announced include ones focusing on Star Wars Resistance, The Clone Wars, and the 20th Anniversary of The Phantom Menace. The other big one though will be a panel focusing on Jon Favreau's upcoming Disney+ streaming series The Mandalorian on Sunday, 14 April. I can't wait.
Star Wars: Episode IX is set for release on 20 December 2019.
Last Updated: March 28, 2019