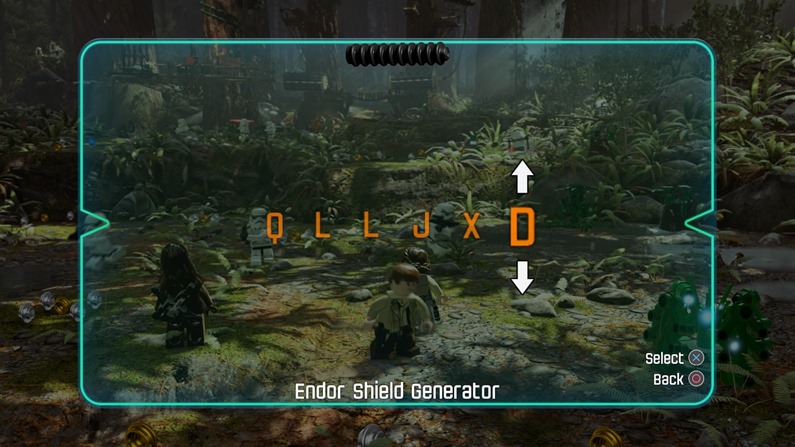 Remember last week when I posted that feature detailing every single character in LEGO Star Wars: The Force Awakens and turned it into a drinking game? Well I'm still drunk from that game, to the point where I'm pretty certain I broke into somebody else's house and started using their computer. Which also explains why I have a new pet Doberman attached to arm that I genuinely don't remember raising.
Anyway, new LEGO game means new characters. Lots of them, too many to reasonably unlock even. Fortunately, some help is at hand via the forgotten art of activating a cheat code. It's easy enough to do so in LEGO Star Wars: The Force Awakens. Simply boot the game up, wonder what the obsession with milkshakes is and hit the pause menu. Go to the code input menu and start slapping away at your D-pad. Job done!
There are a few caveats here however. You won't be able to use just any character right off the bat, as you'll have to purchase them with accumulated studs. Access to the character is also dependent on certain missions being completed in Free Play mode, so get cracking. Otherwise, here's a lengthy list of codes to indulge in:
Caluan Ematt – 26F2CF
Chief Petty Officer Unamo – 2DZXDM
GTAW-74 "Geetaw" – 2YU4NX
FN-2187 (Helmetless) – 3RRVAV
FN-2112 – 4T3UNK
Special Forces TIE Pilot – 59J67X
Trentus Savay – 638FNX
Kaydel Ko Connix – 9FJKF4
Quinar – A4EHFJ
Monn Tatth – A5JR9V
R-3PO – BEMT2T
Dasha Promenti – BJZA6F
Crokind Shand – BQPKPA
Guavian Security Soldier – C73CNV
Teedo – CP6ETU
Hobin Carsamba – E889GQ
Mi'no Teest – GBE8ZC
Officer Sumistu – GVNBWB
Snap Wexley – HTN3RD
Wollivan – J3GMHE
Oskus Stooratt – K6JXJT
Flametrooper – LRYUBB
Korr Sella – NGSEKH
Nien Nunb – P8KXSA
Major Brance – Q8KRC6
B-U4D – QLLJXD
Goss Toowers – QZTZX9
Jessika Pava – SBUSCW
Hoogenz – V3H6RU
R2-Q5 – VVVSEA
Lieutenant Bastian – XQZ7C6
Unkar Thug – YABPYU
LEGO STAR WARS: The Force Awakens is out right now. I'm busy jamming it, and will have a review up as soon as I get over this bloody hangover from drinking an entire shot of Jaegermeister.
Last Updated: July 5, 2016