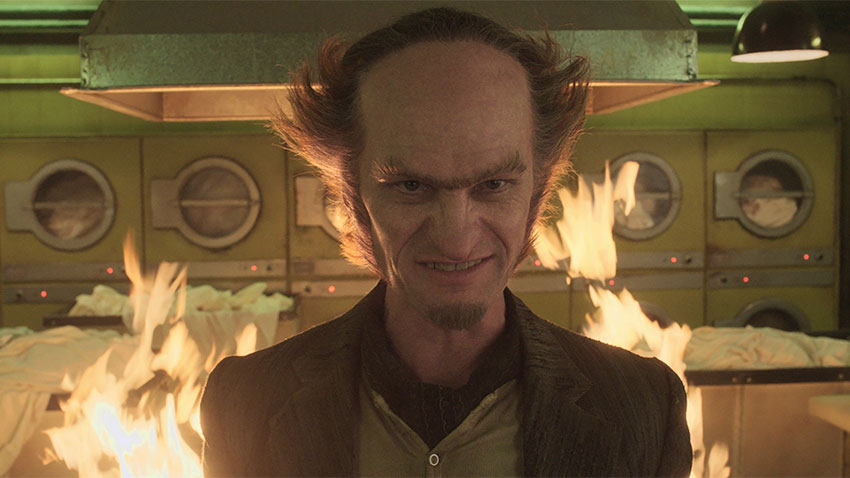 If you are like me, you have spent the last year patiently waiting to once again endure some whimsical cruelty with Lemony Snicket's A Series of Unfortunate Events. Season Two concluded with a literal cliffhanger as to the wellbeing of the Baudelaire orphans, as they continue to escape the clutches of the nefarious and dastardly-handsome Count Olaf, played by Neil Patrick Harris. Well our patience has been rewarded with a trailer for the third and final season of Netflix's hit series adaptation, which will see Violet, Klaus and Sunny go up against a cornucopia of villainy, with faces both new and old returning to assist the Count.
Indeed Count Olaf, I do have some burning questions.
Despite what the show's title suggests, the contents of the trailer can be described as anything but dreary. the Baudelaire orphans seem to have acclimatised well to being continuously subjected to gut-wrenching experiences, with Violet and Klaus stepping to the tasks of both solving the mystery of their parent's demise, while also rescuing their young sister from the Count and his entourage of colorful, sinister characters. But there are a pair of newcomers to that even Olaf seems to be afraid of. The Man with a Beard but no Hair, played by a completely unrecognizable Richard E. Grant, and The Woman With Hair but no Beard, played by Beth Grant. Spurred on to finally end the orphans and the mysterious V.F.D. organization, Olaf embarks on several endeavours that include a submarine chase, giant birds carrying a squirming parcel, and a hotel where everyone has decided to stay the night.
The trailer once again depicts the unique set and production designs that are associated with the show, making use of both practical and computer-generated effects to depict some eye-catching imagery. While the books upon which were known to end on an ambiguous note, the show seems set on providing an all-round conclusion to its story and characters. Fitting, as Lemony Snicket has done a very good job of being sparse with the juicy details and keeping us in the dark.
Speaking of whom, Snicket, as played by the magnificent and melancholy Patrick Warburton, reveals what is possibly the biggest event in the trailer: Lemony Snicket finally introducing himself to the Baudelaire Orphans.
Season Three of Lemony Snicket's a Series of Unfortunate Events will debut on Netflix on New Years Day of 2019.
Last Updated: December 12, 2018