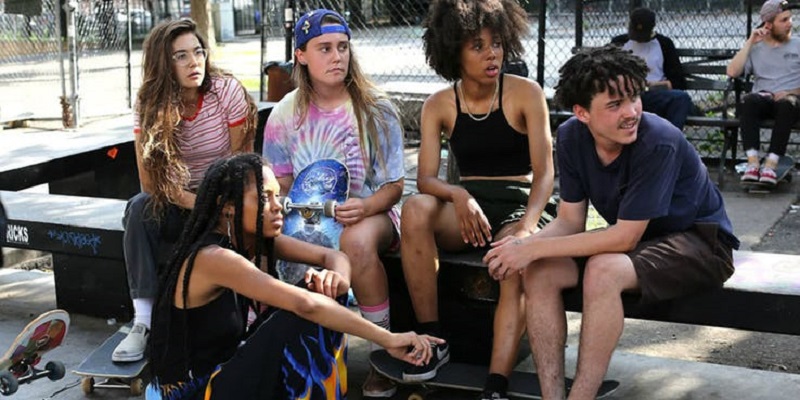 There seems to be something iconic about skateboards and coming of age films. We have so often seen the two subjects cross paths in the movie world as teenagers identify skateboarding as a form of expression and identity. Which was the absolute opposite of what they were to me where skateboarding was more a means to the next injury more than anything else. Each to their own I guess and if you can skate without looking ridiculous or falling off, then why not.
It's not only teenage boys that find an affinity for skateboarding, which is exactly what this new arthouse film from Crystal Moselle (The Wolfpack) is all about. Written by Moselle, Jen Silverman (Ink), and Aslihan Ünaldi (Young Wrestlers), Skate Kitchen introduces real-life skater Rachelle Vinberg as Camille, an introverted teenager who joins the titular group: an all-girl skateboarding collective based in New York also featuring the likes of Nina Moran and Ajani Russell. It wouldn't be a true coming of age film if there wasn't some form of love interest involved and this movie features Jaden Smith and his thousand faces of emo as a mysterious skater who is the object of Camille's affection.
This is not the kind of film that is likely to attract a large audience and it seems to be sticking to its indie vibes and rather catering for a certain target market of moody teenagers and movie journalists who have no choice but to watch it. It's certainly not the kind of movie that I would likely enjoy but the performances look decent enough, especially considering the cast is mostly made up of novice actors. The movie does have 100% Rotten Tomatoes rating from the few reviewers that have seen it, though I wouldn't put much credence into that until it gets a wider release.
Skate Kitchen also appears to play into Moselle's experience of documentary filmmaking with a documentary feel to it. Still, if skating is your thing and you like slow-moving dramas with awkward conversations, then this just might be the film for you.
Last Updated: June 25, 2018