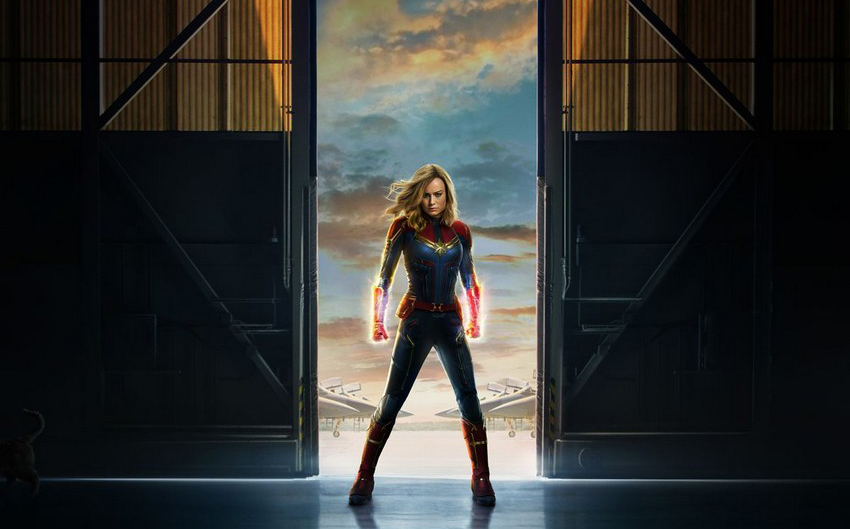 When Wonder Woman released back in 2017, the DCEU's first female-fronted film blew up the box office everywhere. Everywhere except here. Whether it was due to a lack of material familiarity or the film's almost non-existent promotional campaign locally, Wonder Woman's South African debut saw it have to fight tooth and nail with Baywatch (yes, that Baywatch) just to manage a very soft R4 million opening. Now it's the time of Captain Marvel, which faces the same potential stumbling blocks in the SA market. However, history is most definitely not repeating itself as the Brie Larson-led Marvel superhero film has flown higher, further faster!
Captain Marvel opened in SA this weekend past to the fantastic tune of R11.1 million. That's an incredibly impressive opening. To put it in perspective: Going all the way back to the beginning of 2018, only Black Panther (R16.8 million) and Avengers: Infinity War (R25.2 million) have posted bigger debuts, with Aquaman (R10.1 million) nipping at Captain Marvel's heels. Clearly, local audiences are far from suffering from superhero fatigue which means we can probably expect Avengers: Endgame to make a rather large mountain of Randelas when it releases at the end of next month.
There was one other newcomer this past Friday, but its fortunes were the exact opposite of Captain Marvel's as White Boy Rick got a very limited opening (only 6 screens) and found itself all the way down in 15th position. Sandwiched in between them, the rest of the chart mostly just dropped down one spot as everything held over pretty well. Well, nearly everything as Alita: Battle Angel was the biggest faller on charts, dropping down 68% as it lost nearly half is cinema screens to Captain Marvel.
Let's see what the rest of the South African box office chart looks like:
| No. | Movie Name | Weekend gross | Percentage change | Local gross | Last Week's Position |
| --- | --- | --- | --- | --- | --- |
| 1 | Captain Marvel | R11.1 million | NE | R11.1 million | NE |
| 2 | What Men Want | R2 million | -31% | R12.4 million | 1st |
| 3 | How to Train Your Dragon: The Hidden World | R1.3 million | -22% | R20.4 million | 2nd |
| 4 | A Madea Funeral | R1.2 million | -30% | R3.5 million | 3RD |
| 5 | The LEGO Movie 2: The Second Part | R1 million | -31% | R2.6 million | 4TH |
| 6 | The Upside | R577 059 | -23% | R8.9 million | 6th |
| 7 | Green Book | R344 286 | -22% | R2.3 million | 8th |
| 8 | Alita: Battle Angel | R307 250 | -68% | R6.3 million | 5th |
| 9 | Bohemian Rhapsody | R258 099 | -32% | R42.3 million | 9th |
| 10 | Little Italy | R226 448 | -62% | R992 111 | 7th |
NE = New Entry
Last Updated: March 13, 2019