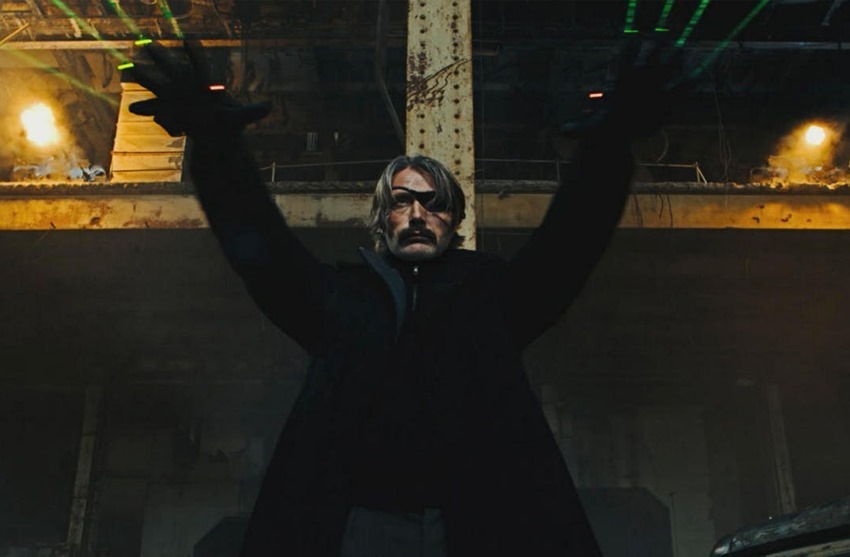 When the trailer for Netflix's Polar first popped up yesterday afternoon, I was very confused. See we just had a trailer for an upcoming Mads Mikkelsen movie called Arctic yesterday, and I immediately thought this was just another case of a movie being released under two different names in different parts of the world (this happens often, like Marvel's The Avengers being called Avengers Assemble in the UK to avoid confusion with the classic British spy TV series that's also called The Avengers). I mean, Arctic… Polar… It's easy to see how I would make that link. But then I start seeing comparisons to John Wick and I'm totally bamboozled because I watched the trailer for Arctic and there was nothing John Wick-ian about that survival thriller.
Of course, Polar is actually a very different movie that just happens to also have a frigid title and a similar trailer release date coincidentally. A trailer that is very much harking back to the cinematic adventures of Keanu Reeves' now iconic hitman badass. Hell, Polar even sees Mikkelsen as a retired assassin with a boogeyman-like nickname (The Black Kaiser as opposed to Wick's Baba Yaga) who gets pulled back into the game against his will, prompting him to have to face off against a small army of younger assassins out to kill him. Before we start throwing accusations of plagiarism Netflix's way though, Polar is actually adapting Victor Santos' 2012 webcomic/graphic novel of the same name, so who knows who actually copied who here?
That being said, you can't deny that it's probably the success of the two John Wick films that led to this one being made, and based on the first trailer, I'm definitely not unhappy about that. Acclaimed Grammy Award-winning Swedish music video director turned filmmaker Jonas Akerlund may not splash everything in the neon colours that Chad Stahelski and David Leitch did with John Wick nor does he seem to have the directing duo's action choreography acumen, but he also goes for a very vibrant colour palette to light up some slick action of his own. And with the always reliable and magnetic Mikkelsen leading this effort (looking like he stepped straight out of Metal Gear Solid with his eyepatch), it looks like this may just be a badass fun time. Check it out below.
The world's top assassin, Duncan Vizla, aka The Black Kaiser (Mads Mikkelsen), is settling into retirement when his former employer marks him as a liability to the firm. Against his will, he finds himself back in the game going head to head with an army of younger, faster, ruthless killers who will stop at nothing to have him silenced.
Polar was scripted by Jayson Rothwell and also stars Vanessa Hudgens, Katheryn Winnick, Matt Lucas, Johnny Knoxville, and Richard Dreyfuss. It will premiere on Netflix on 25 January 2019.
Last Updated: January 8, 2019