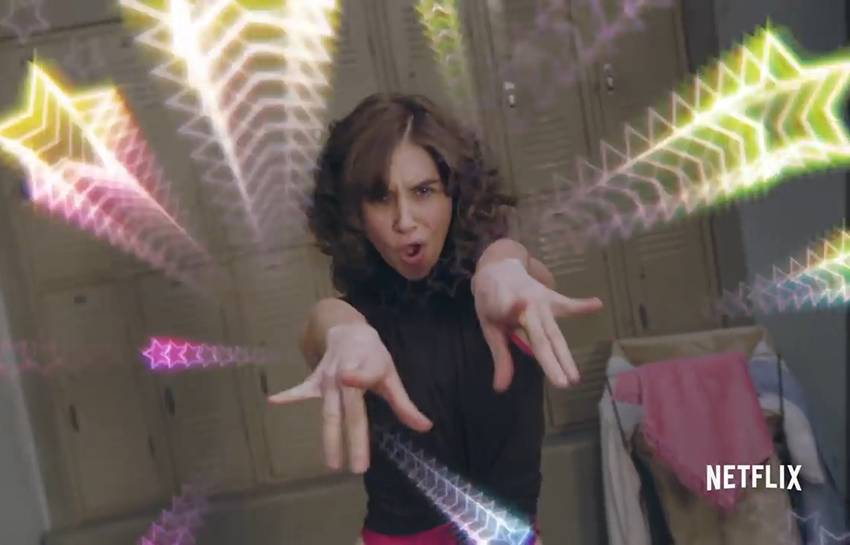 In case your address for the last few years has been "Basement, A Rock Street" you probably know that the 80s are huge right now. Whether it was the breakout success of Stranger Things that propelled everybody on this extended trip down nostalgia lane or something else doesn't matter. What matters is that the music, the hair, the unbridled bonkers fashion and more is big drawcard at the moment and I couldn't be happier as I love it all.
Which is why I'm currently boasting a grin so wide it's threatening to bifurcate my face after watching the season two date announcement trailer for Netflix's GLOW. Set to the soundtrack of Michael Sembello's endlessly catchy pop hit 'Maniac' from classic 80s film Flashdance, it's essentially one of those movie montages we all loved back then as Alison Brie's Ruth, Betty Gilpin's Debbie and the rest of the Gorgeous Ladies of Wrestling get ready to return to screens after they "become local celebrities, confronting the good, the bad and the ugly realities of their newfound fame". And now we know when that return will be as the trailer reveals that the 10-episode second season will be premiering in full on Netflix on Friday 29 June.
As Ruth (Alison Brie) and Debbie (Betty Gilpin) settle into the day-to-day of making a season of TV together, they confront lingering issues at the heart of their friendship. Sam (Marc Maron) is still Sam, but now he has a teenage daughter living with him and twenty episodes to churn out. The wrestling is harder, the stakes are higher and the hair is even bigger.
I really enjoyed the first season of GLOW. It was admittedly a lot more drama and less of the crazy wrestling comedy antics some of its early previews made it out to be, but it was solidly acted, well scripted and did I mention how much I love everything from the 80s? It also had a fair bit of substance to it though, thanks to Alison Brie's Ruth and the sexist rejection she faced as an actress which led to her becoming a female wrestler and embracing the empowerment of this career. And the show is not letting up on those themes in its sophomore showing, especially in today's social climate, as Brie recently revealed in a press event (via Deadline).
It's really positive. Everyone has something they can relate to. We have 14 women on the show. [And it] is great timing and is resonating with audiences. [But] the stories our show was going to tell would have been the same. MeToo and Times's Up are things people have been saying behind closed doors for a long time in our industry. It makes me very grateful as an actress to go to work every day. There are women behind and in front of the camera and at the top making decisions. It makes a big difference to feel really seen and heard on set and have ownership of yourself.
GLOW was created by Liz Flahive and Carly Mensch, and executive produced by Jenji Kohan (Orange is the New Black). Season two's cast also sees the return of Marc Maron, Sydelle Noel, Britney Young, Britt Baron, Gayle Rankin, Kia Stevens, Ellen Wong, Kimmy Gatewood, Rebekka Johnson, Kate Nash and Jackie Tohn, while newcomers Annabella Sciorra (The Sopranos), Shakira Barrera (East Los High), and Wyatt Nash (Dear White People) will be joining the show.
Last Updated: April 19, 2018