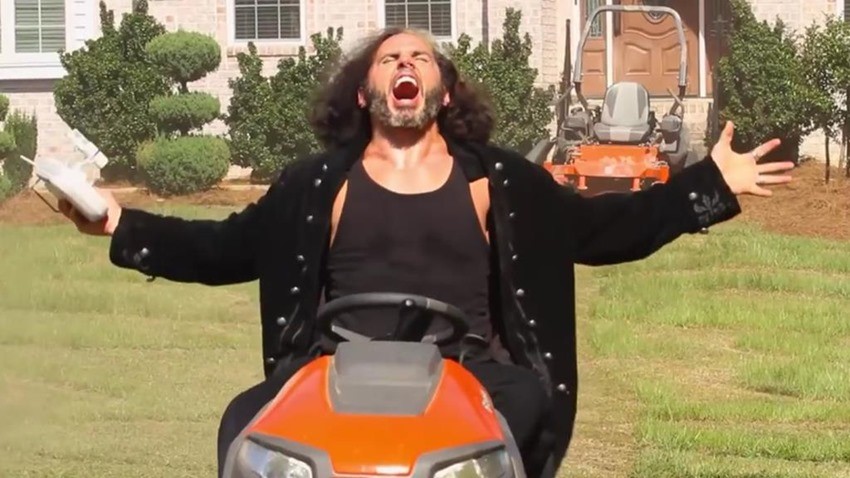 It's Wrestlemania 33. Every belt is on the line, every superstar is ready to throw down and the atmosphere is electric to say the least. While Wrestlemania's various feuds are built up over months and years, there's an ecstatic moment of surprise that fans go bonkers for whenever the showcase of the immortals provides a blast from the past.
Said blast that April 2 night, came in the form of something extreme: Matt and Jeff Hardy, gate-crashing a WWE RAW tag team that say Cesaro and Sheamus, Enzo Amore and Big Cass, Luke Gallows and Karl Anderson defeated and the belts awarded to the innovators of mayhem. Everyone was happy, the Hardyz got a huge pop and a new era began in the tag team division.
Only, this wasn't the Matt and Jeff Hardy that fans wanted.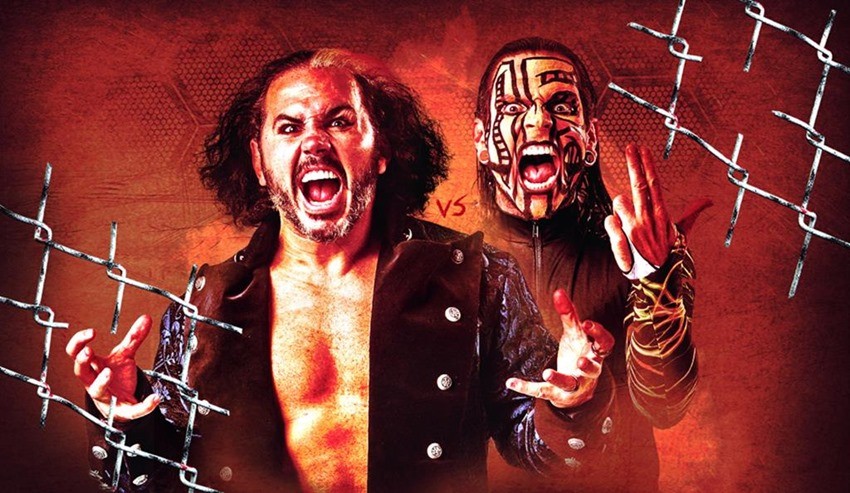 Adopting a more nostalgic identity, any sign of the infamous Broken Matt Hardy that had run riot across TNA television (alongside his nefarious Brother Nero), seemed to be nonexistent. The weeks ticked by, and months of waiting for Matt Hardy to utter a "DELETE" chant were nowhere to be seen. There were no seven deities mentioned, no sign of turning challengers into obsolete mules that would fade away…nothing.
Nostalgia can only take you so far however, and it looked like Matt's return to a WWE ring would soon be over, especially after Jeff Hardy suffered an injury that left his brother oeprating solo. Last week, something changed however. Defeated and broken by Bray Wyatt, Matt finally seemed to snap, as a familiar chant erupted in the ring:
YEEAAAASSSSSSSS! My dormant CONDISHTION has been #WOKEN. pic.twitter.com/SJ3S1YQgut

— #WOKEN Matt Hardy (@MATTHARDYBRAND) November 28, 2017
In the days to follow, a new Matt Hardy was born. Not a broken shell of the past, but rather a more "Woken" incarnation. Which is to say, it's basically Broken Matt Hardy that is returning at long last. So what's the story? What took so long? First thing you need to know, is that the wrestling industry is downright weird. Broken Matt Hardy was a runaway success for TNA wrestling (now known as Impact wrestling), as the struggling company finally had a unique star on their hands that could rival the WWE.
Going full-on method for the role, Matt Hardy and his family developed the character from an oddity into a compelling maniac who could easily be an antagonist one night and a hero the next. The Hardy's knew they were onto something here, taking the persona on the road and across the world as they left Impact Wrestling and hit the indie scene.
That's when things turned ugly for Matt and co. Impact Wrestling claimed ownership of the character, with the Hardys engaging in a legendary Twitter feud as they went the legal route to retain control over the rights against Impact parent company Anthem Sports & Entertainment, former executive Jeff Jarrett and and Ed Norholm.
Lawsuits were a constant threat, as the Hardys had no choice but to put the character on hiatus. Things finally took a turn for the better this year however, when an agreement was finally reached. Impact's Ed Nordholm issued a statement that indicated that the company would no longer battle over the rights to the character, as Matt Hardy finally won the great war.
A new war is of course on the horizon, as Woken Matt Hardy has begun teasing not only the return of his manic maestro of the ring, but also his faithful assistant Senor Benjamin and the omnipresent Vanguard 1:
The #7Deities have EMPOWERED & #WOKEN my VESSEL's #BROKENBrilliance to DELETE the rubbish away from the plane identified as WWE.

It COMMENCES tonight at #WWESaltLakeCity. pic.twitter.com/nc2s19xcf8

— #WOKEN Matt Hardy (@MATTHARDYBRAND) December 2, 2017
[EXCLUSIVE VIDEO] IT HAS BEGUN. Senor Benjamin, PROCURE my Coat of Battle. The #GreatWar has begun on a new plane. https://t.co/NA1nOWGQoy

— #WOKEN Matt Hardy (@MATTHARDYBRAND) December 1, 2017
— Vanguard1 (@Vanguard1AAR) November 30, 2017
The #GreatWar is merely beginning on this plane identified as @WWE. I must recruit LOYAL Soldiers from around the planet of Earth to join me as I battle in a DOMAIN overflowing with DARKNESS & DEMONS.

Our Platoon has much to do.

— #WOKEN Matt Hardy (@MATTHARDYBRAND) November 29, 2017
Basically, expect RAW to begin with plenty of "DELETE" chants tomorrow night. DELETE! DELETE! DELETE!
Last Updated: December 4, 2017