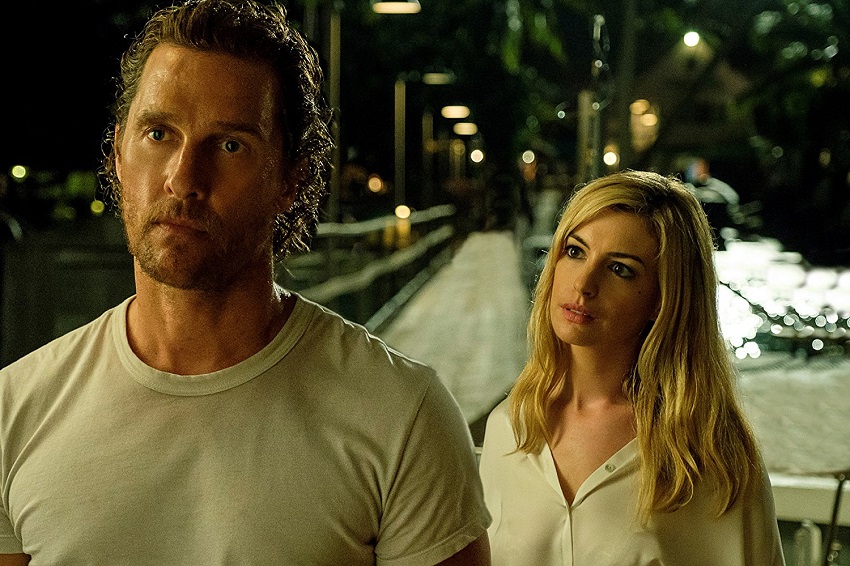 Matthew McConaughey seems to have typecast himself a bit into roles that require him to express everything in his familiar languid drawl, but I'll be damned if he's not extremely good at it. However I suspect he might be damned in this upcoming noir thriller.
Serenity, written and directed by Steven Knight (Pretty Dirty Things, Locke), sees him living the simple life as a tourist fishing boat captain on a small tropical island in the Caribbean. His idyllic existence as a leaf on the ocean is suddenly shattered when his ex-wife (Anne Hathaway) tracks him down and demands that he throw her new husband (Jason Clarke) to the sharks during a fishing trip in order to protect both her and their son from his violent impulses.
The official plot synopsis is as follows:
The mysterious past of a fishing boat captain living in the Caribbean comes back to haunt him, ensnaring his life in a new reality that may not be what it all seems.
Let's take a look:
Well there's clearly way more going on here than meets the eye in what seems like a cracking, intense thriller. Firstly we know that McConaughey has a past, one that he's worked very hard to leave behind by changing his name and disappearing to a small island in the middle of nowhere. Secondly the trailer gradually becomes more surreal as it goes along, and puts emphasis on uncovering the truth and resisting temptation. I wouldn't be too surprised to find out that this isn't just a simple thriller, but that McConaughey is possibly also trapped in some kind of purgatory where he has to come to terms with his past.
The performances from this excellent A-list cast, which also includes Diane Lane and Djimon Hounsou, are sharp, it looks gorgeous visually (which you'd expect from a movie shot in Mauritius), and there's mystery, murder and intrigue – what more do you want from a thriller?
Serenity is due for release in the US on 19 October.
Last Updated: June 11, 2018