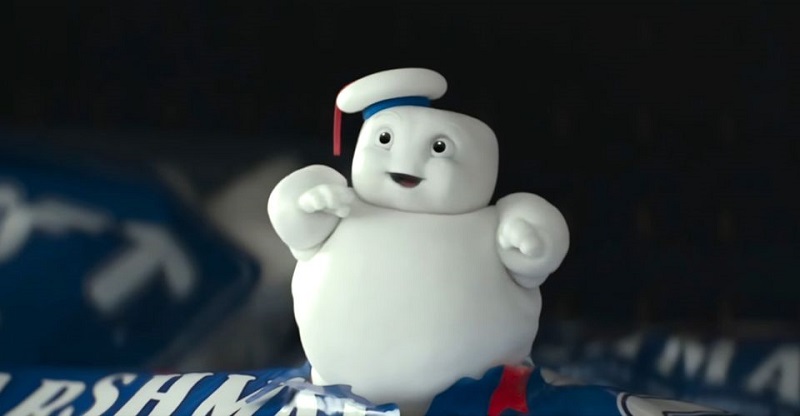 A true Ghostbusters sequel has been a long time coming. Yes, we got a sequel/reboot a few years ago from Paul Feig, but most people prefer to forget that movie ever happened. However, it appears that 2021 will finally be the year where we will see the return of the Ghostbusters once more. Unless Covid-19 has something to say about that, much like it did with the initial release date last year.
It wouldn't be a ghostbusters movie without a delightful bunch of new ghosts in tow and now thanks to a new clip released from director Jason Reitman, we get to see some of the phantasms who'll be haunting the food aisle near you. In the clip, we see Paul Rudd's Mr Grooberson doing some grocery shopping when he comes across some cute looking Miniature Stay-Puft Marshmallow Men, who turn out to be far more problematic than their cute appearance belies:
Taking after the far bigger marshmallow man from the first movie, these little ghosts look set to build on the nostalgia that this new film will no doubt have. It's clear that Ghostbusters Afterlife is trying to lean into the comedy elements of the first film with its cute little terrors and their disturbing antics.
The Ghostbusters: Afterlife story follows a single mom (Carrie Coon) and her two kids (Finn Wolfhard and McKenna Grace) as they move into their late grandfather's home and slowly discover their family's ties to the Ghostbusters and leaving them to carry on the Ghostbusters legacy. With the original cast, save for the late Harold Ramis, all returning to star in the roles they made famous in the 80s.
It promises to be a healthy dose of both fun and nostalgia when it hopefully releases in November later this year.
Last Updated: April 8, 2021