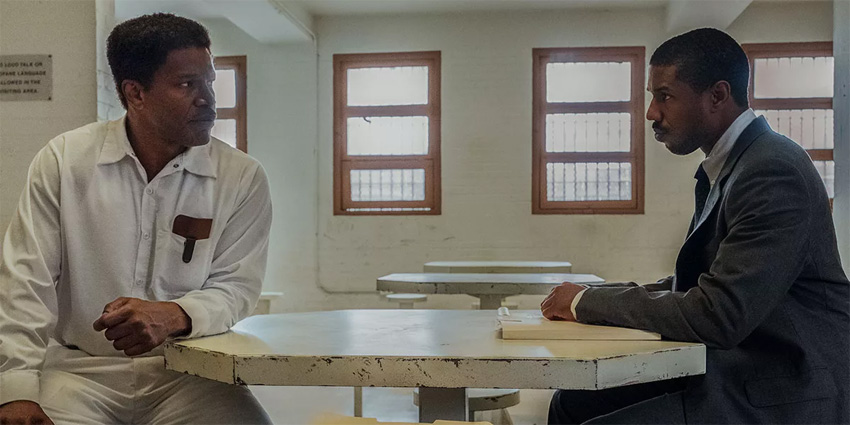 They say that justice is blind. Unfortunately though, history has taught us that justice can be just as prejudiced as the rest of us. Which is why it can often take extraordinary effort and sacrifice from others to fight for the lives and true justice of people who have fallen victim to the unfairness of the legal systems and criminal courts in play.
In Just Mercy, it's Michael B Jordan (Black Panther, Creed) who takes on the role of real-life hero and young attorney, Bryan Stevenson, in a movie based on his memoirs of the same name. And the unfortunate victim in need of true justice is played by Jamie Foxx (Ray, Django Unchained), who stars as Walter McMillan, an African-American Alabamian inmate who, in 1987, was sentenced to die for killing a white teenaged girl, in spite of the ample evidence proving his innocence. It sounds like the perfect setting for your typical courtroom drama, but given the race debate so prevalent today, adds a lot more relevance to it:
This is the second trailer we've seen for the film, but this time we get to see more of Foxx's character and understand the raw emotion that drives the film. The story certainly appears to be racially charged and a little clichéd, but nonetheless brings a strong intensity to its story on the foundation of its exceptional cast which also sees Brie Larson (Captain Marvel) play the role of advocate Eva Ansley.
The film is being directed by Larson's Short Term 12 and The Glass Castle collaborator Destin Daniel Cretton (who was also recently tapped by Marvel for Shang-Chi and the Legend of the Ten Rings). Based on the quality of his past work, it's not a stretch to expect Just Mercy to be in the running for a few awards after it releases early next year on 10 January 2020. That release date may not help its box office fortunes, given that films of this ilk tend to not gain too much attention in that January slot. Perhaps the appeal of big MCU stars Jordan and Larson could finally change that.
Just Mercy also stars Tim Blake Nelson, Rafe Spall, and O'Shea Jackson. The official synopsis is below:
A powerful and thought-provoking true story, "Just Mercy" follows young lawyer Bryan Stevenson (Jordan) and his history-making battle for justice. After graduating from Harvard, Bryan had his pick of lucrative jobs. Instead, he heads to Alabama to defend those wrongly condemned or who were not afforded proper representation, with the support of local advocate Eva Ansley (Larson). One of his first, and most incendiary, cases is that of Walter McMillian (Foxx), who, in 1987, was sentenced to die for the notorious murder of an 18-year-old girl, despite a preponderance of evidence proving his innocence and the fact that the only testimony against him came from a criminal with a motive to lie. In the years that follow, Bryan becomes embroiled in a labyrinth of legal and political manoeuvrings and overt and unabashed racism as he fights for Walter, and others like him, with the odds – and the system – stacked against them.
Last Updated: December 3, 2019