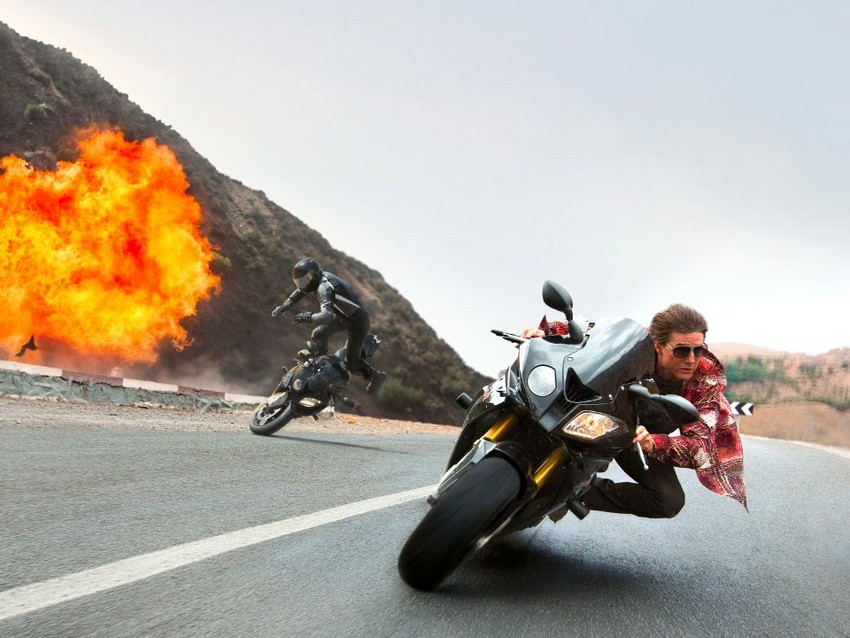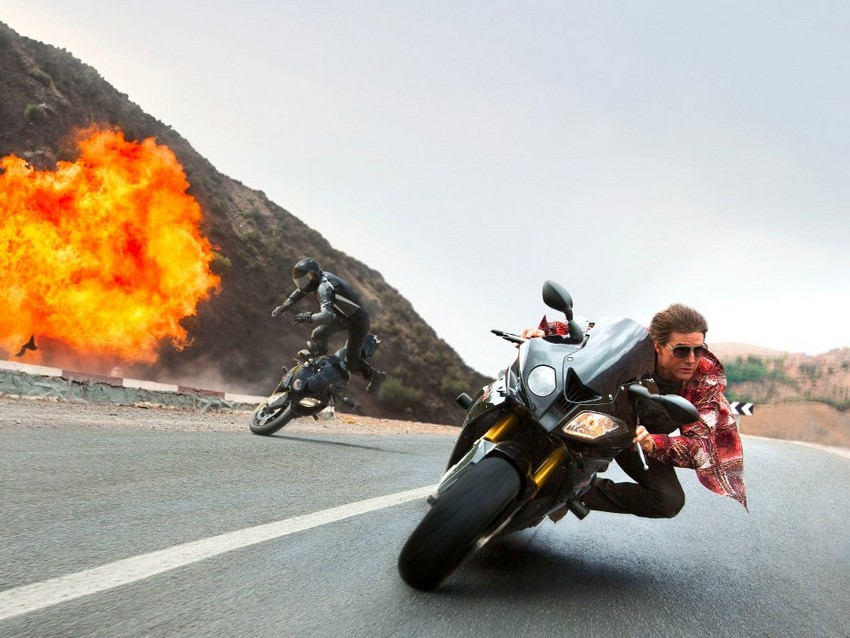 Tom Cruise is a maniac. This is a fact that has been well established across more than three decades worth of films in the career of the 55-year old actor, as he was always willing to put his body on the line for audiences with death defying stunts. This do-it-yourself attitude has earned him tons of praise, but it may now also have caused his next big film some big problems.
Earlier in the week, a video report surfaced from Variety showing Cruise on the set of Mission: Impossible 6 seemingly injuring himself during a stunt. Compared to Cruise's past efforts of scaling the world's tallest building, or hanging on the outside of a cargo plane as it flew around England, this was an incredibly tame one: Cruise's superspy Ethan Hunt was simply to jump from one building's rooftop to another, but be slightly short (hur dur) and smack into the second rooftop's ledge before pulling himself up. However, during the video you can see that while everything appears to play out as planned, when Cruise pulls himself up he is visibly limping.
At the time, the state of his injury was uncertain but didn't appear to be serious as Cruise seems to just walk it off. Subsequent reports though revealed that Cruise had in fact broken his ankle on impact, and as a result the film has shut down production to allow him to recover. The extent and duration of this delay is uncertain, but writer/director Christopher McQuarrie assured Empire that this shouldn't impact the film's 27 July 2018 release date.
We'll assess what there is to be shot. And what we can shoot, and then what we'll do is once we've shot through that we'll go on a hiatus and then I'll shift my attention over to editorial. We've already shot a huge chunk of the movie so you're just taking a big chunk of post-production and moving it up sooner. Then we go back to shooting when the hiatus is over, which is to the full benefit of the movie. It's similar to situations I've had on other movies where, for whatever reason, you go on hiatus and you're able to look at the movie in a way you normally couldn't and reevaluate. The lesson I learned on Valkyrie [also starring Cruise], which had its share of difficulties in production, and we always used to say 'disaster is an opportunity to excel'.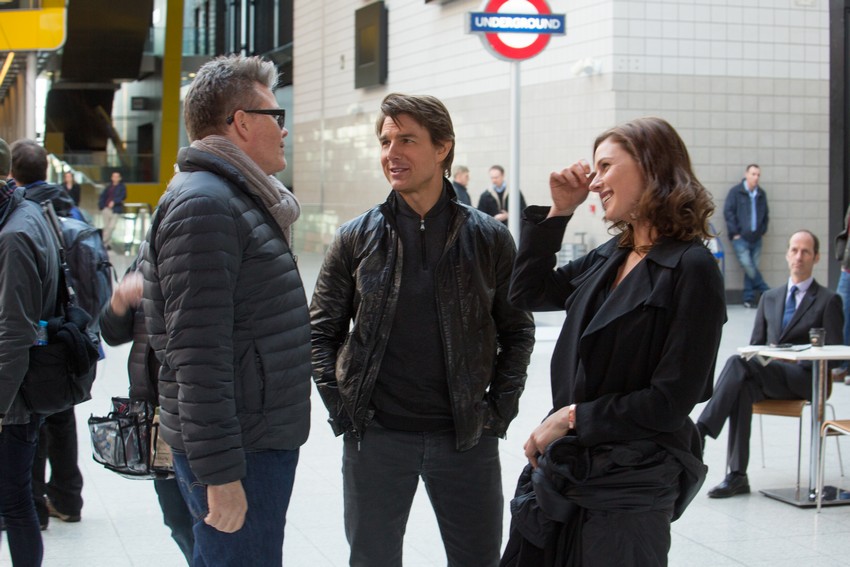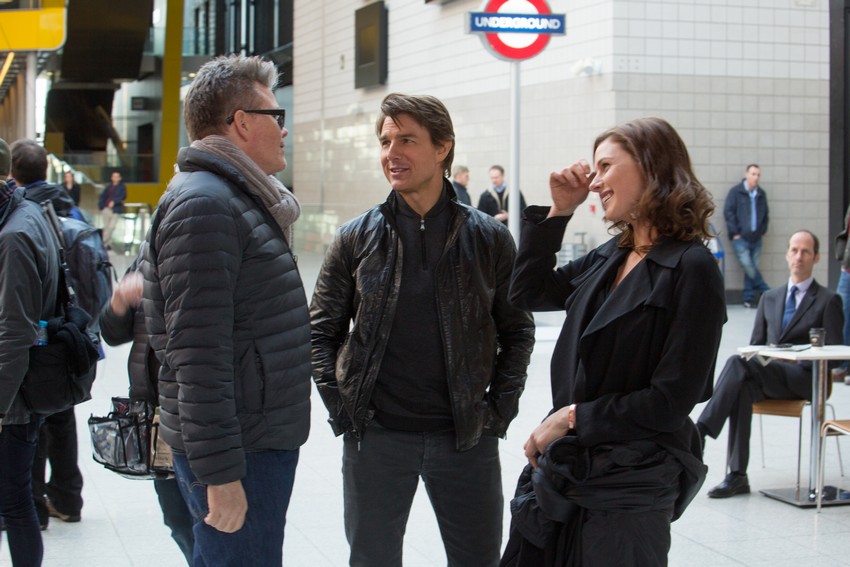 McQuarrie, who also directed Cruise during that insane plane stunt in Mission: Impossible – Rogue Nation – went on to actually explain what went wrong with the relatively simple stunt, as there have been conflicting reports circulating online.
The speculation was that Tom had somehow missed or fell short. The truth is that the stunt was never designed for Tom to jump from rooftop to rooftop which a) would have been pretty boring and b) when you see the actual shot you'll understand how it was designed. Also, when you look at what was posted on the internet, you can see Tom do the same stunt multiple times. He was always supposed to slam into the side of the building. That's what gives the stunt its energy. He was completely safe the entire time he was doing that. He was padded.

What happened is a matter of coordinating what Tom is doing with what the camera is doing, which means you have to do it a number of times. And on the fourth try, he hit the building at a slightly different angle and he broke his ankle. He knew the instant that he hit the building that his ankle was broken. You can see it on his face. We had four cameras rolling on it, and you can see it on the video that's on the internet. He knew in that instant, 'Well, we're not coming back here. We're not doing this again today'. So he got up and powered through the shot, and then he got off-camera and as soon as he knew he was off-camera he went down. He knew that was the only way to preserve the shot. I don't know that I would have the wherewithal to do that.

The first thing he said when he came back was, 'did you get it?' He was laying down with his foot up and I brought him the shot and he looked at it. As only Tom Cruise can do, with an icepack around his ankle, he said, 'that's a pretty cool shot!'. I now have to move heaven and earth to make sure that the shot is in the movie. We went to all that effort to get it. It's a pretty fantastic shot.
So yes, folks, whenever Mission: Impossible actually releases – hopefully still July 2018 – you will probably now get to see Tom Cruise break his ankle for real on-screen. While Cruise is said to be doing fine and should be recovering easily since this was a rather simple break, I have a feeling his couch-jumping days are behind him.
There's been no official title or plot details revealed for Mission: Impossible 6 but we know that returning to co-star with Cruise will be Ving Rhames, Rebecca Ferguson, Simon Pegg, Michelle Monaghan, Alec Baldwin and Sean Harris, while newcomers include Henry Cavill, Vanessa Kirby, Angela Bassett, Sian Brooke and Frederick Schmidt.
Last Updated: August 17, 2017