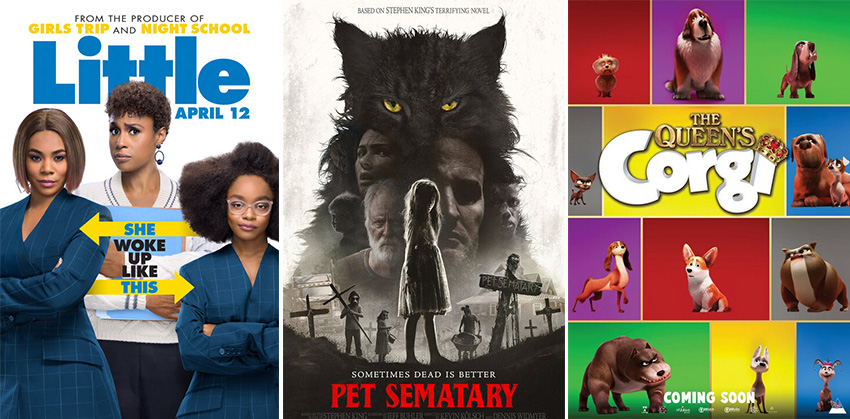 Just in time for Easter, there's a host of family films hitting cinemas this weekend, alongside one decidedly not-family-friendly horror film about, funnily enough, resurrection. Well planned or just serendipitous, either way, that made me laugh.
---
Pet Sematary
Age Restriction: 16 H L V
After relocating with his wife Rachel (Amy Seimetz) and their two young children from Boston to rural Maine, Dr. Louis Creed (Jason Clarke) discovers a mysterious burial ground hidden deep in the woods near the family's new home. When tragedy strikes, Louis turns to his unusual neighbor, Jud Crandall (John Lithgow), setting off a perilous chain reaction that unleashes an unfathomable evil with horrific consequences.
There's an unfortunate disconnect between story and horror in Pet Sematary that reduces it to merely average. It's still a good enough horror, but we only get hints at how it could have been great.
Critical Hit: 5.5/10
Rotten Tomatoes: 58% (Rotten)
Metacritic: 57 (Mixed or Average Reviews)
---
Little
Age Restriction: 10-12 PG L S
Jordan Sanders – Hall (Regina Hall and Marsai Martin) is a take-no-prisoners tech mogul who wakes up in her adult self's penthouse just before a do-or-die presentation. Her long-suffering assistant April (Issa Rae) is the only one in on the secret that her daily tormentor is now trapped in an awkward tween body just as everything is on the line.
Little is a frustratingly uneven but overall enjoyable take on a well-worn story. It's cute, heart-warming and makes good use of its talented, well-matched cast.
Rotten Tomatoes: 46% (Rotten)
Metacritic: 49 (Mixed or Average Reviews)
---
The Queen's Corgi
Age Restriction: 7-9 PG IAT V
Rex, one of the Queen's most beloved corgis, escapes from the palace and immediately finds himself lost, with only a group of scrappy dogs to rely on. Forced to find his way back to his favourite Monarch, Rex begins an epic journey that will help him discover who he truly is.
Produced by Belgian animation studio nWave Pictures, the Queen's Corgi has pulled some big names to do the voice acting, including Dame Julie Walters, Matt Lucas and Jake Whitehall. Unfortunately, there aren't any reviews out yet, so it remains to be seen if the film is actually good.
Rotten Tomatoes: Tomatometer not available
---
Saint Judy
Age Restriction: 13 L P SV V
SAINT JUDY tells the inspirational true story of immigration attorney Judy Wood and her fight that changed American asylum law forever. In her first case, Judy represents a woman forced to flee her home country after being persecuted by the Taliban for opening a school for girls. While juggling her life as a single mother, Judy fights tenacious battles in and out of court, not only saving her client's life, but changing the Law of Asylum in the United States. This case has saved the lives of thousands of other persecuted women around the world. Like ERIN BROCKOVICH, SAINT JUDY tells the story of a remarkable woman who overcame tremendous odds, and reminds us how one person can change the world.
The early glimpses of a soulful and sobering courtroom drama in Saint Judy are buried under tired, melodramatic clichés, resulting in a movie far less powerful than it could – or should – have been.
Rotten Tomatoes: 58% (Rotten)
Metacritic: 51 (Mixed or Average Reviews)
---
Kandasamys – The Wedding
Age Restriction: 10-12 PG L
Welcome to the world of neighbours on the verge of becoming one big, happy family—the Kandasamys and the Naidoos. It's been a few years since Jennifer Kandasamy and Shanthi Naidoo rekindled their once-tainted friendship, and the two could not be happier that their children, Jodi and Prishen, are to be wed. It's one week before the wedding and the mothers start falling apart in a roller coaster of hysteria, laughter and tears as the young couple's relationship is put to the ultimate test as their wedding day draws nearer!
A sequel to 2017's widely successful Keeping Up with the Kandasamys, Kandasamys – The Wedding might not reach the comedic heights of the first film, but is nevertheless a fun family movie.
---
For more information about the age restrictions, click here.
Last Updated: April 18, 2019