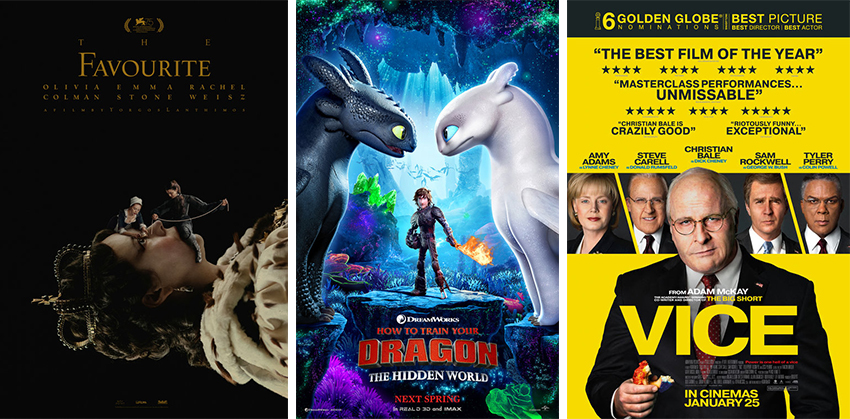 It's the first of February, but thankfully we're spared from the flood of romance movies that usually come with the month of love. For this week at least.
---
How to Train Your Dragon 3: The Hidden World
Age Restriction: 7-9 PG V
Now chief and ruler of Berk alongside Astrid, Hiccup has created a gloriously chaotic dragon utopia. When the sudden appearance of female Light Fury coincides with the darkest threat their village has ever faced, Hiccup and Toothless must leave the only home they've known and journey to a hidden world thought only to exist in myth. As their true destines are revealed, dragon and rider will fight together—to the very ends of the Earth—to protect everything they've grown to treasure.
Though the style and animation found in the last instalment of the How to Train Your Dragon franchise have reached incredible new heights, the story doesn't soar as high as the previous films. Lacking the deeply emotional send-off this ending could have had, The Hidden World is still an entertaining and film, albeit with less impact.
Critical Hit: 7.5/10
Rotten Tomatoes: 97% (Fresh)
Metacritic: 72 (Generally Favourable Reviews)
---
Vice
Age Restriction: 16 D L P V
Summary: Vice explores the epic story about how a bureaucratic Washington insider quietly became the most powerful man in the world as Vice-President to George W. Bush, reshaping the country and the globe in ways that we still feel today.
Even though Vice is a political satire, it's still thought-provoking and delivered by powerful performances. In terms of story and style, Vice leans towards the incredulously silly, but then again you take one look at the Orange Menace's Twitter feed and you realise that American politics have always been like this.
Critical Hit: 8/10
Rotten Tomatoes: 66% (Fresh)
Metacritic: 61 (Mixed or Average Reviews)
---
The Favourite
Age Restriction: 16 L V N S D
Early 18th century. England is at war with the French. Nevertheless, duck racing and pineapple eating are thriving. A frail Queen Anne (Olivia Colman) occupies the throne and her close friend Lady Sarah (Rachel Weisz) governs the country in her stead while tending to Anne's ill health and mercurial temper. When a new servant Abigail (Emma Stone) arrives, her charm endears her to Sarah. Sarah takes Abigail under her wing and Abigail sees a chance at a return to her aristocratic roots. As the politics of war become quite time consuming for Sarah, Abigail steps into the breach to fill in as the Queen's companion. Their burgeoning friendship gives her a chance to fulfill her ambitions and she will not let woman, man, politics or rabbit stand in her way.
A tour de force in terms of the acting, directing, styling, pretty much everything, The Favourite is artistic cinema at its finest. In essence, it's as ambitious, emotional and somewhat disturbing as its characters turn out to be.
Critical Hit: 9/10
Rotten Tomatoes: 93% (Certified Fresh)
Metacritic: 90 (Universal Acclaim – Metacritic Must See)
---
The Possession of Hannah Grace
Age Restriction: 16 H L V
A shocking exorcism spirals out of control, claiming the life of a young woman. Months later, Megan Reed (Shay Mitchell) is working the graveyard shift in the morgue when she takes delivery of a disfigured cadaver. Locked alone inside the basement corridors, Megan begins to experience horrifying visions and starts to suspect that the body may be possessed by a ruthless demonic force.
NOOOPE.
Critical Hit: 3.5/10
Rotten Tomatoes: 17% (Rotten)
Metacritic: 37 (Generally Unfavourable Reviews)
---
The Upside
Age Restriction: 13 D L
Inspired by a true story, The Upside is a heartfelt comedy about a recently paroled ex-convict (Kevin Hart) who strikes up an unusual and unlikely friendship with a paralyzed billionaire (Bryan Cranston). Directed by Neil Burger and written by Jon Hartmere, The Upside is based on the hit 2011 French film The Intouchables.
The critical consensus around the Upside is that, while it showcases Bryan Cranston and Kevin Hart's chemistry well enough, it never takes full advantage of it. Instead it's exploitative, preachy, and over-the-top cliched.
Rotten Tomatoes: 39% (Rotten)
Metacritic: 45 (Mixed or Average Reviews)
---
For more information about the age restrictions, click here.
Last Updated: February 1, 2019