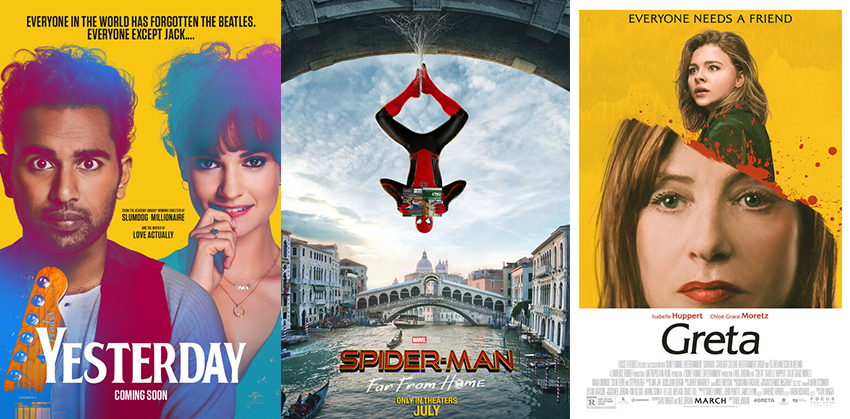 Welcome, officially, to the second half of the year. It's summer block-buster season in the States, so while they're all suffering from a 4th of July hangover, let's see what we've got opening in local cinemas this week.
---
Spider-man: Far from Home
Age Restriction: 10-12 PG L V
Our friendly neighborhood Super Hero decides to join his best friends Ned, MJ, and the rest of the gang on a European vacation. However, Peter's plan to leave super heroics behind for a few weeks are quickly scrapped when he begrudgingly agrees to help Nick Fury uncover the mystery of several elemental creature attacks, creating havoc across the continent!
It could have benefited from a little more character development and less CGI action overdose, but Spider-Man: Far From Home works as a satisfying big screen epilogue to Avengers: Endgame. It's also likely to remind you of the cartoony Sam Raimi Spider-Man movies in parts, but given what happens in this twisty superheroics-meets-tourism tale, that may be the point.
Critical Hit: 8/10
Rotten Tomatoes: 92% (Certified Fresh)
Metacritic: 69 (Generally Favourable Reviews)
---
Yesterday
Age Restriction: 10-12 PG D L
Yesterday, everyone knew The Beatles. Today, only Jack remembers their songs. Jack Malik (Himesh Patel) is a struggling singer-songwriter in a tiny English seaside town whose dreams of fame are rapidly fading, despite the fierce devotion and support of his childhood best friend, Ellie (Lily James). Then, after a freak bus accident during a mysterious global blackout, Jack wakes up to discover that The Beatles have never existed … and he finds himself with a very complicated problem, indeed. Performing songs by the greatest band in history to a world that has never heard them, and with a little help from his steel-hearted American agent, Debra (Kate McKinnon), Jack's fame explodes. But as his star rises, he risks losing Ellie — the one person who always believed in him. With the door between his old life and his new closing, Jack will need to get back to where he once belonged and prove that all you need is love.
Part comedy, part romance, part fantasy, part Beatles tribute. Yesterday is an unusual and disconnected movie that somehow uses its unique charm and humour to find cohesiveness in it all and still entertain you.
Critical Hit: 8/10
Rotten Tomatoes: 61% (Fresh)
Metacritic: number (Mixed or Average Reviews)
---
Greta
Age Restriction: 16 L V
A sweet, naïve young woman trying to make it on her own in New York City, Frances (Chloë Grace Moretz) doesn't think twice about returning the handbag she finds on the subway to its rightful owner. That owner is Greta (Isabelle Huppert), an eccentric French piano teacher with a love for classical music and an aching loneliness. Having recently lost her mother, Frances quickly grows closer to widowed Greta. The two become fast friends — but Greta's maternal charms begin to dissolve and grow increasingly disturbing as Frances discovers that nothing in Greta's life is what it seems.
A bonkers B movie occasionally elevated by its A-list talent, Greta dives headlong into camp and struggles to stay afloat.
Rotten Tomatoes: 60% (Fresh)
Metacritic: 54 (Mixed or Average Reviews)
---
For more information about the age restrictions, click here.
Last Updated: July 5, 2019