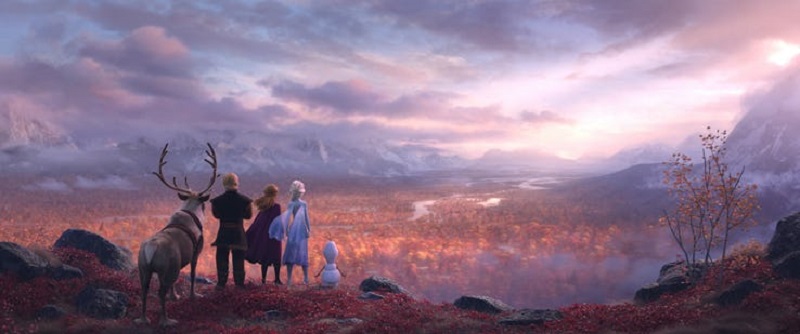 Parents, I hope you're ready for a new Frozen soundtrack! Considering that you've been listening to Let It Go on repeat for the last six years, this might come as a relief…
---
Frozen 2
Age Restriction: PG V
Why was Elsa born with magical powers? The answer is calling her and threatening her kingdom. Together with Anna, Kristoff, Olaf and Sven, she'll set out on a dangerous but remarkable journey. In "Frozen," Elsa feared her powers were too much for the world. In "Frozen 2," she must hope they are enough.
Rotten Tomatoes: 77% (Certified Fresh)
Metacritic: 65 (Generally Favourable Reviews)
---
Last Christmas
Age Restriction: 13 L P
Kate (Emilia Clarke) harumphs around London, a bundle of bad decisions accompanied by the jangle of bells on her shoes, another irritating consequence from her job as an elf in a year-round Christmas shop. Tom (Henry Golding) seems too good to be true when he walks into her life and starts to see through so many of Kate's barriers. As London transforms into the most wonderful time of the year, nothing should work for these two. But sometimes, you gotta let the snow fall where it may, you gotta listen to your heart… and you gotta have faith.
Last Christmas is exactly the type of mass-produced, commercially-friendly fare that the festive season has become known for. But thanks to immensely likeable turns from stars Emilia Clarke, Henry Golding and a great support cast, coupled with foot-tapping music courtesy of George Michael, it's also full of that heartwarming holiday cheer.
Rotten Tomatoes: 47% (Rotten)
Metacritic: 50 (Mixed or Average Reviews)
---
Haunt
Age Restriction: 18 H L V
A group of friends look for the thrill of a lifetime when they enter a haunted house that supposedly brings their deepest darkest fears to life. Things get dangerous, however, when they realize that haunted house's scares may be more than make-believe.
Rotten Tomatoes: 71% (Fresh)
Metacritic: 69 (Generally Favourable Reviews)
---
Pain and Glory
Age Restriction: 16 L N D
Pain and Glory tells of a series of reencounters experienced by Salvador Mallo, a film director in his physical decline. Some of them in the flesh, others remembered: his childhood in the 60s, when he emigrated with his parents to a village in Valencia in search of prosperity, the first desire, his first adult love in the Madrid of the 80s, the pain of the breakup of that love while it was still alive and intense, writing as the only therapy to forget the unforgettable, the early discovery of cinema, and the void, the infinite void that creates the incapacity to keep on making films. Pain and Glory talks about creation, about the difficulty of separating it from one's own life and about the passions that give it meaning and hope. In recovering his past, Salvador finds the urgent need to recount it, and in that need he also finds his salvation.
Rotten Tomatoes: 97% (Certified Fresh)
Metacritic: 88 (Metacritic Must See)
---
For more information about the age restrictions, click here.
Last Updated: December 6, 2019