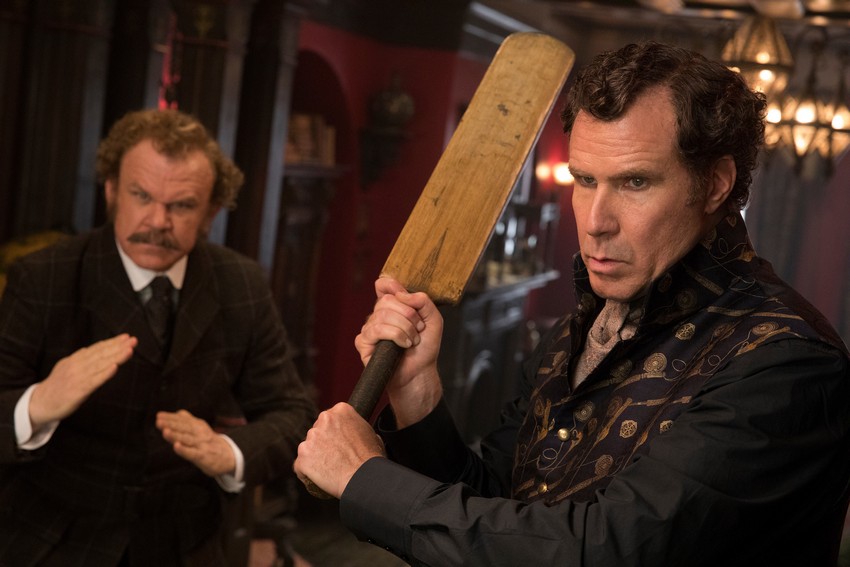 We're in the quiet before rom-com storm that is Valentines Day, but there's still a lot to new releases to choose from. At least the choice to narrow down your selection is pretty elementary when it comes to one of them.
---
Holmes & Watson
Age Restriction: 13 D L S V
Legendary detective Sherlock Holmes and his partner Doctor Watson return for a comedic take on their classic literary partnership, as they use their incredible deductive minds to solve a mystery.
Imbecilic, puerile and basically just gross, Holmes and Watson is the perfect reason why you never go and describe your movie as "comedic" – you're almost guaranteed to have the opposite effect. There was a very good reason why many early press screenings for this film (including here in SA) were cancelled by the studio.
Rotten Tomatoes: 10% (Rotten)
Metacritic: 24 (Generally Unfavourable Reviews)
---
The Prodigy
Age Restriction: 16 H L V
Sarah (Taylor Schilling) is a mother whose young son Miles' disturbing behavior signals that an evil, possibly supernatural force has overtaken him. Fearing for her family's safety, Sarah must grapple with her maternal instinct to love and protect Miles in favor of investigating what – or who – is causing his dark turn. She is forced to look for answers in the past, taking the audience on a wild ride; one where the line between perception and reality remains blurry.
Despite strong performances and good chemistry between its two leads, The Prodigy is everything but remarkable thanks to some bland and unscary filmmaking.
Critical Hit: 3.5/10
Rotten Tomatoes: 57% (Rotten)
Metacritic: 48 (Mixed or Average Reviews)
---
Can You Ever Forgive Me?
Age Restriction: 16 D L
When bestselling celebrity biographer, Lee Israel, is no longer able to get published because she has fallen out of step with current tastes, she turns her art form to deception, abetted by her loyal friend, Jack.
Deftly directed and laced with dark wit, Can You Ever Forgive Me? proves a compelling showcase for deeply affecting work from Richard E. Grant and Melissa McCarthy.
Rotten Tomatoes: 98% (Certified Fresh)
Metacritic: 87 (Universal Acclaim | Metacritic Must See)
---
Sew the Winter To My Skin
Age Restriction: 13
A rousing, action-adventure-epic set in early 1950's rural South Africa, chronicling the captivating chase and suspenseful capture of the native outlaw, John Kepe. This self-proclaimed "Samson of the Boschberg" inevitably became a political threat to the very fabric of the ruling colonial society
South Africa's hopeful entry to the Best Foreign Language film (which unfortunately didn't get the nod) Sew the Winter to my Skin has mainly been criticised for never feeling as impactful as the man whose myth it is telling. However, writer/director Jahmil X.T. Qubeka's visual aesthetic is strong and the nearly wordless narrative and highly emotional filmmaking makes this film stand out.
Rotten Tomatoes: 75% (Fresh)
---
Jumbo Goes to Jozy
Age Restriction: TBA
This comedy tells a tale of an American guy in search of Love, married to an African girl. The drama he experienced from the entire adventure explored his naivety to love, marriage, culture and religion. Which makes him A Jumbo in jozy (JJC) in his adventure to keeping his marriage.
I don't really know what is going on with Jumbo Goes to Jozy because that was the worst editing in a trailer I have ever seen. If the whole film is like that, then heaven help us all.
---
For more information about the age restrictions, click here.
Last Updated: February 8, 2019