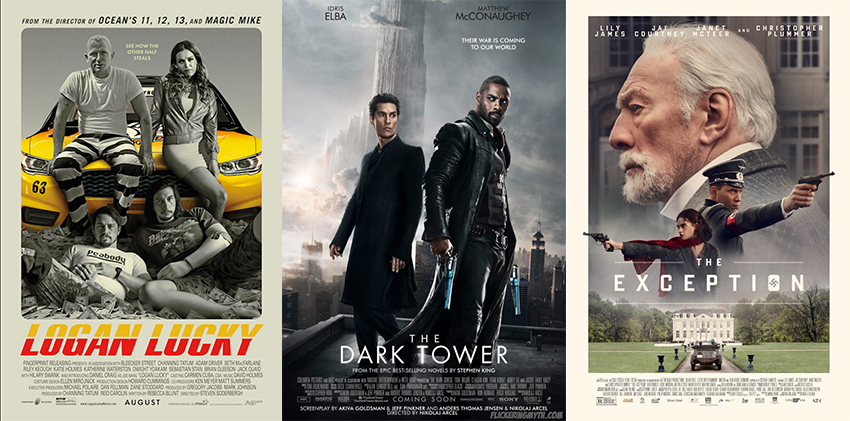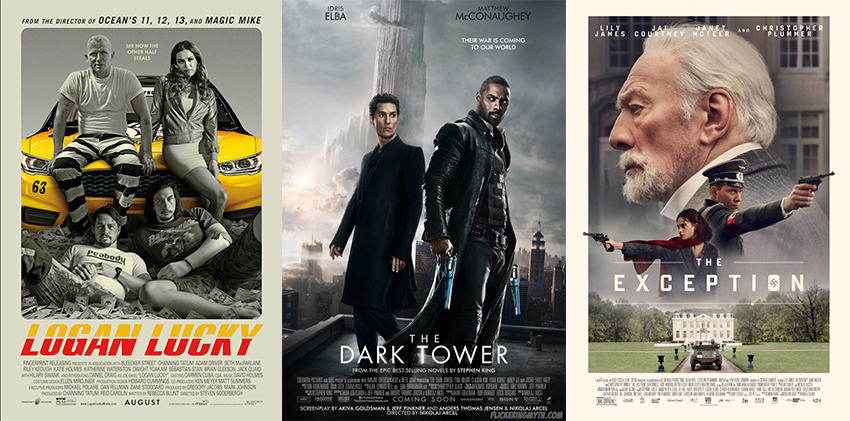 As a high-profile adaptation with big name stars, this week's main drawcard should be The Dark Tower.  Unfortunately, it's not your best option, and while I probably can't dissuade you from wasting your time, I should point out that it's not your only option this weekend. Here's everything opening in cinemas today.
The Dark Tower
Age Restriction: 10-12 PG V
The last Gunslinger, Roland Deschain (Idris Elba), has been locked in an eternal battle with Walter O'Dim, also known as the Man in Black (Matthew McConaughey), determined to prevent him from toppling the Dark Tower, which holds the universe together. With the fate of the worlds at stake, good and evil will collide in the ultimate battle as only Roland can defend the Tower from the Man in Black.
As a fan of the books, I thought that this sort-of adaptation of Stephen King's epic, sprawling series fell far, far short of the mark. As a non-reader of King's work, Noelle thought even less of The Dark Tower than I did. If you haven't read our respective reviews, the bottom line is that this film is underwhelming, leaning towards creatively bankrupt and downright lazy.
Critical Hit: 4.5/10 & 3.5/10
Rotten Tomatoes: 16%
Metacritic: 34
Book at Nu Metro or Ster Kinekor (2D)
Book at Nu Metro (4DX)
Logan Lucky
Age Restriction: 10-12 PG L V
Trying to reverse a family curse, brothers Jimmy (Channing Tatum) and Clyde Logan (Adam Driver) set out to execute an elaborate robbery during the legendary Coca-Cola 600 race at Charlotte Motor Speedway.
Steven Soderbergh's retirement didn't last very long, but his return to directing with Logan Lucky is a warm welcome back. While there may be small script and tone issues, the incredible cast and excellent heist story make up for the minor niggles in spades.
Critical Hit: 7.5/10
Rotten Tomatoes: 92%
Metacritic: 78
Book at Nu Metro or Ster Kinekor (2D)
The Exception
Age Restriction: 16 N S
German soldier Stefan Brandt (Jai Courtney) goes on a mission to investigate exiled German Monarch Kaiser Wilhelm II (Christopher Plummer). The Kaiser lives in a secluded mansion in The Netherlands, and as Germany is taking over Holland, the country's authorities are concerned that Dutch spies may be watching the Kaiser. As Brandt begins to infiltrate the Kaiser's life in search of clues, he finds himself drawn into an unexpected and passionate romance with Mieke (Lily James), one of the Kaiser's maids whom Brandt soon discovers is secretly Jewish. When Heinrich Himmler (Eddie Marsan), Head of the SS, decides to come for an unexpected visit with a large platoon of Nazis in tow, the stage is set for a breathtaking showdown, as secrets are revealed, allegiances are tested, and Brandt is forced to make the ultimate choice between honoring his country and following his heart.
As bizarre as a combination of period drama, wartime thriller and love story sounds, The Exception makes it work. It's elegant and solidly crafted, with a talented supporting cast and a truly exceptional performance by Christopher Plummer.
Rotten Tomatoes: 78%
Metacritic: 60
Book at Nu Metro or Ster Kinekor (2D)
The Glass Castle
Age Restriction: 13 D L SV V
A young girl comes of age in a dysfunctional family of nonconformist nomads with a mother who's an eccentric artist and an alcoholic father who would stir the children's imagination with hope as a distraction to their poverty.
Based on the best-selling memoir by Jeannette Walls, The Glass Castle as a movie has few redeeming qualities, according to critics. The dedicated, heavyweight cast pull together for some heart-tugging moments, but the movie as a whole lacks the unflinching detail or emotional resonance of the source material.
Rotten Tomatoes: 49%
Metacritic: 56
Book at Nu Metro or Ster Kinekor (2D)
9/11
Age Restriction: 16 L V
A group of 5 people find themselves trapped in an elevator in the World Trade Center's North Tower
The trailer for 9/11 states that it's "based on actual events". Insofar as I can tell, the actual events are that, well, 9/11 happened. Otherwise, it's just a low-budget, overly dramatic straight-to-TV effort that, for some unknown reason, is screening in cinemas.
Rotten Tomatoes: TBD
Metacritic: not found
Book at Nu Metro (2D)
For more information about the age restrictions, click here.
Last Updated: September 8, 2017