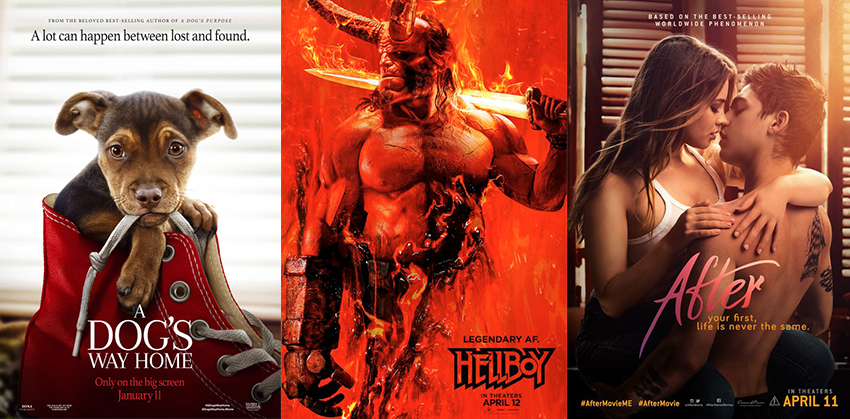 In the dead space between the Oscars and the summer block-busters languishes Hellboy and some other movies that are really neither here nor there.
---
Hellboy
Age Restriction: 18 D H L V
Hellboy (David Harbour) comes to England, where he discovers The Blood Queen, Nimue (Milla Jovovich), a resurrected ancient sorceress thirsting to avenge a past betrayal. Suddenly caught in a clash between the supernatural and the human, Hellboy is now hell-bent on stopping Nimue without triggering the end of the world.
Well, this is disappointing. This Hellboy remake has lost all the soul of the del Toro films, and while David Harbour is worthy of the horns and the visual flair is, for the most part, impressive, it's not enough to make up for the frantic, non-sensical story that jumps from set-piece to set-piece with no breathing space in between.
Rotten Tomatoes: 12% (Rotten)
Metacritic: 33 (Generally Unfavourable Reviews)
---
A Dog's Way Home
Age Restriction: PG V
A lot can happen between lost and found. A Dog's Way Home chronicles the heartwarming adventure of Bella, a dog who embarks on an epic 400-mile journey back home after she is separated from her beloved human, Lucas (Jonah Hauer-King).
A Dog's Way home is exactly as heart-warming and sweet as the trailer would have you believe. It's the kind of film that's practically engineered to make you cry, even if there's little else that stands out.
Rotten Tomatoes: 62% (Fresh)
Metacritic: 50 (Mixed or Average Reviews)
---
After
Age Restriction: 16 D S
Based on Anna Todd's best-selling novel which became a publishing sensation on social storytelling platform Wattpad, AFTER follows Tessa (Langford), a dedicated student, dutiful daughter and loyal girlfriend to her high school sweetheart, as she enters her first semester in college. Armed with grand ambitions for her future, her guarded world opens up when she meets the dark and mysterious Hardin Scott (Tiffin), a magnetic, brooding rebel who makes her question all she thought she knew about herself and what she wants out of life.
I've never even heard of the social story-telling platform Wattpad, let alone Anna Todd and her best-selling novel. But from what I can surmise from the trailer, After is a hard pass from me.
Rotten Tomatoes: Tomatometer not available
Metacritic: not found
---
RaceTime
Age Restriction: PG L V
A spectacular sled race through the village. Frankie-Four-Eyes and his team, including Sophie as the driver, take on the newcomers: the mysterious and conceited Zac and his athletic cousin Charly. The fantastic sled designed by Frankie disintegrates right before crossing the finish line. It is a bitter loss for Frankie who refuses to accept that he might have made some building mistakes. Together with his friends, he manages to prove that Zac cheated during the race. Frankie demands a rematch; which Zac accepts on condition that Frankie build an entirely new race track. Frankie and his friends build a spectacular race track. Zac realizes he is up against a worthy opponent, so he raises the stakes even more by cornering Frankie into adding a bet. As the two teams prepare for race day, Zac has no scruples about cheating even more to weight the outcome of the race in his favor. But Frankie and his team have a few surprises of their own in store for him.
A sequel to the apparently highly successful SnowTime! which won the 2015 best box-office in Canada, because… it has snow, I guess? In any case, all you need to know about RaceTime can be easily gleaned from the synopsis and, being a kids movie, you know exactly how it's going to end.
Rotten Tomatoes: Tomatometer not available
Metacritic: not found
---
Breakthrough
Age Restriction: 7-9 PG
BREAKTHROUGH is based on the inspirational true story of one mother's unfaltering love in the face of impossible odds. When Joyce Smith's adopted son John falls through an icy Missouri lake, all hope seems lost. But as John lies lifeless, Joyce refuses to give up. Her steadfast belief inspires those around her to continue to pray for John's recovery, even in the face of every case history and scientific prediction. From producer DeVon Franklin (Miracles from Heaven) and adapted for the screen by Grant Nieporte (Seven Pounds) from Joyce Smith's own book, BREAKTHROUGH is an enthralling reminder that faith and love can create a mountain of hope, and sometimes even a miracle.
A film about a miraculous resurrection, just in time for Easter? That's a bit on the nose, don't you think?
Rotten Tomatoes: 57% (Rotten)
Metacritic: 40 (Mixed or Average Reviews)
---
For more information about the age restrictions, click here.
Last Updated: April 12, 2019