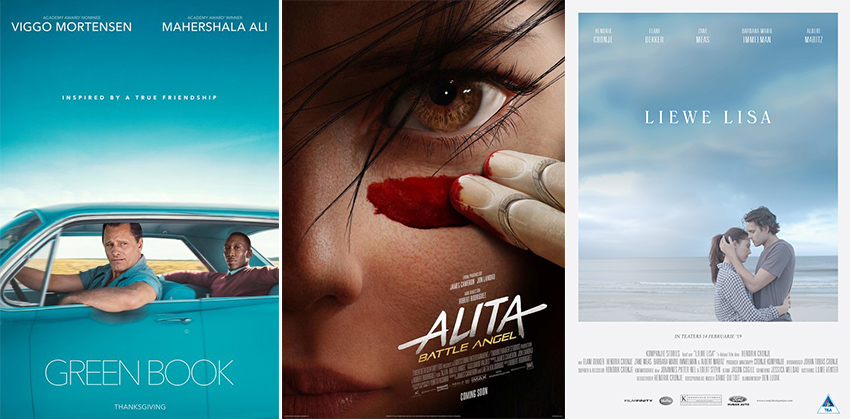 I'm still rather surprised we haven't been flooded with romance films yet, what with yesterday being Valentine's Day and all. Instead, we've only got one remotely sappy film to suffer through this week.
---
Alita: Battle Angel
Age Restriction: 16 D L V
When Alita (Rosa Salazar) awakens with no memory of who she is in a future world she does not recognize, she is taken in by Ido (Christoph Waltz), a compassionate doctor who realizes that somewhere in this abandoned cyborg shell is the heart and soul of a young woman with an extraordinary past. As Alita learns to navigate her new life and the treacherous streets of Iron City, Ido tries to shield her from her mysterious history while her street-smart new friend Hugo (Keean Johnson) offers instead to help trigger her memories. But it is only when the deadly and corrupt forces that run the city come after Alita that she discovers a clue to her past – she has unique fighting abilities that those in power will stop at nothing to control. If she can stay out of their grasp, she could be the key to saving her friends, her family and the world she's grown to love.
Alita: Battle Angel isn't a perfect movie. It suffers from a jumbled, overstuffed script and some extremely silly dialogue choices, but that can, in part, be blamed on trying too hard to incorporate every aspect of the anime it's based on. However, with Rosa Salazar's exuberant motion-captured performance and director Robert Rodriguez's flair, Alita: Battle Angel has turned out to be one of the best anime film adaptations we've seen.
Critical Hit: 7.5/10
Rotten Tomatoes: 60% (Fresh)
Metacritic: 53 (Mixed or Average Reviews)
---
Green Book
Age Restriction: 13 D L P V
When Tony Lip (Viggo Mortensen), a bouncer from an Italian-American neighborhood in the Bronx, is hired to drive Dr. Don Shirley (Mahershala Ali), a world-class black pianist, on a concert tour from Manhattan to the Deep South, they must rely on The Green Book to guide them to the few establishments that were then safe for African-Americans. Confronted with racism, danger-as well as unexpected humanity and humor-they are forced to set aside differences to survive and thrive on the journey of a lifetime.
Once again proving to be a heavyweight actor, Mahershala Ali puts an award-winning performance into Green Book. Unfortunately, that's about as heavy as the movie gets, despite its hot-button subject matter. Otherwise, Green Book keeps itself relatively light and pleasant, which makes for an enjoyable movie if you don't stop to think on it too much.
Critical Hit: 7/10
Rotten Tomatoes: 79% (Certified Fresh)
Metacritic: 69 (Generally Favourable Reviews)
---
Liewe Lisa
Age Restriction: 13 D L S
Daniel secretly dreams of becoming a writer. In the pursuit of excitement, he finds himself trapped in an illicit affair with the wife of a powerful businessman. Things take another dramatic turn when he falls in love with the same businessman's daughter. After his mistakes are revealed, he abandons the life set out for him and meets Tom; a simple fisherman who helps Daniel to achieve his true potential in life.
Of course, the one romance movie for Valentine's weekend would have to be a local Afrikaans film, looking as cliched as ever. Can't we go back to a time when Deadpool was the hottest Valentine's release? I liked those days.
---
For more information about the age restrictions, click here.
Last Updated: February 15, 2019