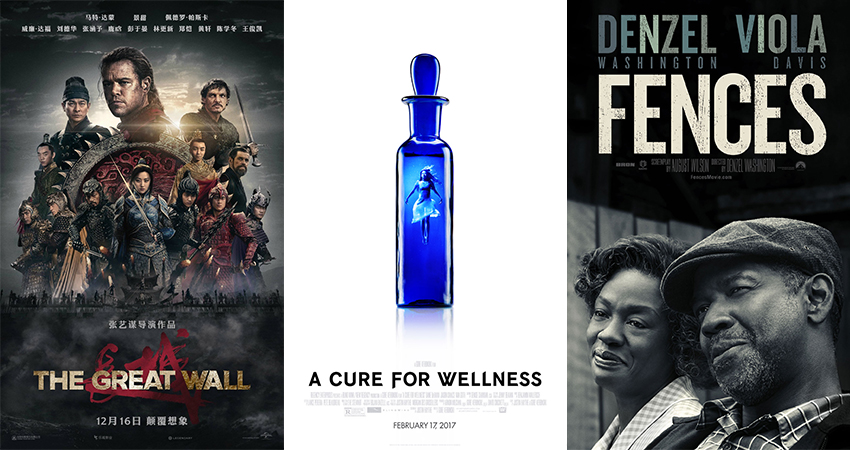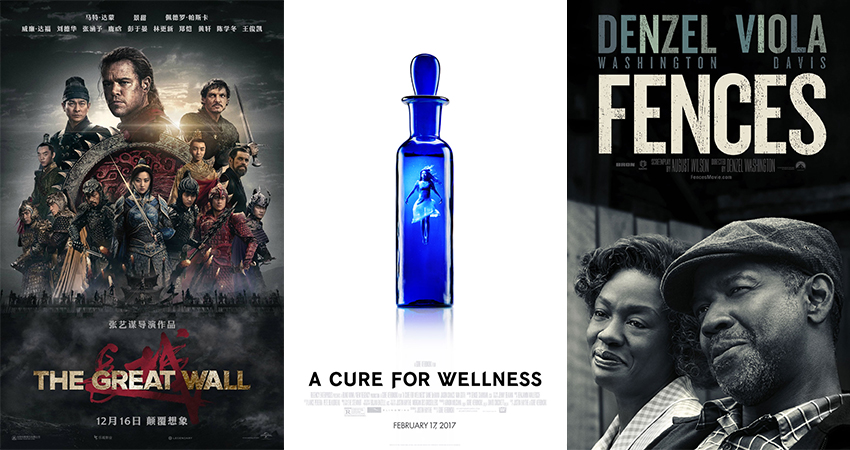 It's all about boundaries with this week's new releases. Great Walls and Fences are taking centre stage, and… my analogy falls apart after those two.  Oh well! Here are the rest of your movies out today.
The Great Wall
Age Restriction: 13 V
When a mercenary warrior (Matt Damon) is imprisoned within The Great Wall, he discovers the mystery behind one of the greatest wonders of our world. As wave after wave of marauding beasts besiege the massive structure, his quest for fortune turns into a journey toward heroism as he joins a huge army of elite warriors to confront this unimaginable and seemingly unstoppable force
I didn't have the best time at the Joburg screening of The Great Wall, thanks to some technical difficulties, and not being able to understand Mandarin. Luckily Kervyn, Craig and Noelle also managed to see it, so we've all put in our two cents (and an emoji or two). Check out our mini review round-up here.
Critical Hit: 6/10 (and a crocodile)
Rotten Tomatoes: 33%
Metacritic: 38
Book at Nu Metro or Ster Kinekor (2D)
Book at Nu Metro or Ster Kinekor (3D)
Book at Ster Kinekor (IMAX)
Fences
Age Restriction: 10-12 PG
In this adaptation of August Wilson's Pulitzer Prize and Tony Award-winning play, an African American father struggles with race relations in the United States while trying to raise his family in the 1950s and coming to terms with the events of his life.
Like many Oscar nominated movies, Fences isn't an easy watch. Heart-breaking character studies usually aren't. But if you're looking for some solid, Oscar-worthy acting and heavy emotional impact, this is your movie.
Critical Hit: 7.5/10
Rotten Tomatoes: 93%
Metacritic: 79
Book at Nu Metro or Ster Kinekor (2D)
A Cure for Wellness
Age Restriction: 16 H N SV V
An ambitious young executive is sent to retrieve his company's CEO from an idyllic but mysterious "wellness center" at a remote location in the Swiss Alps. He soon suspects that the spa's miraculous treatments are not what they seem. When he begins to unravel its terrifying secrets, his sanity is tested, as he finds himself diagnosed with the same curious illness that keeps all the guests here longing for the cure.
Despite the sumptuous visual style, A Cure for Wellness fumbles with a generic plot and the same kinds of twists we've seen before. It doesn't bring anything new to the horror genre but a bit of style, although it contributes plenty in the way of anti-climaxes.
Rotten Tomatoes: 42%
Metacritic: 47
Book at Nu Metro or Ster Kinekor (2D)
Collide
Age Restriction: 13 V
After a heist goes terribly wrong, Casey Stein (Nicholas Hoult) finds himself on the run from a ruthless gang headed by mob boss Hagen (Anthony Hopkins). Now Casey has precious cargo that belongs to Hagen, who will stop at nothing to retrieve it. Left with no choice, Casey calls his former employer and drug smuggler Geran (Ben Kingsley) to protect his long-time girlfriend Juliette before Hagen gets his hands on her. Casey sets out on an adrenaline-fueled car chase on the German highways to save the love of his life before it's too late.
There aren't any reviews out for Collide, so I'm going to have to guess based on what little we have. Which is unfortunate, because the trailer make Collide looks like a fairly generic action movie, and the synopsis confirms that hypothesis. Don't expect anything ground-breaking.
Rotten Tomatoes: unrated
Metacritic: unrated
Book at Nu Metro or Ster Kinekor (2D)
Loving
Age Restriction: 7-9 PG
Loving celebrates the real-life courage and commitment of an interracial couple, Richard and Mildred Loving (Joel Edgerton and Ruth Negga), who married and then spent the next nine years fighting for the right to live as a family in their hometown. Their civil rights case, Loving v. Virginia, went all the way to the Supreme Court, which in 1967 reaffirmed the very foundation of the right to marry – and their love story has become an inspiration to couples ever since.
Loving takes a subtle approach to telling a painful real life story. Fuelled by complex and commanding performances, Loving is an unmatched historical drama that's still very much relevant for today.
Rotten Tomatoes: 89%
Metacritic: 79
Book at Ster Kinekor (Cinema Nouveau)
For more information about the age restrictions, click here.
Last Updated: February 17, 2017