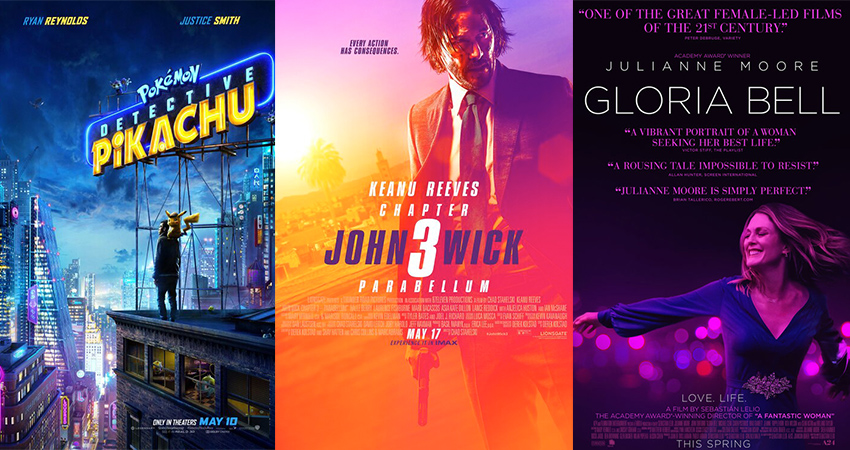 After last weekend's absolute duds, we're finally in for a treat this weekend with both Detective Pikachu and John Wick Chapter 3 – Parabellum landing in cinemas today.
---
Detective Pikachu
Age Restriction: 7-9 PG V
The first-ever live-action Pokémon adventure begins when ace detective Harry Goodman goes mysteriously missing, prompting his 21-year-old son Tim to find out what happened. Aiding in the investigation is Harry's former Pokémon partner, Detective Pikachu: a hilariously wise-cracking, adorable super-sleuth who is a puzzlement even to himself. Finding that they are uniquely equipped to communicate with one another, Tim and Pikachu join forces on a thrilling adventure to unravel the tangled mystery. Chasing clues together through the neon-lit streets of Ryme City – a sprawling, modern metropolis where humans and Pokémon live side by side in a hyper-realistic live-action world – they encounter a diverse cast of Pokémon characters and uncover a shocking plot that could destroy this peaceful co-existence and threaten the whole Pokémon universe.
While it may be devoid of mystery, and sometimes spread itself too thin, Pokémon Detective Pikachu solves the puzzle of adapting a video game to the live-action silver screen. Good comedy, a thrill ride of a story, and a fabulous lead character constantly cracking quips lands a critical hit of a movie that all ages can enjoy.
Critical Hit: 8/10
Rotten Tomatoes: 64% (Fresh)
Metacritic: 53 (Mixed or Average Reviews)
---
John Wick: Chapter 3: Parabellum
Age Restriction: 18 L V
In this third installment of the adrenaline-fueled action franchise, super-assassin John Wick (Keanu Reeves) returns with a $14 million price tag on his head and an army of bounty-hunting killers on his trail. After killing a member of the shadowy international assassin's guild, the High Table, John Wick is excommunicado, but the world's most ruthless hit men and women await his every turn.
It may not be as tightly engineered as the first entry in this franchise – which includes its lumbering full title – but John Wick: Chapter 3 – Parabellum is high-octane, death-defying pure action porn. A perfect blend of style and violence, if this is indeed star Keanu Reeves' final outing as the titular assassin, he is going out with a serious bang.
Critical Hit: 8/10
Rotten Tomatoes: 92% (Certified Fresh)
Metacritic: 73 (Generally Favourable Reviews)
---
Gloria Bell
Age Restriction: 16 D L N S
Gloria (Julianne Moore) is a free-spirited divorcée who spends her days at a straight-laced office job and her nights on the dance floor, joyfully letting loose at clubs around Los Angeles. After meeting Arnold (John Turturro) on a night out, she finds herself thrust into an unexpected new romance, filled with both the joys of budding love and the complications of dating, identity, and family.
With its massive gulf between audience score and critic ratings, Gloria Bell is a film that seems to exist solely to impress film critics. The film reviewers have waxed lyrical about Julienne Moore's overwhelmingly powerful performance, writer/director Sebastián Lelio's delicate dealings with complex emotions and all round celebration of female strength. Audiences on the other hand are giving this film a hard pass.
Rotten Tomatoes: 91% (Certified Fresh)
Metacritic: 80 (Generally Favourable Reviews)
---
The Stolen Princess
Age Restriction: 7-9 PG V
This wonderful story happened in the age of valiant knights, beautiful princesses, and battling sorcerers. Ruslan, a wandering artist dreaming to become a knight, met beautiful Mila and fell in love with her; he didn't even suspect that she is the King's daughter. However, the lovers' happiness wasn't meant to last too long. Chоrnomor, the evil sorcerer, appeared in a magic vortex and stole Mila right before Ruslan's eyes to transform her power of love into his own magic power. Without further ado, Ruslan sets out on a chase after the stolen princess to overcome all obstacles and to prove that real love is stronger than magic.
With a flailing, cliched narrative and weak premise, The Stolen Princess replaces anything resembling a plot or narrative with too much self-depreciative humour and quirkiness.
Rotten Tomatoes: Tomatometer not available
Metacritic: no listing
---
For more information about the age restrictions, click here.
Last Updated: May 17, 2019