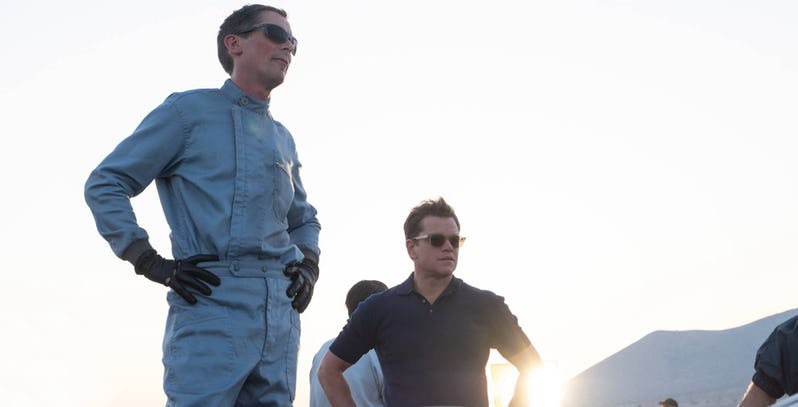 Gotta go fast! Oh, wait, sorry, Sonic isn't out yet, it's just Ford v Ferrari
---
Ford vs Ferrari
Age Restriction: 13 L
Academy Award-winners Matt Damon and Christian Bale star in FORD v FERRARI, based on the remarkable true story of the visionary American car designer Carroll Shelby (Damon) and the fearless British-born driver Ken Miles (Bale), who together battled corporate interference, the laws of physics, and their own personal demons to build a revolutionary race car for Ford Motor Company and take on the dominating race cars of Enzo Ferrari at the 24 Hours of Le Mans in France in 1966.
Rotten Tomatoes: 92% (Certified Fresh)
Metacritic: 81 (Universal Acclaim – Metacritic Must-See)
---
Jexi
Age Restriction: 18 D L N S
Phil (Adam Devine) has a major dependency issue – he's addicted to his phone. He has no friends, he has a job writing pop culture "Top 10" lists, and his love life is non-existent. But his Facebook status is about to change. When he is forced to upgrade his phone, the latest model comes with an unexpected feature… Jexi (Rose Byrne) – an A.I. life coach, virtual assistant and cheerleader. With her help, Phil begins to get a real life. But as he becomes less dependent on his phone, Jexi's artificial intelligence soon morphs into a tech nightmare determined to keep Phil all to herself, even if it means ruining his chances of finding success.
Rotten Tomatoes: 11% (Rotten)
Metacritic: 39 (Generally Unfavourable Reviews)
---
Cut Out Girls
Age Restriction: 18 D L S SV
Cut-Out Girls is the story of how six young women's lives are altered by the actions of two aspiring sportsmen. Kevin and Mike are young men trying to get ahead in the competitive world of tennis. When one of them discovers a dangerous drug that can unlock their potential, their worlds become intertwined and spiral out of control. A small series of seemingly insignificant moments weave together with devastating consequences. In every moment lies a choice.
---
For more information about the age restrictions, click here.
Last Updated: November 22, 2019