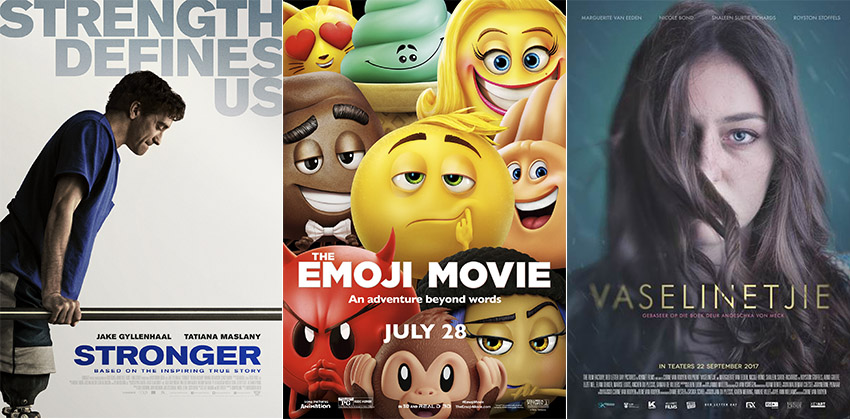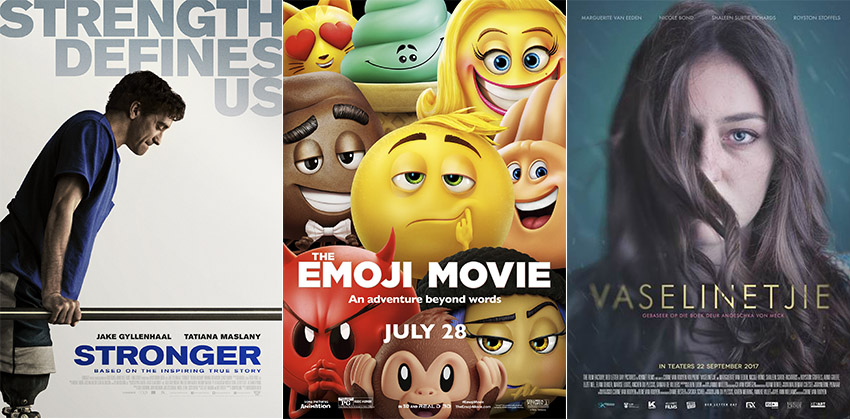 I'm sad when a massively punted movie like The Emoji Movie opens on the same weekend as movies that are actually, you know, good. All I ask is that you don't let the vapid, blatant, feature-length product placement ad distract you from the other movies in cinemas this weekend.
The Emoji Movie
Age Restriction: PG
This animated comedy takes place in Textopolis, a world inside a smartphone that's inhabited by various emojis. There, an emoji named Gene (voiced by T.J. Miller) is ashamed that he has multiple facial expressions while his colleagues only have one each, and he embarks on a quest to be like everyone else. James Corden, Anna Faris, Jennifer Coolidge, Patrick Stewart, and Maya Rudolph also lend their voices to this film from Sony Pictures Animation.
?? To absolutely no one's surprise, The Emoji Movie is ???. Absolute . Compared to this, Angry Birds was a paragon of ?. Just, don't do this to yourself. ⛔ Don't ?
Rotten Tomatoes: 10%
Metacritic: 12
Book at Ster Kinekor (2D)
Book at Nu Metro or Ster Kinekor (3D)
Stronger
Age Restriction: 16 L
STRONGER is the inspirational and heroic true-life story of Jeff Bauman (Jake Gyllenhaal), the man whose iconic photo from the 2013 Boston Marathon bombing captured the hearts of the world. Based on Bauman's New York Times bestselling book, co-authored with Bret Witter.
Stronger neatly sidesteps the typical saccharine made-for-TV route that a story like Bauman's would generally take. Instead, director David Gordon Green takes an honest, unflinching look at what happens to someone who unwittingly becomes a hero, just for being a victim. Focusing on Bauman's brutal rehabilitation period and how the fall out affected his life, Stronger already has some well-deserved Oscar buzz.
Rotten Tomatoes: 96%
Metacritic: 76
Book at Nu Metro or Ster Kinekor (2D)
Vaselinetjie
Age Restriction: 13 L V P
Vaselinetjie has to navigate growing up in post-apartheid South Africa after the welfare removes her from the care of her non-biological coloured grandparents. Uprooted from her loving family home in the remote Northern Cape, and dumped into an orphanage in hard-hitting Johannesburg, Vaselinetjie has to overcome the hard knocks of life in the big city, where realities are harsh and where she learns not to care about anyone. As Vaselinetjie defines her identity in the turmoil of post-apartheid South Africa, her love will triumph over trials and against all odds, especially when she's forced to confront her past as she falls in love with fellow orphan Texan Kirby.
Based on the celebrated youth novel by Anoeschka von Meck, Vaselinetjie is a story about defining your identity and race within the turmoil of post-Apartheid South Africa. If the book's success is anything to go by, Vaselinetjie should do incredibly well in local cinemas.
Book at Nu Metro or Ster Kinekor (2D)
For more information about the age restrictions, click here.
Last Updated: September 22, 2017