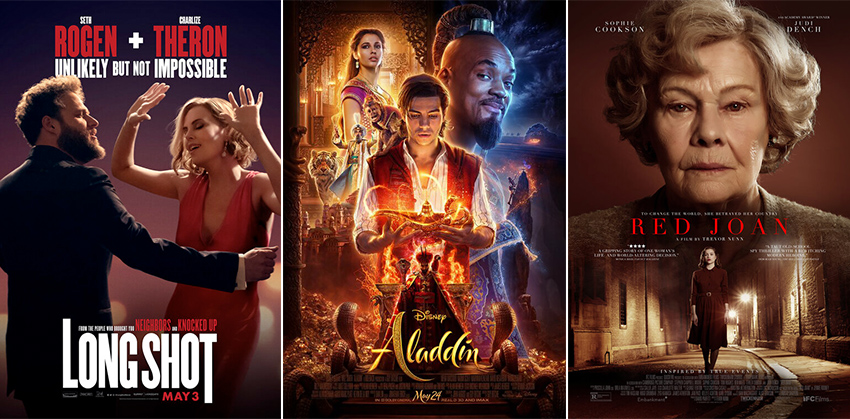 In a bigger twist than the ending of Game of Thrones, it turns out that Aladdin is actually a good movie. Maybe you can't judge a film by its trailer.
---
Aladdin
Age Restriction: 7-9 PG V
The exciting tale of the charming street rat Aladdin, the courageous and self-determined Princess Jasmine and the Genie who may be the key to their future.
A little bit diamond and a little bit rough, Guy Ritchie's live-action remake of Disney's Aladdin is far from perfect, but its charm and energy still make it a fun, family-friendly outing to the cinema.
Critical Hit: 8/10
Rotten Tomatoes: 60% (Fresh)
Metacritic: 54 (Mixed or Average Reviews)
---
Long Shot
Age Restriction: 16 D L P S
When Fred Flarsky (Seth Rogen) reunites with his first crush, one of the most influential women in the world, Charlotte Field (Charlize Theron), he charms her with his self-deprecating humor and his memories of her youthful idealism. As she prepares to make a run for the Presidency, Charlotte hires Fred as her speechwriter. A fish out of water on Charlotte's elite team, Fred is unprepared for her glamourous lifestyle in the limelight. Sparks fly as their unmistakable chemistry leads to a round-the-world romance and a series of unexpected and dangerous incidents.
A sharp and deceptively layered comedy that's further fuelled by the odd-couple chemistry of its leads, this Long Shot largely hits its marks.
Rotten Tomatoes: 80% (Certified Fresh)
Metacritic: 67 (Generally Favourable Reviews)
---
Red Joan
Age Restriction: 16 D S
Joan Stanley (Judi Dench) is a widow living out a quiet retirement in the suburbs when, shockingly, the British Secret Service places her under arrest. The charge: providing classified scientific information—including details on the building of the atomic bomb—to the Soviet government for decades. As she is interrogated, Joan relives the dramatic events that shaped her life and beliefs: her student days at Cambridge, where she excelled at physics while challenging deep-seated sexism; her tumultuous love affair with a dashing political radical (Tom Hughes); and the devastation of World War II, which inspired her to risk everything in pursuit of peace.
A fascinating real-life story dramatized in perplexingly dull fashion, Red Joan wastes its tale's incredible intrigue — as well as the formidable talents of Judi Dench.
Rotten Tomatoes: 29% (Rotten)
Metacritic: 45 (Mixed or Average Reviews)
---
For more information about the age restrictions, click here.
Last Updated: May 24, 2019