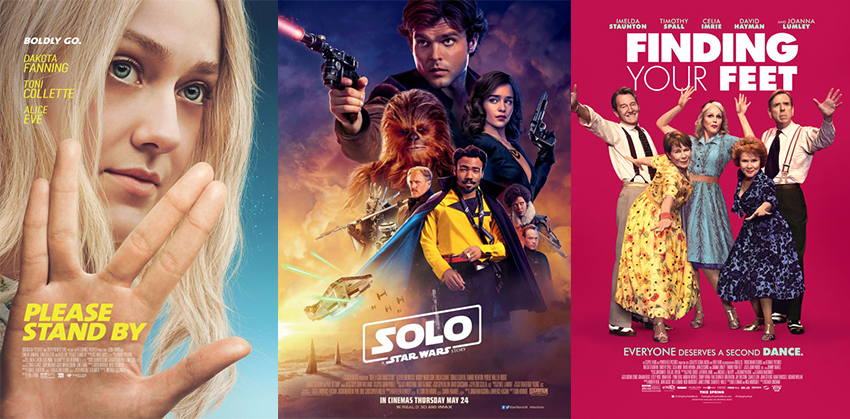 There were few movies willing to go head to head with a Star Wars release this week, but the ones that were brave enough are still worth a look in.
Solo: A Star Wars Story
Age Restriction: 10-12 PG V
Board the Millennium Falcon and journey to a galaxy far, far away in Solo: A Star Wars Story, an all-new adventure with the most beloved scoundrel in the galaxy. Through a series of daring escapades deep within a dark and dangerous criminal underworld, Han Solo meets his mighty future copilot Chewbacca and encounters the notorious gambler Lando Calrissian, in a journey that will set the course of one of the Star Wars saga's most unlikely heroes.
I was less enamoured with Solo: A Star Wars Story than most people, but that's not to say I won't recommend it. It's still a lot of fun, despite some odd story choices and the consistent shoe-horning of needless explanations and elaborations on back-story we already knew and didn't need qualifications on. It's ultimately just another Star Wars movie, and what you get out of it will depend on your investment in the franchise.
Critical Hit: 7.5/10
Rotten Tomatoes: 69% (Fresh)
Metacritic: 63 (Generally Favourable Reviews)
Please Stand By
Age Restriction: 10-12 PG L
A young autistic woman (Dakota Fanning) runs away from her caregiver in order to boldly go and deliver her 500-page Star Trek script to a writing competition in Hollywood.
Depicting the title character as a person, instead of a bundle of symptoms, and bolstered by Dakota Fanning's impeccable performance, Please Stand By goes a long way to a realistic portrayal of autism onscreen. The film itself is often flat though, with familiar story beats and some inconsistencies. That being said, it's less about the destination and more about the journey that Wendy goes through, and it's a journey that, despite its flaws, is one worth taking.
Rotten Tomatoes: 61% (Fresh)
Metacritic: 49 (Mixed or Average Reviews)
Finding Your Feet
Age Restriction: 13 D L
When 'Lady' Sandra Abbott (Imelda Staunton) discovers that her husband of forty years (John Sessions) is having an affair with her best friend (Josie Lawrence) she seeks refuge in London with her estranged, older sister Bif (Celia Imrie). The two could not be more different — Sandra is a fish out of water next to her outspoken, serial dating, free-spirited sibling. But different is just what Sandra needs at the moment, and she reluctantly lets Bif drag her along to a community dance class, where gradually she starts finding her feet and romance as she meets her sister's friends, Charlie (Timothy Spall), Jackie (Joanna Lumley) and Ted (David Hayman).
Finding Your Feet is a lightweight, straightforward romantic comedy that manages to uplift its simple material with a feel-good romance and sweet performances from its admittedly over-qualified cast. Though the story is trite and overly sweet, it's ultimately a harmless diversion.
Rotten Tomatoes: 70% (Fresh)
Metacritic: 53 (Mixed or Average Reviews)
For more information about the age restrictions, click here.
Last Updated: May 25, 2018