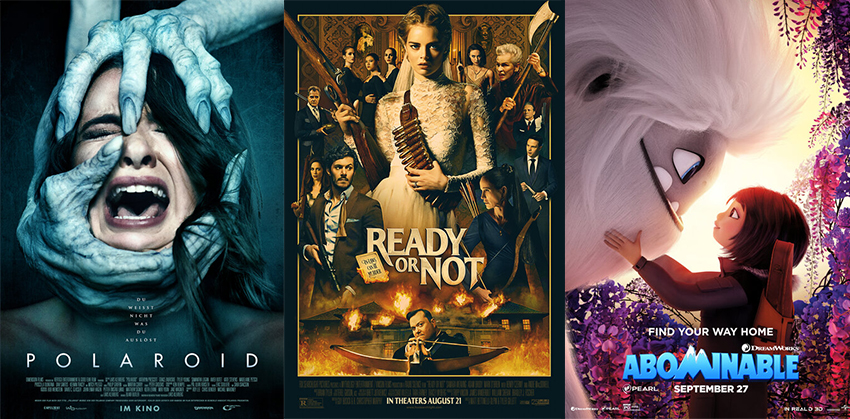 Kind of jarring to put a cutesy kids film next to two horror movies and follow it up with a documentary, but that's this week's new releases for you. Variety is the spice of life!
---
Polaroid
Age Restriction: 13 H L V
High school loner Bird Fitcher has no idea what dark secrets are tied to the mysterious Polaroid vintage camera she stumbles upon, but it doesn't take long to discover that those who have their picture taken meet a tragic end.
Polaroid has had a very long and very bumpy road to the big screen. Unfortunately, its production troubles almost seem more memorable than this been-there-scared-that horror film plagued by cliched jumps and poor writing. – 5/10
Rotten Tomatoes: Tomatometer not available
Metacritic: To be determined
---
Ready or Not
Age Restriction: 18 D H L V
A young bride (Samara Weaving) joins her new husband's (Mark O'Brien) rich, eccentric family (Adam Brody, Henry Czerny, Andie MacDowell) in a time-honored tradition that turns into a lethal game with everyone fighting for their survival.
Rotten Tomatoes: 88% (Certified Fresh)
Metacritic: 64 (Generally Favourable Reviews)
---
Abominable
Age Restriction: PG V
When teenage Yi (Chloe Bennet, Marvel's Agents of S.H.I.E.L.D.) encounters a young Yeti on the roof of her apartment building in Shanghai, she and her mischievous friends, Jin (Tenzing Norgay Trainor) and Peng (Albert Tsai), name him "Everest" and embark on an epic quest to reunite the magical creature with his family at the highest point on Earth. But the trio of friends will have to stay one-step ahead of Burnish (Eddie Izzard), a wealthy man intent on capturing a Yeti, and zoologist Dr. Zara (Sarah Paulson) to help Everest get home.
Rotten Tomatoes: 76% (Fresh)
Metacritic: 62 (Generally Favourable Reviews)
---
Teen Spirit
Age restriction: 10-12 PG DLS
Violet (Elle Fanning) is a shy teenager who dreams of escaping her small town and pursuing her passion to sing. With the help of an unlikely mentor, she enters a local singing competition that will test her integrity, talent and ambition. Driven by a pop-fueled soundtrack, Teen Spirit is a visceral and stylish spin on the Cinderella story.
Rotten Tomatoes: 73% (Fresh)
Metacritic: 57 (Mixed or Average Reviews)
---
Pavarotti
Age Restriction: TBA
From the filmmaking team behind the highly-acclaimed documentary The Beatles: Eight Days A Week – The Touring Years, PAVAROTTI is a riveting film that lifts the curtain on the icon who brought opera to the people. Academy Award (R) winner Ron Howard puts audiences front row center for an exploration of The Voice…The Man…The Legend. Luciano Pavarotti gave his life to the music and a voice to the world. This cinematic event features history-making performances and intimate interviews, including never-before-seen footage and cutting-edge Dolby Atmos technology.
Rotten Tomatoes: 86% (Certified Fresh)
Metacritic: 66% (Generally Favourable Reviews)
---
For more information about the age restrictions, click here.
Last Updated: September 27, 2019