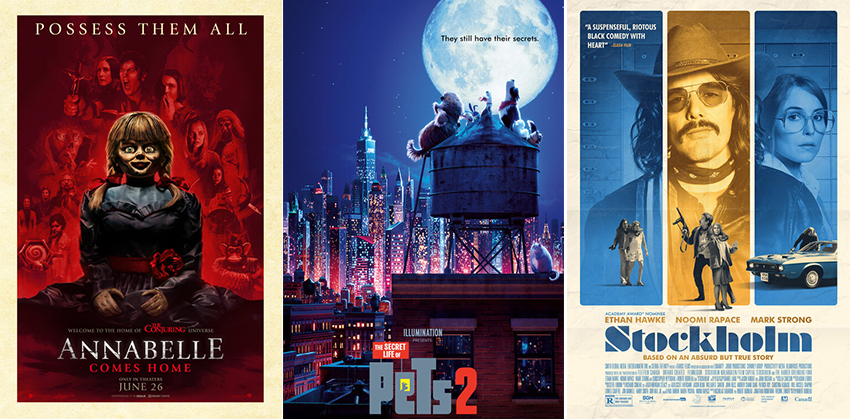 More pets, more possessed dolls and more local films are hitting cinemas this week.
---
The Secret Life of Pets 2
Age Restriction: PG
The Secret Life of Pets 2 will follow summer 2016's blockbuster about the lives our pets lead after we leave for work or school each day. The Secret Life of Pets 2 will see the return of writer Brian Lynch (Minions) and once again be directed by Chris Renaud (Despicable Me series, Dr. Seuss' The Lorax).
The Secret Life of Pets sequel is a simple and at times silly movie, but one that works. Filled with infectious fun and humour, along with great characterisations of everyday pets, its the perfect movie if you are an animal lover at heart. And if you aren't, may just convert you.
Critical Hit: 7/10
Rotten Tomatoes: 56% (Rotten)
Metacritic: 55 (Mixed or Average Reviews)
---
Annabelle Comes Home
Age Restriction: TBA (but I'm fairly certain it's not for kids)
Determined to keep Annabelle from wreaking more havoc, demonologists Ed and Lorraine Warren bring the possessed doll to the locked artifacts room in their home, placing her "safely" behind sacred glass and enlisting a priest's holy blessing. But an unholy night of horror awaits as Annabelle awakens the evil spirits in the room, who all set their sights on a new target—the Warrens' ten-year-old daughter, Judy, and her friends.
Fun for fans even if it isn't as frightening as some of its predecessors, Annabelle Comes Home suggests there's still some life left in the Conjuring franchise.
Rotten Tomatoes: 67% (Fresh)
Metacritic: 53 (Mixed or Average Reviews)
---
Stockholm
Age Restriction: 13 L V
STOCKHOLM is based on the absurd but true story of a 1973 bank heist and hostage crisis documented in the 1974 New Yorker article "The Bank Drama" by Daniel Lang. The film follows Lars Nystrom, (Ethan Hawke) who dons a disguise to raid a central Stockholm bank. He then takes hostages in order to spring his pal Gunnar (Mark Strong) from prison. One of the hostages includes Bianca (Noomi Rapace), a wife and mother of two. Negotiations with detectives hits a wall when (at the request of the Prime Minister) the police refuse to let Lars leave in a getaway car with the hostages. As hours turn into days, Lars alternates between threatening the hostages and making them feel comfortable and secure. The hostages develop an uneasy relationship with their captor, which is particularly complex for Bianca, who develops a strong bond with Lars as she witnesses his caring nature. This connection gave rise to the psychological phenomenon known as "Stockholm syndrome".
Stockholm can't quite do justice to its themes or the real-life events it dramatizes, but a light touch and well-chosen cast keep the end results consistently entertaining.
Rotten Tomatoes: 69% (Fresh)
Metacritic: 54 (Mixed or Average Reviews)
---
Kings of Mulberry Street
Age Restriction: 13 L V
It's the early 80s, and two young Indian boys who have to find a way to overcome their differences and unite in order to defeat the bullying crime lord who's threatening their families. Feisty Ticky Chetty is a skinny kid who enjoys the outdoors, is creative and energetic, and has tons of street smarts. He lives in a Bollywood dream world, where he's an unbeatable action hero, and rooftops are his kingdom. He's looking for a partner in crime and sees a trainee in Baboo—chubby, bookish Baboo is equally imaginative and spirited! Together, these two nine-year-old misfits decide to rid their community of the evil gangster, Raja, and soon discover that they have lots to learn from each other.
---
For more information about the age restrictions, click here.
Last Updated: June 28, 2019