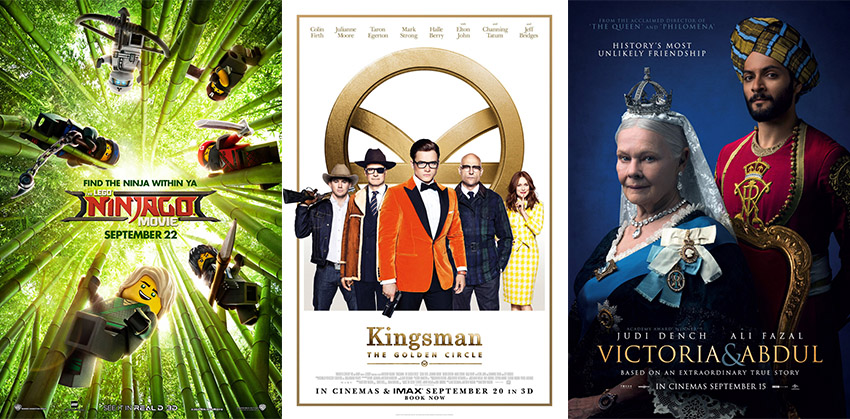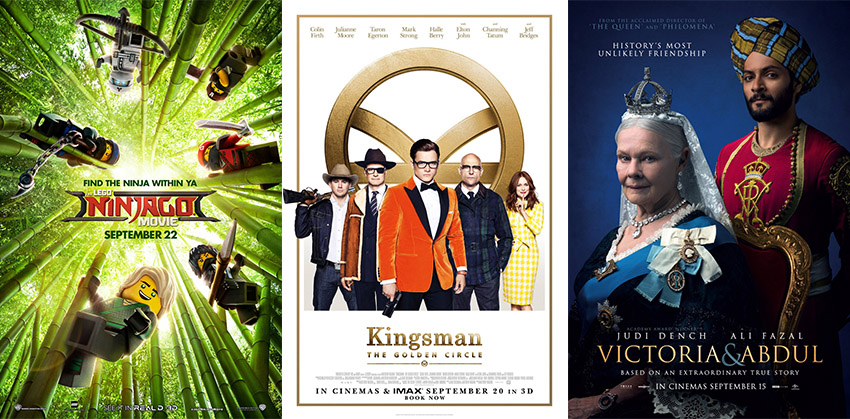 Our two main releases this week are both rather disappointing sequels/franchise continuations. I doubt that's going to stop you though!
Kingsman: The Golden Circle
Age Restriction: 16 L V
Kingsman: The Secret Service introduced the world to Kingsman – an independent, international intelligence agency operating at the highest level of discretion, whose ultimate goal is to keep the world safe. In "Kingsman: The Golden Circle," our heroes face a new challenge. When their headquarters are destroyed and the world is held hostage, their journey leads them to the discovery of an allied spy organization in the US called Statesman, dating back to the day they were both founded. In a new adventure that tests their agents' strength and wits to the limit, these two elite secret organizations band together to defeat a ruthless common enemy, in order to save the world, something that's becoming a bit of a habit for Eggsy.
Sequels are always a risky endeavour, especially when the first film is as unexpectedly kick-ass as Kingsman: The Secret Service was. Unfortunately, The Golden Circle doesn't hold up to its predecessor, which is a downright shame as it was one of my favourite movies from 2015 (and introduced the world to Sofia Boutella, for which I am eternally grateful). That's not to say that The Golden Circle isn't still a lot of fun, the action scenes are fantastic and the cast is great. On the downside, it basically rips off the first film over and over again, doubling down on trying to out-risqué itself and ending up feeling childish and derivative.
Critical Hit: 6.5/10
Rotten Tomatoes: 50%
Metacritic: 44
Book at Nu Metro or Ster Kinekor (2D)
Book at Nu Metro (2D 4DX)
Book at Ster Kinekor (2D IMAX)
The LEGO Ninjago Movie
Age Restriction: PG V
The battle for Ninjago City calls to action young Master Builder Lloyd, aka the Green Ninja, along with his friends, who are all secret ninja warriors. Led by Master Wu, as wise-cracking as he is wise, they must defeat evil warlord Garmadon, The Worst Guy Ever, who also happens to be Lloyd's dad. Pitting mech against mech and father against son, the epic showdown will test this fierce but undisciplined team of modern-day ninjas who must learn to check their egos and pull together to unleash their inner power of Spinjitzu.
Only three films in and already the LEGO movies are starting to feel tired. The formula that worked so well for The LEGO Movie and The LEGO Batman Movie hasn't really worked its magic on this film. That said, the voice acting is excellent, the jokes and action sequences are plentiful, if not slightly repetitive. It's a rinse and repeat of the previous two films, but somehow lacking the same shine.
Rotten Tomatoes: 51%
Metacritic: 55
Book at Nu Metro (2D)
Book at Nu Metro or Ster Kinekor (3D)
Victoria & Abdul
Age Restriction: 10-12 PG LP
The extraordinary true story of an unlikely friendship in the later years of Queen Victoria's (Judi Dench) remarkable rule. When Abdul Karim (Ali Fazal), a young clerk, travels from India to participate in the Queen's Golden Jubilee, he is surprised to find favor with the Queen herself. As the Queen questions the constrictions of her long-held position, the two forge an unlikely and devoted alliance with a loyalty to one another that her household and inner circle all attempt to destroy. As the friendship deepens, the Queen begins to see a changing world through new eyes and joyfully reclaims her humanity.
Victoria and Abdul should have been a delightful and accessible film about one of history's most unexpected friendships, but instead, comes across as myopically one-sided. By focusing mainly on Victoria's thoughts and actions and leaving Abdul as a clichéd, one-dimensional plot-point, the film loses a lot of depth. It's a pity, Victoria and Abdul could have been far more substantial if the story were more evenly weighted.
Critical Hit: 7/10
Rotten Tomatoes: 66%
Metacritic: 58
Book at Ster Kinekor
Pop, Lock 'n Roll
Age Restriction:
Raps is an ambitious street style, hip hop dancer from a poor neighbourhood who believes that money is everything. He gets a lucky break and rises as a professional entertainer, but when he falls in love with the beautiful Brazilian wife of the gangster-come-producer who's making his career, he'll have to risk career and life to find true happiness.
Pop, Lock 'n Roll has some heavyweight South African talent behind it. Directed by Ziggy Hofmeyr, produced by Mayenzeke Baza, co-produced by Pascal Schmitz, and choreographed by Craig Bullock, Pop, Lock 'n Roll boasts a cast of over 80 – including 50 dancers. You can tell by the trailer that a lot of work has gone into this film and the result should be of a high standard. Whether the story can differentiate itself enough from genre mainstays like Step Up remains to be seen.
Book at Nu Metro or Ster Kinekor (2D)
For more information about the age restrictions, click here.
Last Updated: September 29, 2017