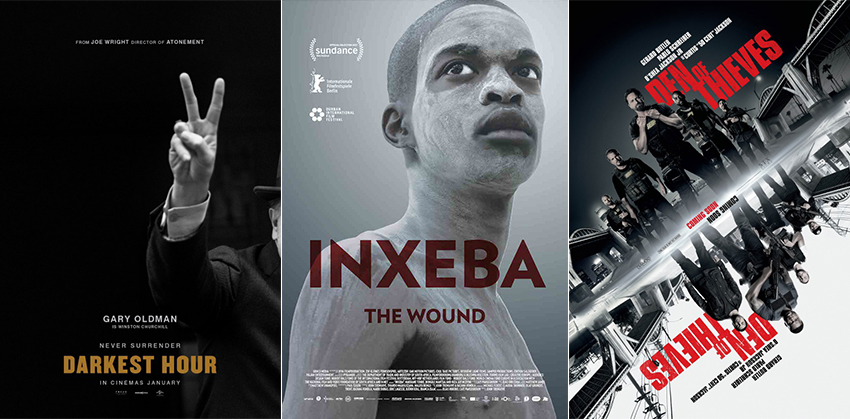 It's the first Friday in February, but there's no romance to be found yet on local screens. Instead, this week's new movies vascillate between incredible, Oscar-worthy stories and mostly meh action movies.
Darkest Hour
Age Restriction: 7-9 PG
During the early days of World War II, with the fall of France imminent, Britain faces its darkest hour as the threat of invasion looms. As the seemingly unstoppable Nazi forces advance, and with the Allied army cornered on the beaches of Dunkirk, the fate of Western Europe hangs on the leadership of the newly-appointed British Prime Minister Winston Churchill (Gary Oldman). While maneuvering his political rivals, he must confront the ultimate choice: negotiate with Hitler and save the British people at a terrible cost or rally the nation and fight on against incredible odds.
As a skinny chap, Gary Oldman may have seemed like an odd choice to play the rotund British Prime Minister Winston Churchill. However, thanks to a miraculous transformation, Oldman gives us the most masterful acting of his career in Darkest Hour, a rousing, unmissable movie.
Critical Hit: 9.5/10
Rotten Tomatoes: 86% Certified Fresh
Metacritic: 75 (Generally Favourable Reviews)
Inxeba (The Wound)
Age Restriction: 16 L S
The Wound is an exploration of tradition and sexuality set amid South Africa's Xhosa culture. Every year, the tribe's young men are brought to the mountains of the Eastern Cape to participate in an ancient coming-of-age ritual. Xolani, a quiet and sensitive factory worker (Nakhane Touré), is assigned to guide Kwanda, a city boy from Johannesburg sent by his father to be toughened up, through this rite of passage into manhood. As Kwanda defiantly negotiates his queer identity within this masculine environment, he quickly recognizes the nature of Xolani's relationship with fellow guide Vija. The three men commence a dangerous dance with each other and their own desires and, soon, the threat of exposure elevates the tension to breaking point.
Inxeba, South Africa's entry into the Best Foreign Language film category for the Academy Awards, sadly didn't get nominated for the Oscar – despite already winning numerous awards. That's not to say that critics haven't been heaping praise on it. Described as audacious, visually stunning, provocative and powerful, Inxeba deserves all our support on the local front.
Rotten Tomatoes: 86% Fresh
Metacritic: 80 (Generally Favourable Reviews)
Den of Thieves
Age Restriction: 16 L V
 Den of Thieves follows the intersecting and often personally connected lives of an elite unit of the LA County Sheriff's Dept. and the state's most successful bank robbery crew as the outlaws plan a seemingly impossible heist on the Federal Reserve Bank of downtown Los Angeles.
While most critics haven't been too kind, our own Nick caught Den of Thieves last night and calls it "pretty decent". It has its issues, but it's worth a shot if you like movies like Heat.
Rotten Tomatoes: 39% Rotten
Metacritic: 50 (Mixed or Average Reviews)
6 Below
Age Restriction:
When a snowstorm strands former professional hockey player Eric LeMarque (Josh Hartnett) atop a Mountain for eight days, he is forced to face his past and come to terms with his personal demons and rediscover the power of faith within him in order to survive.
You might think that a movie about being stranded in a snow-storm would be thrilling, or at the very least exhilarating. Unfortunately, 6 Below falls far short of the mark. Despite the game efforts of Josh Hartnett, 6 Below is just unexciting, charmless and mechanical.
Rotten Tomatoes: 24% Rotten
Metacritic: 40 (Mixed or Average Reviews)
For more information about the age restrictions, click here.
Last Updated: February 2, 2018