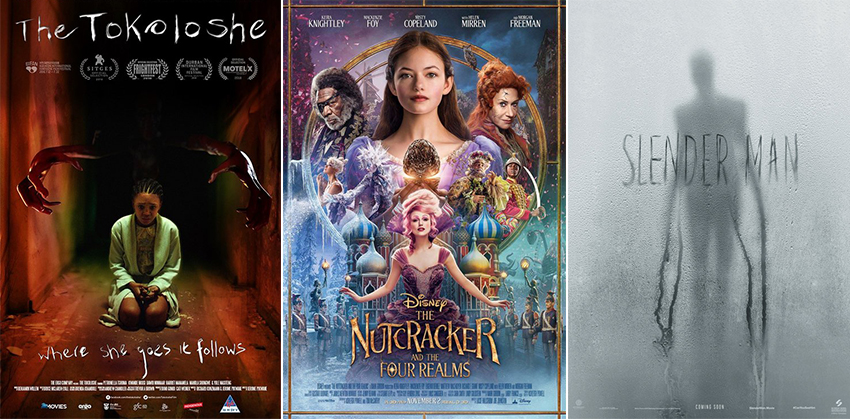 Besides for a few bright spots, local film The Tokoloshe being one of them, there's just a lot of disappointment opening in cinemas today. Some were expected, some are surprising, but they're mostly just bad.
The Nutcracker and the Four Realms
Age Restriction: 7-9 PG V
All Clara (Mackenzie Foy) wants is a key – a one-of-a-kind key that will unlock a box that holds a priceless gift. A golden thread, presented to her at godfather Drosselmeyer's (Morgan Freeman) annual holiday party, leads her to the coveted key—which promptly disappears into a strange and mysterious parallel world. It's there that Clara encounters a soldier named Phillip (Jayden Fowora-Knight), a gang of mice and the regents who preside over three Realms: Land of Snowflakes, Land of Flowers and Land of Sweets. Clara and Phillip must brave the ominous Fourth Realm, home to the tyrant Mother Ginger (Helen Mirren), to retrieve Clara's key and hopefully return harmony to the unstable world.
The Nutcracker and the Four Realms may be visually sumptuous, in an incredibly dazzling and somewhat overwhelming way, but it's disappointingly forgettable. No amount of CGI razzle-dazzle can make up for dull characters and a lacklustre story.
Rotten Tomatoes: 33% (Rotten)
Metacritic: 37 (Generally Unfavourable Reviews)
Slender Man
Age Restriction: 16 H L V
In a small town in Massachusetts, four high school girls perform a ritual in an attempt to debunk the lore of Slender Man. When one of the girls goes mysteriously missing, they begin to suspect that she is, in fact, his latest victim.
To absolutely no one's surprise ever, Slender Man is a terrible film. It's bad enough to base a horror movie on a stale meme that's years out of date, it's even worse to reduce an internet legend to a mere generic movie monster cardboard cut-out.
Rotten Tomatoes: 8% (Rotten)
Metacritic: 30 (Generally Unfavourable Reviews)
The Tokoloshe
Age Restriction: 16 H SV V
A young woman, crippled by suppressed emotions, must find the courage to face an insatiable demon wrought in her own childhood when she tries to save the life of a girl child abandoned in a rundown Johannesburg hospital.
Bringing a local legend into terrifying reality, The Tokoloshe is a slow-burning and genuinely chilling art-house horror that plays up fears both imaginary and very real.
Rotten Tomatoes: Tomatometer not available
Escape Plan 2
Age Restriction: 16 L V
Years after Ray Breslin [Academy Award (R) nominee Sylvester Stallone (Best Supporting Actor – Motion Picture, Creed, 2016)] fought his way out of the escape-proof prison called "The Tomb," he's organized a new top-notch, for-hire security force. But when one of his team members goes missing inside a computerized techno-terror battle-maze known as HADES, Breslin together with Trent DeRosa (Dave Bautista, Guardians of the Galaxy) must now decipher a way to break into the world's best hidden prison, release their kidnapped team, and make it out alive.
I think the most enjoyment you're going to get out of Escape Plan 2 is just reading the synopsis in an overly dramatic voice. What is a techno-terror battle maze anyway? Besides for a really good name for a punk-rock band.
Rotten Tomatoes: 9% (Rotten)
Juliet, Naked
Age Restriction: 13 L
Annie (Rose Byrne) is stuck in a long-term relationship with Duncan (Chris O'Dowd) – an obsessive fan of obscure rocker Tucker Crowe (Ethan Hawke). When the acoustic demo of Tucker's hit record from 25 years ago surfaces, its release leads to a life-changing encounter with the elusive rocker himself.
Juliet, Naked is a charmingly open and honest romantic comedy despite its predictability, mainly thanks to the irresistible chemistry between leads Rose Byrne and Ethan Hawke.
Rotten Tomatoes: 82% (Certified Fresh)
Metacritic: 67 (Generally Favourable Reviews)
Nobody's Fool
Age Restriction:
Trying to get back on her feet, wild child Tanya (Tiffany Haddish) looks to her buttoned-up, by the book sister Danica (Tika Sumpter) to help her get back on track. As these polar opposites collide — with hilarious and sometimes disastrous results — Tanya discovers that Danica's picture-perfect life — including her mysterious boyfriend — may not be what it seems.
Having successfully avoided all of them, I can't exactly say I know anything about Tyler Perry films. Based on the trailer, I assume that fans of his films will get a kick out of Nobody's Fool, though any movie that describes itself as hilarious may not be as funny as it thinks.
Rotten Tomatoes: Tomatometer not available
Metacritic: No score yet
Mayfair
Age Restriction: 16 L V
Fired from a refugee camp, prodigal son Zaid Randera returns home to Mayfair where his overbearing father Aziz – a businessman and occasional money launderer – is facing death threats. Bitter at his father and unwilling to get his hands dirty, how far will Zaid go to protect his family?
While international releases are fair game for me to be as sarcastic as my little cynical heart desires, I try to be as supportive as possible to local movies. However, when you can't find a scrap of information on a film and it's not even listed in the National Film and Video Foundation database, it makes it really difficult. The only reason I'm listing Mayfair instead of scrubbing it from the list is to ask if anyone has heard or seen anything about this film I may have missed. Because I have nothing but a trailer.
For more information about the age restrictions, click here.
Last Updated: November 2, 2018