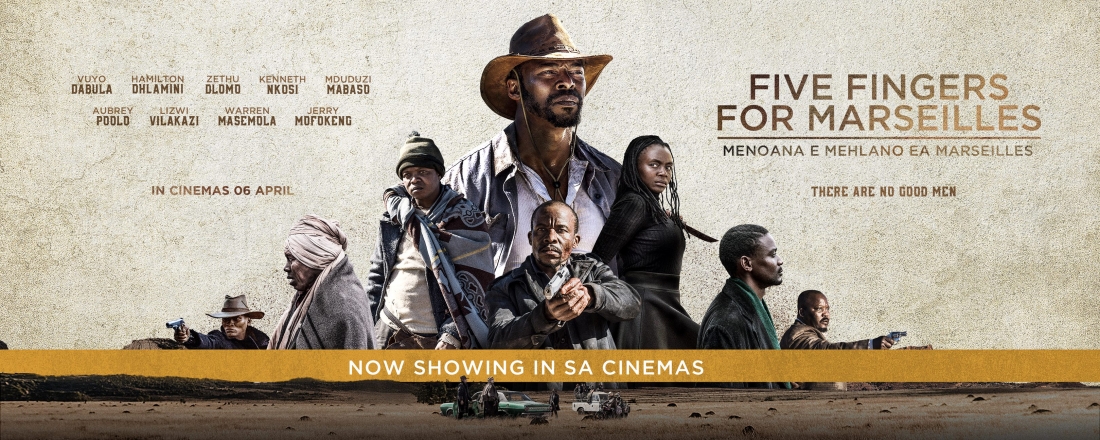 This week's Movies out Today post is setting all kinds of records. Firstly, we're leading with a South African movie, when usually they're shunted to the bottom of the post. Then, we're following up with a horror movie that is, by all accounts, absolutely amazing and genuinely terrifying. Will wonders never cease?
Five Fingers for Marseilles
Age Restriction: 16 L V
Apartheid South Africa: The community of Railway, attached to the remote town of Marseilles, are the victims of brutal police oppression and only the young "Five Fingers" are willing to stand up to them. Their battle is heartfelt but innocent, until hot-headed Tau kills two policemen in an act of passion. He flees, leaving his brothers and friends behind, but his action has triggered a conflict that will leave both Marseilles and the Five Fingers changed.
Having captured international audiences, local production Five Fingers for Marseilles is finally gracing our screens. According to Kervyn, the wait was well worth it. A mix of captivating western action thriller and expose on modern South Africa, Five Fingers for Marseilles is a local film that despite its issues, is worthy of all the attention and praise that can be heaped on it.
Critical Hit: 7.5/10
Rotten Tomatoes: 100% (Fresh)
A Quiet Place
Age Restriction: 16 H V
In the modern horror thriller A QUIET PLACE, a family of four must navigate their lives in silence after mysterious creatures that hunt by sound threaten their survival. If they hear you, they hunt you.
One of the biggest horror surprises from relative new-comer director John Krasinski, A Quiet Place will terrify you in ways you never thought possible. Superb directing and acting make it a must-see movie.
Critical Hit: 8.5/10
Rotten Tomatoes: 97% (Certified Fresh)
Metacritic: 82 (Universal Acclaim)
7 Days in Entebbe
Age Restriction: 16 D L P V
Four hijackers take over an airplane, take the passengers hostage, and force it to land in Entebbe, Uganda in 1976 in an effort to free of dozens of Palestinians jailed in Israel.
This thrilling true story turned less-than-thrilling movie has noble intentions of showing both sides of the story, but while it does a decent job of laying out the grey moral and political decisions of the event, it doesn't inspire any strong feelings either way.
Rotten Tomatoes: 23% (Rotten)
Metacritic: 49 (Mixed or Average Reviews)
Midnight Sun
Midnight Sun is a romantic tearjerker about 17-year-old Katie Price (Bella Thorne), sheltered at home since childhood with a rare genetic condition, a life-threatening sensitivity to sunlight. Having only her father Jack (Rob Riggle) for company, Katie's world opens up after dark when she ventures outside to play her guitar. One night, her dreams come true when she's noticed and asked out by her longtime crush Charlie (Patrick Schwarzenegger), whom she's secretly watched from her bedroom window for years. As they embark on nightly summer excursions, Katie's risk to sunlight grows and she's presented with the gut-wrenching dilemma of whether she can live a normal life with her newfound soul mate.
Anything that describes itself as a "romantic tearjerker" makes me roll my eyes, and the critics haven't been any kinder to Midnight Sun. It's unbelievably cheesy and insufferably manipulative with a paint-by-numbers narrative that will have you suppressing the urge to groan.
Rotten Tomatoes: 17% (Rotten)
Metacritic: 38 (Generally Unfavourable Reviews)
Hampstead
Age Restriction: 10-12 PG LP
An American widow finds unexpected love with a man living wild on Hampstead Heath when they take on the developers who want to destroy his home
Despite the odd lack of chemistry between the two leads, Hampstead is a meringue of a rom-com. Overly sweet, light and fluffy, but once it melts in your mouth there's nothing left.
Rotten Tomatoes: 45% (Rotten)
Metacritic: 47 (Mixed or Average Reviews)
For more information about the age restrictions, click here.
Last Updated: April 6, 2018