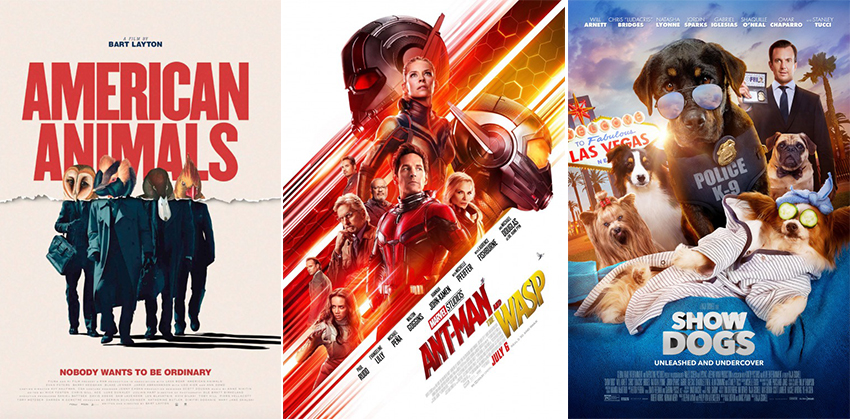 There's a strange theme tying all the movies opening in cinemas today together: They're all about the animal kingdom. Thankfully, only one of the movies reeks of an animal by-product, with the rest of them having that certified fresh smell and being well worth a watch!
Ant-Man & The Wasp
Age Restriction: 7-9 PG L V
In the aftermath of Captain America: Civil War, Scott Lang (Paul Rudd) grapples with the consequences of his choices as both a Super Hero and a father. As he struggles to rebalance his home life with his responsibilities as Ant-Man, he's confronted by Hope van Dyne (Evangeline Lilly) and Dr. Hank Pym (Michael Douglas) with an urgent new mission. Scott must once again put on the suit and learn to fight alongside The Wasp as the team works together to uncover secrets from their past
A welcome moment of levity after the events of Infinity War, Ant-Man & The Wasp is a bright and charming palate cleanser. That's not to say it's inconsequential though as between the charismatic performances and interesting villains, Ant-Man & The Wasp stands tall next to its peers.
Critical Hit: 7.5/10
Rotten Tomatoes: 87% (Certified Fresh)
Metacritic: 70 (Generally Favourable Reviews)
American Animals
Age Restriction: 16 CT D L V
Lexington, Kentucky, 2004: Spencer and Warren dream of remarkable lives beyond their middle-class suburban existence. They head off to colleges in the same town, haunted by the fear they may never be special in any way. Spencer is given a tour of his school's incredibly valuable rare book collection and describes it all to Warren. Suddenly, it hits them—they could pull off one of the most audacious art thefts in recent history, from the university's special collections library. Convinced they can get away with it, they recruit two other friends. Suddenly, the dance of knowing what happens if they cross the line becomes all-consuming.
Unexpectedly clever and captivating, American Animals delves into a number of weighty themes but never at the expense of delivering its uncomfortably fascinating story.
Rotten Tomatoes: 86% (Certified Fresh)
Metacritic: 66 (Generally Favourable Reviews)
Show Dogs
Age Restriction: 7-9 PG IAT L V
A human detective (Will Arnett) and his canine partner (Chris "Ludacris" Bridges) go undercover at the world's most exclusive dog show to solve his biggest case yet.
Entertaining only for the very, very young, Show Dogs is uninventive, crass and overbearing but ultimately harmless. Though there are much better ways to spend your time.
Rotten Tomatoes: 18% (Rotten)
Metacritic: 31 (Generally Unfavourable Reviews)
For more information about the age restrictions, click here.
Last Updated: July 6, 2018