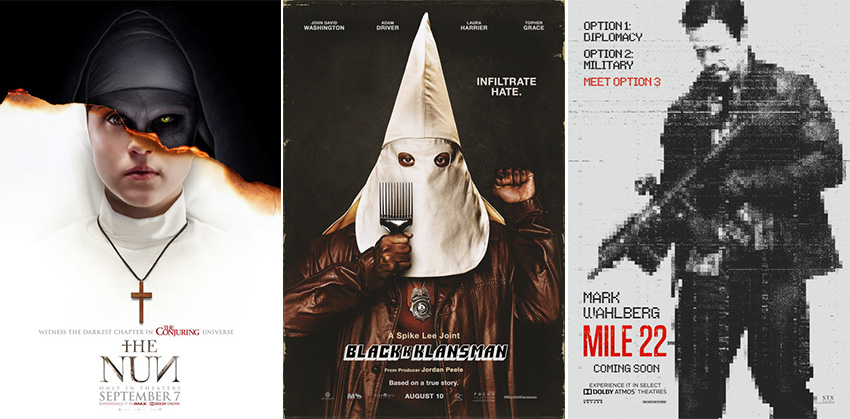 I could make a pun about The Nun, but I don't want to get into any bad habits. Geddit? Habits? Hah! I crack me up.
BlacKkKlansman
Age Restriction: 16 B D L
It's the early 1970s, and Ron Stallworth (John David Washington) is the first African-American detective to serve in the Colorado Springs Police Department. Determined to make a name for himself, Stallworth bravely sets out on a dangerous mission: infiltrate and expose the Ku Klux Klan. The young detective soon recruits a more seasoned colleague, Flip Zimmerman (Adam Driver), into the undercover investigation of a lifetime. Together, they team up to take down the extremist hate group as the organization aims to sanitize its violent rhetoric to appeal to the mainstream.
With a masterful balance between thought-provoking uneasiness and laugh out loud entertainment, BlacKkKlansman is a no-nonsense, hard-hitting tour de force from director Spike Lee. If you think the politics in the story are laughably absurd, remember what's happening in real life, 40 years after this film is set, then think again.
Critical Hit: 9/10
Rotten Tomatoes: 95% (Certified Fresh)
Metacritic: 83 (Universal Acclaim | Metacritic Must See)
Mile 22
Age Restriction: 16 L V
James Silva (Mark Wahlberg) is an operative of the CIA's most highly-prized and least-understood unit. Aided by a top-secret tactical command team, Silva must retrieve and transport an asset who holds life-threatening information to Mile 22 for extraction before the enemy closes in.
Ignoring characters and plot for punching and shooting, Mile 22 basically consists of non-stop action and testosterone, so if that's your jam, you'll have a good time. Maybe not the best time, as the hyper editing style undercuts a lot of the awesome fisticuffs on display.
Critical Hit: 6.5/10
Rotten Tomatoes: 22% (Rotten)
Metacritic: 39 (Generally Unfavourable Reviews)
The Nun
Age Restriction: 16 H V
When a young nun at a cloistered abbey in Romania takes her own life, a priest with a haunted past and a novitiate on the threshold of her final vows are sent by the Vatican to investigate. Together they uncover the order's unholy secret. Risking not only their lives but their faith and their very souls, they confront a malevolent force in the form of the same demonic nun that first terrorized audiences in The Conjuring 2, as the abbey becomes a horrific battleground between the living and the damned.
Sufficiently spooky set pieces and solid performances will keep you entertained during The Nun, if you can gloss over the narrative plot-holes that come with your typical B-Grade horror movies. That's not to say that The Nun is your average horror though, with its sumptuous cinematography and obvious affection and honour for the films that came before it.
Rotten Tomatoes: 52% (Rotten)
Metacritic: 55 (Mixed or Average Reviews)
Ellen
Age Restriction: 16 L V D
Based on true events, Ellen tells of the troubled relationship between a mother and her drug-addicted son – a relationship that will eventually drive her to the edge and lead to his murder.
Written by Amy Jephta with the help of Ellen Pakkies herself, Ellen: the Ellen Pakkies Story is directed by Daryne Joshua (of 2016's Noem My Skollie). It was shot in Pakkies' home, at the authentic location of many of the events that took place in this harrowing, true story that shocked the nation in 2007.
For more information about the age restrictions, click here.
Last Updated: September 7, 2018