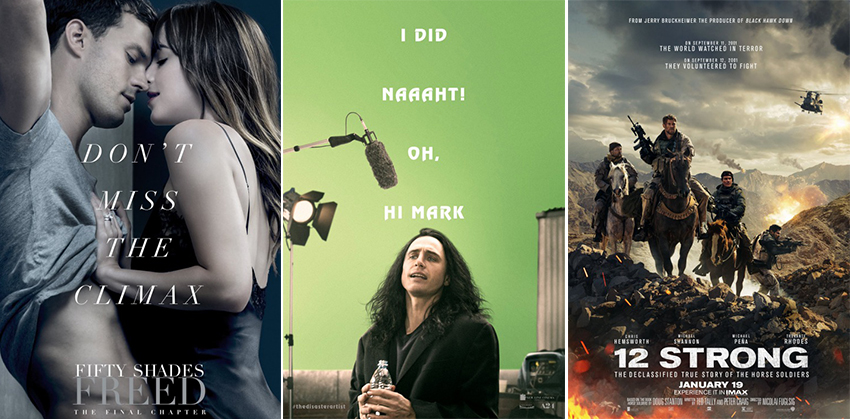 Oh, hai Mark! The bad news is, Black Panther isn't opening today. Sorry guys. The good news is, The Disaster Artist is hitting our screens. So while you've got one more week to wait for Wakanda, you can delight in James Franco's hilarious and surprisingly touching tribute to The Room.
The Disaster Artist
Age Restriction: 18 L N S
Based on Greg Sestero's best-selling tell-all about the making of Tommy Wiseau's cult-classic disasterpiece The Room ("The Greatest Bad Movie Ever Made"), The Disaster Artist is a hilarious and welcome reminder that there is more than one way to become a legend— and no limit to what you can achieve when you have absolutely no idea what you're doing
Unexpectedly poignant and charming, The Disaster Artist is the best possible movie about the worst movie possible. Exploring the movie-making process with an unexpected gracefulness and delicacy, The Disaster Artist is brutally sharp funny with outstanding, layered performances by the cast.
Rotten Tomatoes: 91% (Certified Fresh)
Metacritic: 76 (Generally Favourable Reviews)
Fifty Shades Freed
Age Restriction: 16 L V N S
Believing they have left behind shadowy figures from their past, newlyweds Christian and Ana fully embrace an inextricable connection and shared life of luxury. But just as she steps into her role as Mrs. Grey and he relaxes into an unfamiliar stability, new threats could jeopardize their happy ending before it even begins.
The conclusion to the Fifty Shades trilogy, Fifty Shades Freed is especially lacklustre and dull-witted, with leads that look as though they'd rather be anywhere else than trapped with each other. The best that can be said about the end of the Fifty Shades franchise is that we are finally free of it.
Rotten Tomatoes: 15% (Rotten)
Metacritic: 29 (Generally Unfavourable Reviews)
12 Strong
Age Restriction: 16 L V
12 Strong is set in the harrowing days following 9/11 when a U.S. Special Forces team, led by their new Captain, Mitch Nelson (Chris Hemsworth), is chosen to be the first U.S. troops sent into Afghanistan for an extremely dangerous mission. There, in the rugged mountains, they must convince Northern Alliance General Dostum (Navid Negahban) to join forces with them to fight their common adversary: the Taliban and their Al Qaeda allies. In addition to overcoming mutual distrust and a vast cultural divide, the Americans—accustomed to state-of-the-art warfare—must adopt the rudimentary tactics of the Afghani horse soldiers. But despite their uneasy bond, the new allies face overwhelming odds: outnumbered and outgunned by a ruthless enemy that does not take prisoners.
Despite 12 Strong's solid cast and exhilarating, factual story, there is a disappointing lack of depth or nuance. 12 Strong has admirable intentions though, which are occasionally enough to balance this out.
Rotten Tomatoes: 54% (Rotten)
Metacritic: 54 (Mixed or Average Reviews)
Human Flow
Age Restriction: 16 V
Over 65 million people around the world have been forced from their homes to escape famine, climate change and war in the greatest human displacement since World War II. Human Flow, an epic film journey led by the internationally renowned artist Ai Weiwei, gives a powerful visual expression to this massive human migration. The documentary elucidates both the staggering scale of the refugee crisis and its profoundly personal human impact.
Human Flow strikes a balance between having an epic scope and keeping its stories intimate. This documentary is a sobering perspective on the global refugee crisis.
Rotten Tomatoes: 94% (Certified Fresh)
Metacritic: 77 (Generally Favourable Reviews)
Just Getting Started
Age Restriction: 13 L V
Duke Diver (Morgan Freeman) is the freewheeling manager of the luxury Palm Springs resort, the Villa Capri. Diver may have a mysterious past, but he's a pro at making sure that life for the high-spirited residents is one big, non-stop party. But the status quo is challenged when ex-military charmer Leo (Tommy Lee Jones) checks in, triggering a competition between Duke and Leo for the top spot of Alpha male, as well as for the affections of the newly-arrived Suzie (Rene Russo). When Duke's past suddenly catches up with him, the rivals put aside their differences and the two men reluctantly team up to stop whoever is trying to kill Duke, and also save the Villa Capri.
Unbelievably lazy and thoroughly unfunny, Just Getting Started manages to utterly waste the talents of its leads in a ghastly mess of harsh cinematography, limp scripting and utter ineptitude.
Rotten Tomatoes: 5% (Rotten)
Metacritic: 21 (Generally Unfavourable Reviews)
Tad the Lost Explorer: The Secret of King Midas
Age Restriction: 7-9 PG V
Tad Jones, the most awkward explorer, must rescue his beloved Sara from a millionaire who is looking for King Midas' necklace.
For audiences used to the shining brilliance of Disney Pixar and Dreamworks, this low-effort knock-off won't entertain in the least. It's a shameless rip-off of better stories that should have gone straight to the bargain bin.
Rotten Tomatoes: 29% (Rotten)
For more information about the age restrictions, click here.
Last Updated: February 9, 2018