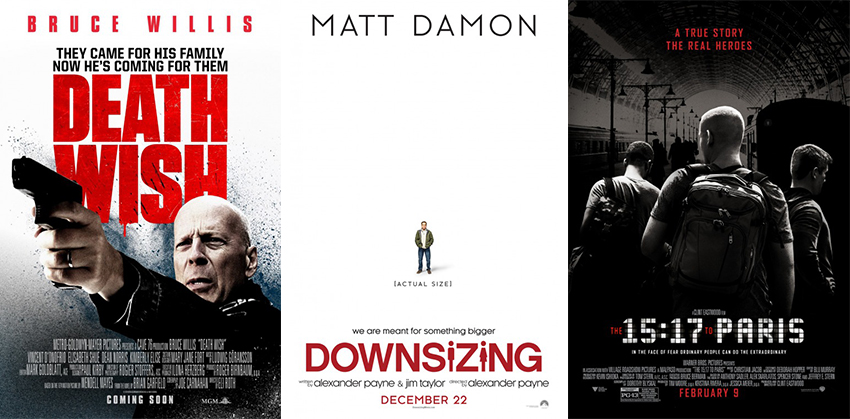 Now that the awards season has come to an end, we're stuck in limbo. While there won't be any new heavyweight Oscar contenders hitting our screens, we still have to wait for the big "summer" blockbusters to open. As a result, this week is a bit of a nothing week, with a rather mixed bag of movies opening today.
Downsizing
Age Restriction: 13 D L N
When scientists discover how to shrink humans to five inches tall as a solution to over-population, Paul (Matt Damon) and his wife Audrey (Kristen Wiig) decide to abandon their stressed lives in order to get small and move to a new downsized community — a choice that triggers life-changing adventures.
Downsizing had a fascinating idea for a film, which was mostly lost to distraction, inconsistencies and off-the-wall randomness that comes from nowhere. It's a frustrating watch as the film pulls itself in too many directions with too many things to say, ending up saying not much of anything after all.
Critical Hit: 4/10
Rotten Tomatoes: 51% (Rotten)
Metacritic: 63 (Generally Favourable Reviews)
Death Wish
Age Restriction: 18 D L V
Dr. Paul Kersey (Bruce Willis) is a surgeon who only sees the aftermath of Chicago violence when it is rushed into his ER – until his wife (Elisabeth Shue) and college-age daughter (Camila Morrone) are viciously attacked in their suburban home. With the police overloaded with crimes, Paul, burning for revenge, hunts his family's assailants to deliver justice. As the anonymous slayings of criminals grabs the media's attention, the city wonders if this deadly vigilante is a guardian angel or a grim reaper.
It seems almost shamefully obvious to throw in a joke about this film's title in relation to critics' reception, but they made it too easy. After this cartoonish, derivative and oblivious remake, you'll be wishing for death instead.
Rotten Tomatoes: 16% (Rotten)
Metacritic: 32 (Generally Unfavourable Reviews)
Catching Feelings
Age Restriction: 16 D L N S
Catching Feelings is a dark romantic comedy which follows an urbane young academic and his beautiful wife, as their lives get turned upside down when a celebrated and hedonistic older writer moves into their Johannesburg home with them.
Though Catching Feelings has faults, it's still an interesting mashup between light-hearted romantic comedy and interesting social commentary. Also working in its favour is the fact that Catching Feelings is a multiracial South African film that's not explicitly about race. Shocking, I know, but Kagiso Lediga has made it work.
Rotten Tomatoes: Tomatometer not available
The 15:17 to Paris
Age Restriction: 13 L V D
In the early evening of August 21, 2015, the world watched in stunned silence as the media reported a thwarted terrorist attack on Thalys train #9364 bound for Paris—an attempt prevented by three courageous young Americans traveling through Europe. The film follows the course of the friends' lives, from the struggles of childhood through finding their footing in life, to the series of unlikely events leading up to the attack. Throughout the harrowing ordeal, their friendship never wavers, making it their greatest weapon and allowing them to save the lives of the more than 500 passengers on board.
Though no one can deny Clint Eastwood's prowess as a director, casting the real-life individuals involved in the original incident was a serious misstep. None of them are actors, which is kind of what you need in a movie, especially one with as much dramatic weight as The 15:17 to Paris. Ultimately, the film suffers from an excess of dramatic padding, and the overall effect is too leaden to make an impact.
Rotten Tomatoes: 25% (Rotten)
Metacritic: 45 (Mixed or Average Reviews)
Final Portrait
Age Restriction: 16 D L
Final Portrait is the story of the touching and offbeat friendship between American writer and art-lover James Lord and Alberto Giacometti, as seen through Lord's eyes and revealing unique insight into the beauty, frustration, profundity and sometimes the chaos of the artistic process. Set in 1964, while on a short trip to Paris, Lord is asked by his friend, Giacometti, to sit for a portrait. The process, promises Giacometti, will take only a few days and so Lord agrees — ultimately wondering "how much longer can it go on like this?"
For the first time in ten years, Stanley Tucci is back behind the camera again as director for Final Portrait, a somewhat predictable (but thankfully not trite) piece of art house escapism. Engagingly acted and darkly funny, Final Portrait successfully avoids most of the usual biopic pitfalls.
Rotten Tomatoes: 78% (Fresh)
Metacritic: 77 (Generally Favourable Reviews)
For more information about the age restrictions, click here.
Last Updated: March 9, 2018