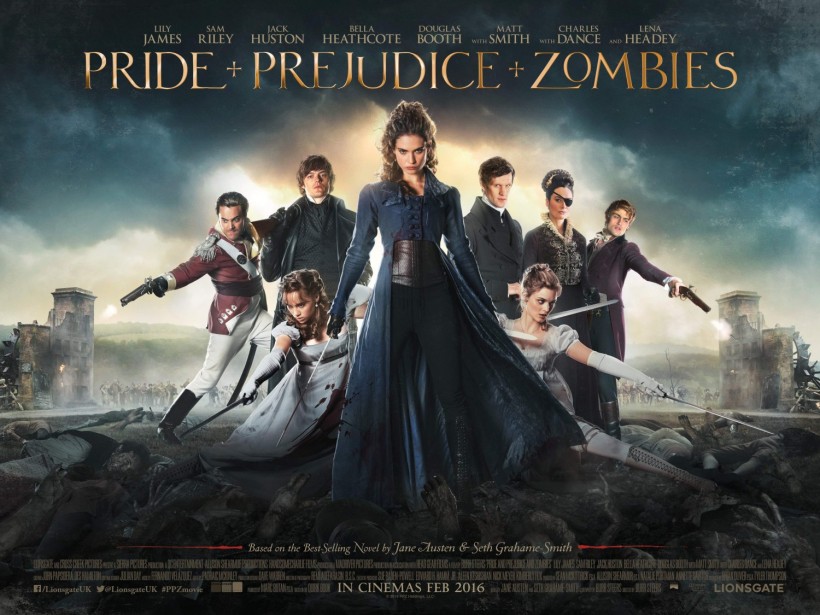 No, it's not an April Fools joke. There really is a movie called Pride and Prejudice and Zombies. What's even stranger? It's not half bad!
Pride and Prejudice and Zombies
A zombie outbreak has fallen upon the land in Jane Austen's classic tale of the tangled relationships between lovers from different social classes in 19th century England. Feisty heroine Elizabeth Bennet (Lily James) is a master of martial arts and weaponry and the handsome Mr. Darcy (Sam Reilly) is a fierce zombie killer, yet the epitome of upper class prejudice. As the zombie outbreak intensifies, they must swallow their pride and join forces on the blood-soaked battlefield.
On face value, Pride and Prejudice and Zombies looks like a really silly movie. And you're right, it is totally silly. But, honestly, it kind of works. It's far heavier on the Pride and Prejudice side than it is on the Zombie side, which means that it's not completely brainless (ha, zombie puns). Although it's very tongue-in-cheek, Pride and Prejudice and Zombies plays it mostly straight, it's not out for cheap laughs or cheap scares, but it doesn't disappoint on the zombie front either. All in all, it's a very entertaining movie, as most of our readers will agree.
Book now at Nu Metro or Ster Kinekor
Race is based on the incredible true story of Jesse Owens, the legendary athletic superstar whose quest to become the greatest track and field athlete in history thrusts him onto the world stage of the 1936 Olympics, where he faces off against Adolf Hitler's vision of Aryan supremacy. Race is an enthralling film about courage, determination, tolerance, and friendship, and an inspiring drama about one man's fight to become an Olympic legend.
Even though it's engaging and inspiring, Race is a glossy and superficial biopic, covering an iconic American figure in a politically charged climate with less depth than the story perhaps deserves. Nevertheless, the inspired performances keep the movie going, and the feel-good story will leave you feeling satisfied. Race earns a passable 61% on Rotten Tomatoes.
Book now at Nu Metro or Ster Kinekor
An honest and powerful story following two best friends, Milly and Jess, as they navigate life's highs and lows. Inseparable since they were young girls, they can't remember a time they didn't share everything -secrets, clothes, even boyfriends — but nothing prepares them for the day Milly is hit with life-altering news.
Miss You Already makes no bones about the fact that it's a tear-jerker, and it will wring every last drop from you. But it does it honestly and earnestly, and while it doesn't have the perfect story, it also doesn't devolve into a maudlin mess or resort to shameless emotional manipulation. Carried by the warmth and strength of the two leads, Miss You Already gets a solid 69% on Rotten Tomatoes.
Book now at Nu Metro or Ster Kinekor
Set in 1901, this period epic follows Willem Morkel, a Boer family man whose wife and son are murdered during the Anglo-Boer War. Captured as a prisoner of war, Willem must survive incarceration in the notorious St. Helena concentration camp and defeat the ruthless Colonel Swannell, at his own game… Rugby.
I don't really know what to make of Modder en Bloed. On the one hand, you've got a synopsis that sounds very far-fetched, but on the other hand you've got a trailer that shows the movie evidently takes itself very seriously. But, honestly, stranger stories have happened, so we'll disregard my raised eyebrow over the plot. What we're left with is another high quality local production by Sean Else (Platteland, 'n Man Soos My Pa), filled with interesting characters and exceptionally impressive performances.
Book now at Nu Metro or Ster Kinekor
Last Updated: April 1, 2016