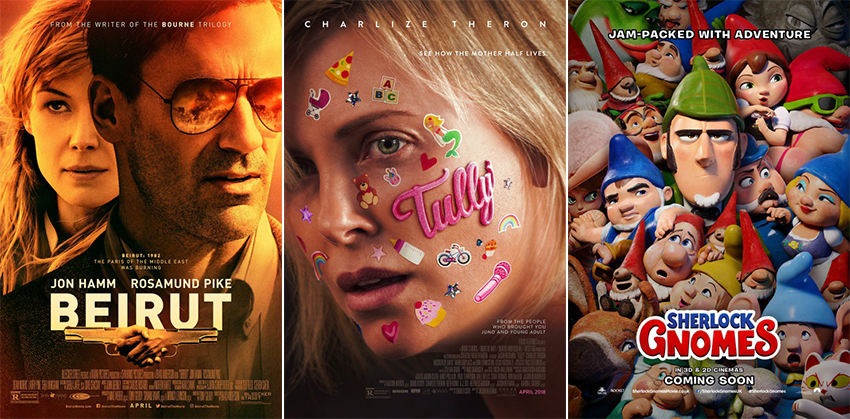 If you think we don't suffer for our craft, take a moment to appreciate the fact that Craig sat through Sherlock Gnomes just so he can definitively let you all know that yes, it is terrible and no, you shouldn't watch it. Thankfully, there are other, better movies hitting our screens today.
Tully
Age Restriction: 16 D L N S
Marlo (Charlize Theron), a mother of three, including a newborn, is gifted a night nanny by her brother (Mark Duplass). While at first hesitant to accept the extravagance, she comes to form a unique bond with the thoughtful, surprising, and sometimes challenging young nanny, Tully (Mackenzie Davis).
With yet another home run performance for home grown gal Charlize, Tully delves into the modern parenthood experience with an exceptionally skilful blend of raw truth, dark humour and sympathy.
Rotten Tomatoes: 86% (Certified Fresh)
Metacritic: 75 (Generally Favourable Reviews)
Sherlock Gnomes
Age Restriction: PG V
Garden gnomes, Gnomeo & Juliet, recruit renowned detective, Sherlock Gnomes, to investigate the mysterious disappearance of other garden ornaments.
Can you make a movie based solely on a punny name? Well, it worked well enough (barely) for Gnomeo & Juliet, so now we get another stupid movie based on a stupid pun in the form of Sherlock Gnomes, which is even duller than its predecessor. Hopefully, they run out of things to shoehorn the word "gnome" into before we are subjected to any more.
Critical Hit: 3/10
Rotten Tomatoes: 25% (Rotten)
Metacritic: 36 (Generally Unfavourable Reviews)
Beirut
Age Restriction: 16 D L P V
A U.S. diplomat (Jon Hamm) flees Lebanon in 1972 after a tragic incident at his home. Ten years later, he is called back to war-torn Beirut by CIA operatives (Rosamund Pike) to negotiate for the life of a friend he left behind.
A complex, tightly-plotted tale of international intrigue, Beirut is nuanced, old-fashioned spy thriller. The plot might be a little clichéd, but strong performances from leads Jon Hamm and Rosamund Pike ensure you'll stay on the edge of your seat.
Rotten Tomatoes: 77% (Certified Fresh)
Metacritic: 69 (Generally Favourable Reviews)
I Can Only Imagine
Age Restriction: 10-12 PG V
The inspiring and unknown true story behind MercyMe's beloved, chart topping song that brings ultimate hope to so many is a gripping reminder of the power of true forgiveness.
The disparity between this movie's score on Rotten Tomatoes and Metacritic makes it really difficult to come to a consensus. On the one hand, it's an uplifting, inspiring story. On the other hand, it's lifeless and tone deaf. What you take away from I Can Only Imagine will depend on your interest in faith-based movies.
Rotten Tomatoes: 70% (Fresh)
Metacritic: 29 (Generally Unfavourable Reviews)
Traffik
Age Restriction:
Brea (Paula Patton) and John (Omar Epps) are off for a romantic weekend in the mountains. Isolated at a remote estate, the couple is surprised by the arrival of two friends, Darren (Laz Alonso) and Malia (Roselyn Sanchez). Just when the weekend starts to get back on track, a violent biker gang turns up and begins to torment them. The foursome are forced to fight for their lives against the gang who will stop at nothing to protect their secrets.
Implausible, underwhelming and painfully slow, Traffik is a good showcase for Paula Patton, but all it really shows is that she deserves a better vehicle than this.
Rotten Tomatoes: 20% (Fresh/Rotten)
Metacritic: 37 (Generally Unfavourable Reviews)
For more information about the age restrictions, click here.
Last Updated: May 11, 2018