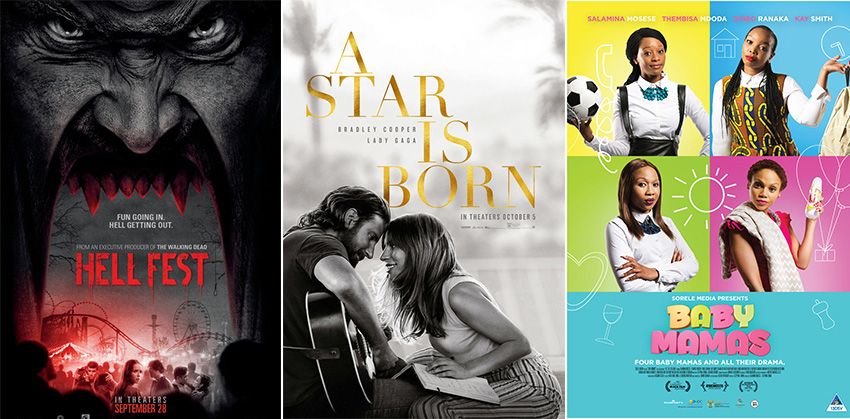 The only way you're getting scares this week is if you're deathly afraid of music-dramas or babies. Otherwise, the only "scary" movie on this list isn't that scary at all.
A Star is Born
Age Restriction: 16 D L S
In this new take on the tragic love story, seasoned musician Jackson Maine (Bradley Cooper) discovers—and falls in love with—struggling artist Ally (Lady Gaga). She has just about given up on her dream to make it big as a singer… until Jack coaxes her into the spotlight. But even as Ally's career takes off, the personal side of their relationship is breaking down, as Jack fights an ongoing battle with his own internal demons.
According to Kervyn's review, star/director/co-writer Bradley Cooper has deftly sidestepped all the pitfalls of remaking a film to produce something stellar. The fourth do-over of the 1937 classic of the same name, A Star is Born can really describe both Cooper's breakout directing turn and Lady Gaga's luminous big-screen performance. The chemistry between the two is electric, and the masterfully constructed film is brimming with emotion and depth, making it a prime early contender for serious awards glory.
Rotten Tomatoes: 91% (Certified Fresh)
Metacritic: 88 (Metacritic Must See – Universal Acclaim)
Critical Hit: 9/10
Hell Fest
Age Restriction: 16 H L V
College student Natalie (Amy Forsyth) is visiting her childhood best friend Brooke (Reign Edwards) and her roommate Taylor (Bex Taylor-Klaus). If it was any other time of year these three and their boyfriends might be heading to a concert or bar, but it is Halloween which means that like everyone else they will be bound for Hell Fest – a sprawling labyrinth of rides, games, and mazes that travels the country and happens to be in town. Every year thousands follow Hell Fest to experience fear at the ghoulish carnival of nightmares. But for one visitor, Hell Fest is not the attraction – it is a hunting ground. An opportunity to slay in plain view of a gawking audience, too caught up in the terrifyingly fun atmosphere to recognize the horrific reality playing out before their eyes. As the body count and frenzied excitement of the crowds continues to rise, he turns his masked face to Natalie, Brooke, Taylor and their boyfriends who will fight to survive the night.
An obvious Halloween cash-grab, Hell Fest is as basic as they come, filled with genre tropes and a complete disinterest towards anything like plot and characters. Hell Fest may solicit a jump or two, but true horror fans will probably be bored to tears.
Rotten Tomatoes: 43% (Rotten)
Metacritic: 25 (Generally Unfavourable Reviews)
Baby Mamas
Age Restriction: 13 D S V
Toli, Chantel, Sandy and Joy are all in different stages of their own real-life baby mama drama. Chantel discovers that she's pregnant and her world is turned upside down. Sandy is still in love with the father of her child, but now has to deal with him moving on. Joy has to learn to let go of a relationship that no longer serves her. Toli discovers that the most difficult part of dating as a single mom is deciding how much you are willing to risk your own child's heart on your path to love.
If you love romance films, but your drama llamas need a fix as well, then you'll love Baby Mamas. While the concept of a baby mama isn't unique, Stephina Zwane definitely puts a local spin in her film about four women bonding over single motherhood. Expect plenty of laughs and definitely a tear or two.
For more information about the age restrictions, click here.
Last Updated: October 12, 2018