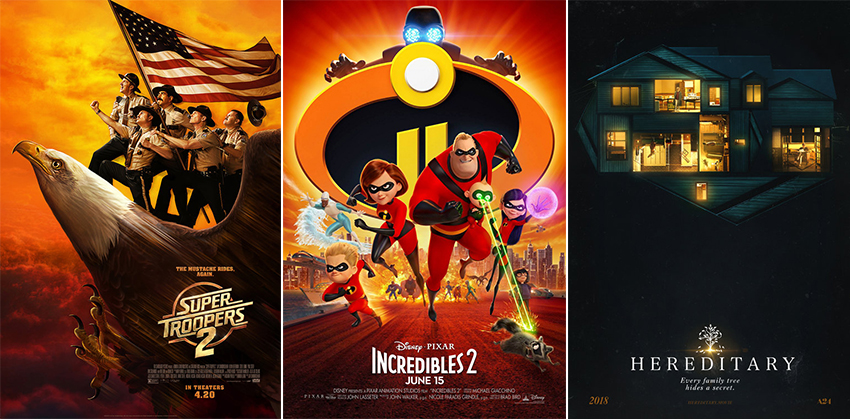 Two long-awaited sequels finally arrive in cinemas this week, with a combined 31-year wait time! Sadly, only one of those has lived up to the hype.
Incredibles 2
Age Restriction: PG L V
Everyone's favorite family of superheroes is back in "Incredibles 2"–but this time Helen (voice of Holly Hunter) is in the spotlight, leaving Bob (voice of Craig T. Nelson) at home with Violet (voice of Sarah Vowell) and Dash (voice of Huck Milner) to navigate the day-to-day heroics of "normal" life. It's a tough transition for everyone, made tougher by the fact that the family is still unaware of baby Jack-Jack's emerging superpowers. When a new villain hatches a brilliant and dangerous plot, the family and Frozone (voice of Samuel L. Jackson) must find a way to work together again–which is easier said than done, even when they're all Incredible.
The long wait for Incredibles 2 is finally over! You can get excited now, because it's absolutely, well, incredible. Fantastic action sequences, great laughs, immersive story building, everything you loved from The Incredibles is back once again. Let's just hope we don't have to wait another fourteen years for the next one.
Critical Hit: 8.5/10
Rotten Tomatoes: 95% (Certified Fresh)
Metacritic: 80 (Generally Favourable Reviews)
Super Troopers 2
Age Restriction: 16 D L N S
Everyone's favorite law enforcement team is back by popular demand with the long anticipated follow up to the cult comedy classic… Super Troopers. When an international border dispute arises between the U.S. and Canada, the Super Troopers- Mac, Thorny, Foster, Rabbit and Farva, are called in to set up a new Highway Patrol station in the disputed area. Unconventional police work follows, and the result is…Super Troopers 2
In other, long-awaited sequel news, we've had seventeen years between Super Troops and Super Troopers 2. Unfortunately, this wait wasn't worth it. Crass, juvenile and unfunny, Super Troopers 2 hasn't kept up with the times, resulting in a movie that is as limp and sad as all the male genitalia jokes.
Rotten Tomatoes: 32% (Rotten)
Metacritic: 40 (Mixed or Average Reviews)
Hereditary
Age Restriction: 16 D H L N V
When Ellen, the matriarch of the Graham family, passes away, her daughter's family begins to unravel cryptic and increasingly terrifying secrets about their ancestry. The more they discover, the more they find themselves trying to outrun the sinister fate they seem to have inherited.
With nary a jump scare in sight, Hereditary takes a classic horror movie setup and twists it into a stylish, moody and frankly harrowing haunted house supernatural thriller. It's unsettling in all the best ways and will linger long after the credits have rolled – if you can make it to the credits that is.
Rotten Tomatoes: 91% (Certified Fresh)
Metacritic: 87 (Universal Acclaim – Metacritic Must-See)
For more information about the age restrictions, click here.
Last Updated: June 15, 2018