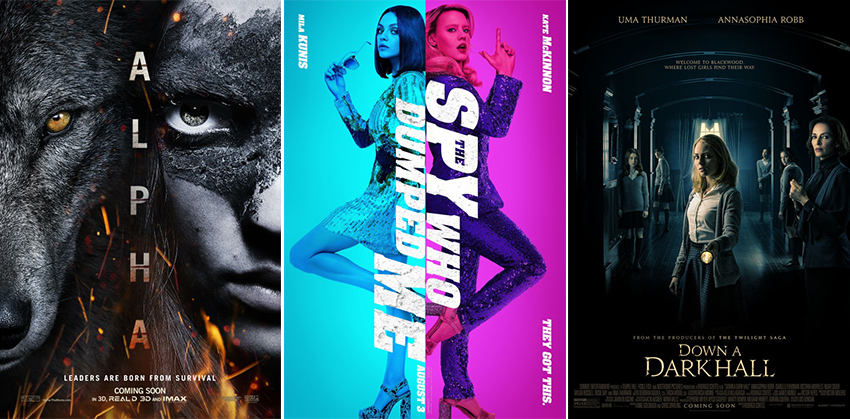 The long-delayed Alpha hits our screen this week, alongside the reason that Hollywood should just let Kate McKinnon be the lead role for a change with The Spy Who Dumped Me.
Alpha
Age Restriction: 13 V
Europe, 20,000 years ago. While on his first hunt, an initiation to his tribe's most elite group, a young man, Zeta, is injured and left for dead after a bison hunt goes horribly wrong. Awaking to find himself broken, alone, and miles from his village – he must learn to survive and navigate the harsh and unforgiving wilderness. Reluctantly taming a lone wolf, Alpha, abandoned by its pack, the pair learn to rely on each other to hunt and become unlikely allies, enduring countless dangers and overwhelming odds in order to find their way home before the deadly winter arrives.
The build-up to Alpha has been a rollercoaster. After detrimental trailers and massive delays (it was originally slated for March), it's finally here and… it's not bad. The storytelling is engaging, the visuals are sharp and while it may not be the epic we were promised, I'm just glad it's not as horribly cheesy as the second trailer would have you believe.
Rotten Tomatoes: 75% (Fresh)
Metacritic: 61 (Generally Favourable Reviews)
The Spy Who Dumped Me
Age Restriction: 16 L V N
Audrey (Mila Kunis) and Morgan (Kate McKinnon), two thirty-year-old best friends in Los Angeles, are thrust unexpectedly into an international conspiracy when Audrey's ex-boyfriend shows up at their apartment with a team of deadly assassins on his trail. Surprising even themselves, the duo jump into action, on the run throughout Europe from assassins and a suspicious-but-charming British agent, as they hatch a plan to save the world.
Without a doubt, The Spy Who Dumped Me's saving grace is Kate McKinnon, who is as delightfully unhinged as she usually is. Without her, the so-so comedy, lack of plot and mismatched chemistry would have made this film perfectly mediocre, but thankfully McKinnon carries the film throughout.
Rotten Tomatoes: 45% (Rotten)
Metacritic: 51 (Mixed or Average Reviews)
Down a Dark Hall
Age Restriction: 16 H L V
Kit (AnnaSophia Robb), a difficult young girl, is sent to the mysterious Blackwood Boarding School when her heated temper becomes too much for her mother to handle. Once she arrives at Blackwood, Kit encounters eccentric headmistress Madame Duret (Uma Thurman) and meets the school's only other students, four young women also headed down a troubled path. While exploring the labyrinthine corridors of the school, Kit and her classmates discover that Blackwood Manor hides an age-old secret rooted in the paranormal.
Lovers of Gothic, haunted-house horror/thrillers will definitely enjoy Down a Dark Hall. It's artistic, atmospheric, and all around spooky. However, those that aren't invested in this genre might find the laborious predictability of the teen horror tropes outweighing the genuine chills.
Rotten Tomatoes: 67% (Fresh)
Metacritic: 60 (Mixed or Average Reviews)
Farewell Ella Bella
Age Restriction: 13 D L
For Ella (24), the death of her alcoholic father leaves her with nothing but debt and the bitter memory of a complicated past. Abandoned by her mother at a young age, she has sacrificed her life, opportunities and love to care for a man she resents, but is now left adrift in the world after his passing. The re-emergence of her nomadic godfather, Neo (46), at her father's cremation, gives Ella the opportunity to discover a better future for herself in Johannesburg. She also decides that she will bury his ashes at her childhood home in Jo'burg. Neo is a trumpeter who plays small gigs across the country. He spends his life in his trusted old car, never putting down roots and never being responsible for anyone other than himself. In agreeing to drive Ella from her home in Beaufort West to Johannesburg, he is finally learning to take some responsibility—as their journey together forces Ella to confront her past instead of merely running away from it.
It's honestly so refreshing to see local cinemas moving away from the typical storylines and tropes that plague our screens. After last week's journey of self-discovery in Stroomop, there's a journey of a different kind in the form of Farewell Ella Bella, a road trip to happiness for a lost waitress and her nomadic godfather. It's also refreshing to see people travelling to Johannesburg, as opposed to migrating out!
For more information about the age restrictions, click here.
Last Updated: August 17, 2018