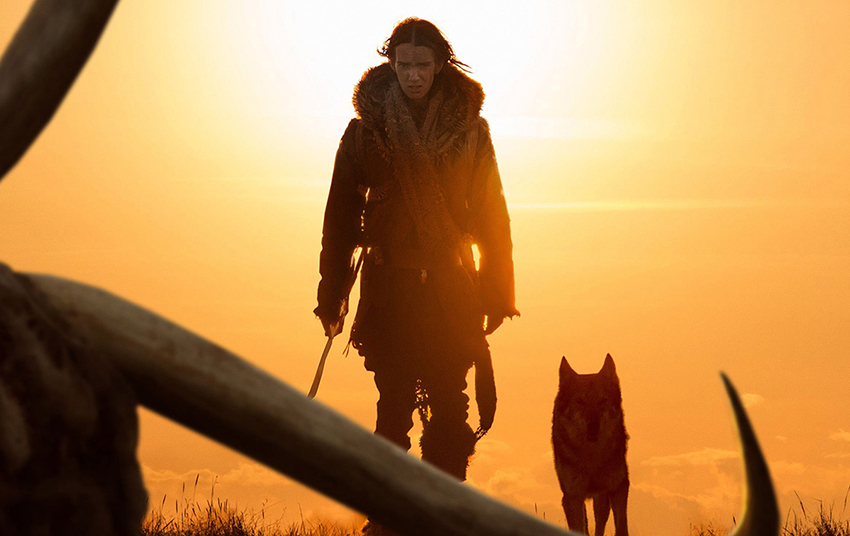 Cast your mind back to the distant prehistoric times of July 2017, when we got our first trailer for Alpha, a 20 000 BC-set survival drama that saw Kodi Smit-McPhee as an early human in that last Ice Age who would seemingly become the first person to domesticate a wild wolf and thus eventually create dogs as we know them (Yes, your bulldog who spends all day drooling and licking it's privates is a descendant of a majestic beast that once hunted across the tundra). The trailer seemed to sell a movie that was a thrilling adventure wrapped around a concept that could potentially come across as a little too Hollywood-y. Either way, thanks to some other big releases that captured my attention, I sort of lost track of Alpha when it released back in March as… Oh wait, it didn't actually release in March and was delayed instead and I just didn't notice.
Well, it appears that I can possibly start noticing it now as we're finally going to get to see this tale of boy meets wolf in the next few months and to remind us, Sony has released a brand new trailer for it. And it's terrible. Seemingly put together in the 1990s, this preview comes complete with ridiculously over the top voice-over, swelling happy music – even when there is some bad stuff happening on screen – and just a seriously generous helping of cheese that totally undercuts any of the intensity the first trailer showed off. Check it out below.
An epic adventure set in the last Ice Age, ALPHA tells a fascinating, visually stunning story that shines a light on the origins of man's best friend. While on his first hunt with his tribe's most elite group, a young man is injured and must learn to survive alone in the wilderness. Reluctantly taming a lone wolf abandoned by its pack, the pair learn to rely on each other and become unlikely allies, enduring countless dangers and overwhelming odds in order to find their way home before winter arrives.
This trailer seriously just ticks all the wrong boxes. I may have lost track of Alpha before, but now I will probably actively avoid bothering to go see it. Maybe I'm just grumpy and you feel differently, but you can't deny that this is a big step backwards from our first look at the film.
Alpha also stars Leonor Varela and Natassia Malthe. It was directed by Albert Hughes (The Book of Eli, From Hell) who also co-wrote it with Daniele Sebastian Wiedenhaupt, and is scheduled for release on 17 August 2018.
Last Updated: June 19, 2018