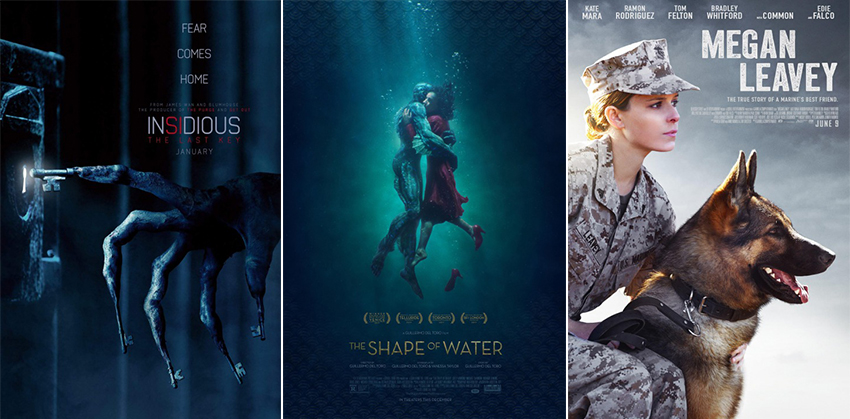 The trend of good movies releasing on local cinema is continuing this week with at least one serious Academy Award contender and two other decently rated films. Oh, and another Insidious movie, but we'll just ignore that one.
The Shape of Water
Age Restriction: 16 L N V S
From master story teller, Guillermo del Toro, comes THE SHAPE OF WATER – an other-worldly fairy tale, set against the backdrop of Cold War era America circa 1962. In the hidden high-security government laboratory where she works, lonely Elisa (Sally Hawkins) is trapped in a life of isolation. Elisa's life is changed forever when she and co-worker Zelda (Octavia Spencer) discover a secret classified experiment.
The Shape of Water is an incredible showcase of the visual mastery that Guillermo del Toro brings to screen. Stylish, stunning, paired with an emotionally absorbing story and stellar performances, The Shape of Water is generating some well-deserved Oscar buzz.
Rotten Tomatoes: 92% Certified Fresh
Metacritic: 86 (Universal Acclaim)
Insidious: The Last Key
Age Restriction: 16 H V
Dr Elise Rainier (Lin Shaye), the brilliant parapsychologist, faces her most fearsome and personal haunting yet: in her own family home.
Having never seen any of the Insidious franchise, I can't really judge it. But I'm going to anyway! The Last Key gives the star of the franchise, Lin Shaye, another welcome opportunity to take the lead. Unfortunately, her game efforts don't even come close to saving this lacklustre and uninspired sequel.
Rotten Tomatoes: 31% Rotten
Metacritic: 49 (Mixed or Average Reviews)
Breathe
Age Restriction: 7-9 PG
For his directorial debut, Andy Serkis brings to life the inspiring true love story between Robin and Diana Cavendish (Andrew Garfield, Claire Foy), an adventurous couple who refuse to give up in the face of a devastating disease. When Robin is struck down by polio at the age of 28, he is confined to a hospital bed and given only a few months to live. With the help of Diana's twin brothers (Tom Hollander) and the groundbreaking ideas of inventor Teddy Hall (Hugh Bonneville), Robin and Diana dare to escape the hospital ward to seek out a full and passionate life together – raising their young son, traveling and devoting their lives to helping other polio patients.
Both Andrew Garfield and Claire Foy have done exceptionally well with bringing honesty and realism to their roles in Breathe. The film itself is rather predictable, the story is a very familiar one, even if you've never heard of the real life Cavendish couple and their accomplishments, you know how it will turn out.
Rotten Tomatoes: 66% Fresh
Metacritic: 51 (Mixed or Average Reviews)
Megan Leavey
Age Restriction: 13 L V
Megan Leavey is based on the ttrue-lifestory of a young marine corporal (Kate Mara) whose unique discipline and bond with her military combat dog saved many lives during their deployment in Iraq. When she is assigned to clean up the K9 unit after a disciplinary hearing, Leavey identifies with a particularly aggressive dog, Rex, and is given the chance to train him. Over the course of their service, Megan and Rex completed more than 100 missions until an IED explosion injures them, putting their fate in jeopardy.
Oh no, it's a movie about a dog. You're probably going to cry. Like, there's no sense fighting it, just give in and take the tissues. In between all the sniffles and sobs though, Megan Leavey captivates with its honest, compassionate story-telling and fantastic performance by Kate Mara.
Rotten Tomatoes: 84% Certified Fresh
Metacritic: 66 (Generally Favourable Reviews)
For more information about the age restrictions, click here.
Last Updated: January 19, 2018